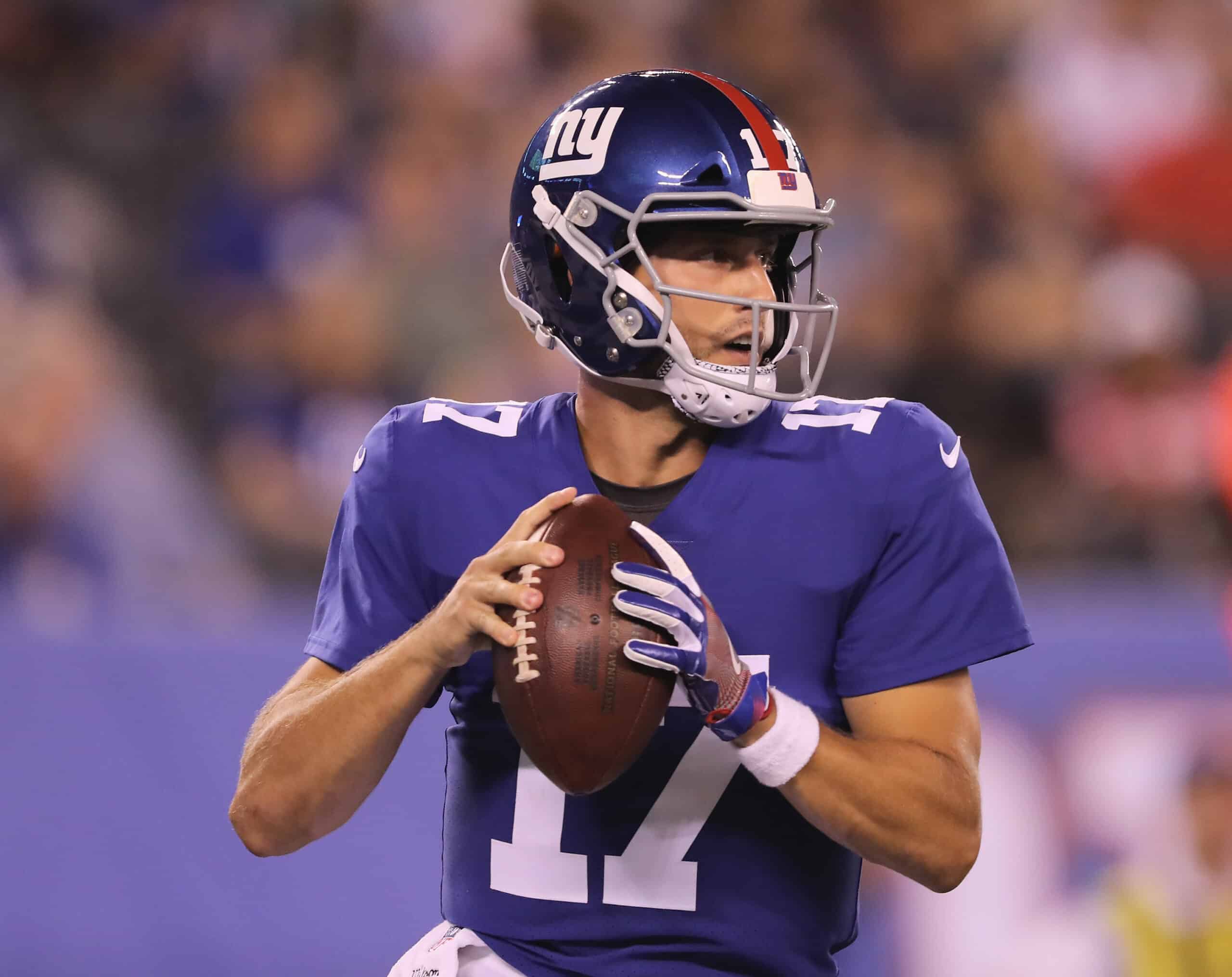 It is widely known who QB1 and QB2 are for the Cleveland Browns.
They are Baker Mayfield and Case Keenum.
A lesser know player occupies the QB3 position.
His name is Kyle Lauletta.
Who Is Kyle Lauletta?
Like Mayfield, Lauletta is a member of the 2018 draft class.
The 26-year-old Coatesville, PA native is 6'3″ and weighs 222 pounds.
He was drafted in the fourth round by the New York Giants with the 108th overall pick.
The Browns signed him to the practice squad during the 2020 season.
We've signed QB Kyle Lauletta to the practice squad

📰 » https://t.co/7RGNxAyRoR pic.twitter.com/vNu8ZaE5Jz

— Cleveland Browns (@Browns) October 16, 2020
The Browns are Lauletta's fourth team.
After spending 2018 with the Giants, he spent time on both the Philadelphia Eagles and Atlanta Falcons' rosters.
He played in two NFL games in his rookie season and was 0-5 in pass attempts and threw one interception.
Kyle Lauletta has not completed a pass. 0-5, with an interception. #NYGvsWAS

— Giants Nation (@NYG_Nation10) December 9, 2018
College Career
Lauletta played four seasons at the University of Richmond.
He completed 758 out of 1,194 passes for a 63.5% completion rate.
Lauletta threw for 10,465 yards which included 73 touchdowns.
In his 39 career games, he threw 35 interceptions.
He scored 12 rushing touchdowns at Richmond.
Lauletta does have speed, running a 4.81 40 at the 2018 NFL Combine.
Lauletta's Ties To Bill Belichick
Kyle Lauletta's father Joe and uncle Lex both attended the U.S. Naval Academy in Annapolis.
Belichick's father Steve Belichick coached punter Lex Lauletta at the Naval Academy.
Lauletta played lacrosse in high school; Bill Belichick is a huge lacrosse fan.
Some thought the Patriots would take a chance on Lauletta back in 2018 given all of these connections.
But it was not to be.
Outlook for Lauletta
With Mayfield and Keenum firmly entrenched, barring a catastrophe, it is unlikely Lauletta will see playing time in a regular-season game.
We could see him in the preseason though.
Up until now, his opportunities have been sparse, and he has not made the most of them.
After knee surgery following his rookie season, Lauletta still possessed the belief he could excel in the NFL.
"All I can do right now is control me and get my knee back and work hard. I know the player I can be. I've just got to get to work and reach my full potential, and when I get an opportunity on the field, show them what I can do."
Between joining the Browns during the season and contracting COVID-19, Lauletta really did not have developmental time with the Browns in 2020.
With training camp and preseason on the horizon, keep an eye out for Lauletta to see what he can do.