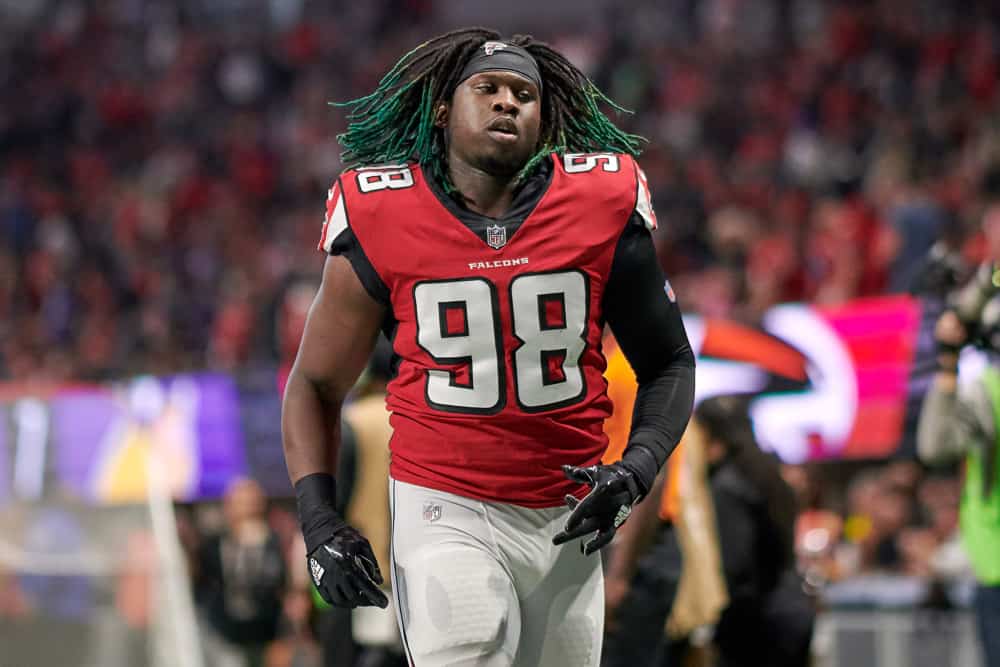 Obviously, the Cleveland Browns have one of the most stacked rosters in the NFL.
There's seemingly a star player at every position, which is great for Cleveland.
However, sometimes players fall off the radar when there are that many stud athletes on a roster.
That could be the case for former first-round pick defensive end Takk McKinley.
The 25-year-old has reportedly looked good in practice and might surprise some people heading into the 2021 season.
#Browns Takk McKinley looking lean and fast pic.twitter.com/F4wnJ62UCK

— Mary Kay Cabot (@MaryKayCabot) June 17, 2021
McKinley won't have an easy path to playing time, but was a first-round pick for a reason.
Don't Count Out McKinley
In 2020, McKinley ended up finishing with eight tackles, one sack, and one pass defended in four games.
McKinley never found a home last season, but possibly he has one in Cleveland.
This offseason, Cleveland gave McKinley a one-year deal worth $4.25 million for the 2021 campaign.
Defensive end Takk McKinley passed his physical with #Browns and signed his contract.

— Nate Ulrich (@ByNateUlrich) March 19, 2021
He was mainly brought it as depth, but shouldn't be ignored when he's on the field.
McKinley has recorded 79 tackles, 17.5 sacks, and two fumbles forced through four seasons in the NFL.
It's worth noting that he's only started 25 of his 49 games, so he's making a significant impact while not being a full-time player.
That is good to know because McKinley is unlikely to be a starter in Cleveland to begin the 2021 season.
As of right now, Myles Garrett and Jadeveon Clowney are the starters at defensive end and that's unlikely going to change unless an injury happens.
Despite that, McKinley has proven to be someone who can make an impact without having to be on the field for the entire game.
A Breakout Star?
During his four seasons in the NFL, McKinley hasn't produced any jawdropping campaigns.
In 2018, he recorded 22 tackles and seven sacks while playing as a part-time DE on the Atlanta Falcons.
The talent is there, but McKinley hasn't been on the field enough to produce those double-digit sack campaigns.
During his senior year, McKinley recorded 61 tackles, 18 tackles for loss, and 10 sacks at UCLA.
UCLA DE Takk McKinley's effort is awesome! He's No. 98 at left defensive end. pic.twitter.com/nn8hUvukIC

— Todd McShay (@McShay13) February 27, 2017
In four years in Atlanta, McKinley was only a full-time starter for one season and was cut early last year.
The fact is, McKinley was drafted to an organization that didn't know how to play to his strengths.
He was an elite pass rusher coming out of UCLA and the Falcons didn't use that to their advantage.
1️⃣0️⃣ sacks & 1️⃣8️⃣ tackles for loss during his senior year.@Takk McKinley is coming for NFL QBs. 👀 pic.twitter.com/ka66busAoN

— Atlanta Falcons (@AtlantaFalcons) April 30, 2017
Years later, McKinley will be given a chance to spark his career in Cleveland.
As mentioned, McKinley won't have a full-time role on the Browns, but that doesn't mean he won't play.
As already seen, Cleveland could use an above-average pass rusher like McKinley alongside Garrett.
We all know about Clowney's injury history, so McKinley is going to get plenty of snaps in Cleveland.
He could be a fantastic pass-rushing option for Cleveland and might be able to get over 10 sacks if he's put in the right situations.
This deal could end up being one of the biggest steals of the offseason, assuming everything falls into place.