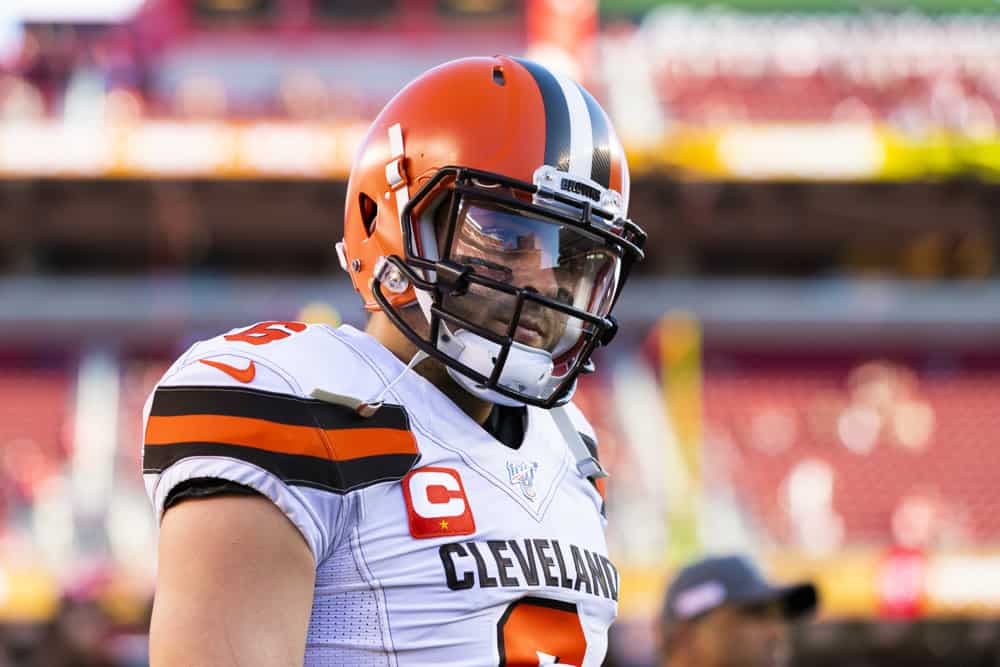 Baker Mayfield already accomplished something no Cleveland Browns quarterback has done in decades.
He earned the trust of Browns fans and sparked belief their quarterback can lead Cleveland to a Super Bowl.
Sure, there are some holdouts among fans and pundits.
We can attribute that to muscle memory as the long pattern of rapid quarterback turnover shudders to a stop.
Baker Mayfield made a HUGE leap in 2020!

It's looking scary for #Browns opponents in 2021 😳 pic.twitter.com/LUCPjy69jQ

— CBS Sports HQ (@CBSSportsHQ) March 31, 2021
Because even though Mayfield will admit he has room for growth, he's come a long way since April of 2018.
That was when the Cleveland Browns used the first overall draft pick on their quarterback.
John Dorsey, Alonzo Highsmith, and Eliott Wolf brought renewed credibility to that Browns' draft room.
But it didn't stop a lot of folks from questioning whether the Browns picked the right passer.
Would Baker Mayfield be part of the rebirth of the mighty Browns?
Well, let's just say there were plenty of doubters.
And I was one of them, mainly for these three reasons.
Baker Mayfield's Presentation Just Turned Me Off 
Let me start by explaining I have never been much of a college football fan.
That might sound sacrilegious to some of you, but I was raised in New Jersey.
And, despite their status in NFL history, Rutgers and Princeton failed to ignite much interest in Saturday football.
Baker Mayfield with the game's NINTH rushing touchdown 🤯 pic.twitter.com/XiRE7xoWsv

— PFF Fantasy Football (@PFF_Fantasy) December 15, 2020
But I knew Baker Mayfield because anyone who read sports pages knew about this guy.
His was an impressive story, walking on twice and winning big games with big numbers.
Then I got caught up in some of the debate about his height, his happy feet, and how he needed a clean pocket.
My attitude turned more negative when he told reporters,
"I'd love that (to be drafted by the Browns.) First things first, they'd get a winner. If anybody's gonna turn that franchise around, it'd be me. I'd be able to put it in the right direction."
Exactly what a struggling franchise needs in the locker room: a cocky rookie quarterback.
But my real concern was more about playing the odds.
The Heisman Trophy Curse 
One would think a Heisman Trophy Award is a pretty good resume item for an aspiring NFL player.
But it brings with it the specter of the Heisman Curse.
For those unfamiliar with this concept, the Heisman Curse is a two-pronged legend about Heisman winners.
Basically, bad things happen to them, starting with Bowl Games.
Baker Mayfield is the first Browns quarterback in 69 years to score 4 touchdowns in the first half

— Dianna Russini (@diannaESPN) December 6, 2020
As of 2018, Heisman winners who went on to the BCS National Championship game were a collective 4-8.
Then, they go to the NFL, where the majority of Heisman winners endure decidedly un-Heisman-like careers.
This is particularly true about quarterbacks, who are lucky to plateau at a level of NFL mediocrity.
Heisman winning quarterbacks include Eric Crouch, Sam Leinert, Tim Tebow, Troy Smith, and Marcus Mariota.
Things are trending somewhat better with the jury still out on Jameis Winston and Cam Newton.
And certainly, Lamar Jackson, Mayfield, and Kyle Murray could break the curse.
But in 2018, Johnny Manziel was on my mind… which brings us to:
This Was The Cleveland Browns
My first job covering the Cleveland Browns was with a small website during the 2016 season.
That's right- when I started following the Browns, they won one game in 2 seasons.
Baker Mayfield needs only 2,247 passing yards during the 2021 campaign to move into fourth all-time in #Browns history behind Brian Sipe, Otto Graham and Bernie Kosar.

— Brent Sobleski (@brentsobleski) March 29, 2021
As every loss sparked sad discussions about previous feats of woe, I absorbed the entire Jimmy Haslam era in my soul.
When Baker Mayfield followed up his "right direction" statement with this, I wrote him off:
"They (The Browns) are close. They're very close. They have the right pieces. I think they just need one guy at quarterback to make that difference."
Mr. Mayfield, allow me to introduce you to Mr. Manziel, and also Misters Kizer, Kessler, Campbell, Weeden, and …
Well, you get the point.
In my limited time commiserating with Browns fans, I learned the Cleveland front office could not identify a franchise quarterback if he introduced himself as Otto Graham.
Call it the Cleveland Browns curse, as unfair to Mayfield as it might have been.
In Retrospect, It's Possible I Was Wrong 
Of course, we all know how the rookie Mayfield introduced signs of life under offensive coordinator Freddie Kitchens.
And we all know how the wheels fell off under head coach Freddie Kitchens the following year.
But I was all for bringing Mayfield back for a third season, feeling he deserved an opportunity with better coaches.
That didn't mean I wasn't going soft on the man or anything.
Baker Mayfield completed a franchise record 21 straight passes in a 37-34 win against the Joe Burrow led Bengals.

Ben Roethlisberger completed just 20 passes for the entire game in a 27-17 Loss to the Ryan Finley led Bengals. pic.twitter.com/vW5tNz2jIH

— Nick Karns (@karnsies817) March 29, 2021
But 12-6 and a playoff victory over those Steelers has me rethinking my Mayfield stance.
Especially after he battled through adversity against Kansas City and gave the Browns a chance to advance further.
Maybe cockiness isn't a bad thing if you live up to your own hype.
Jets fans were turned off by Joe Namath until he delivered on his famous Super Bowl prediction come to mind.
With the firing of Kitchens, this means @BakerMayfield still has had only one head coach for more than only one year since high school: Bob Stoops in Oklahoma from 2015-2016.

— Rich Eisen (@richeisen) December 30, 2019
Sure, Andrew Berry and Stefanski put Mayfield in a wonderful position with excellent line and skill players.
But they also fixed his happy feet, improved his decision-making, and reworked that cockiness into leadership.
2021 is a big season for the Browns organization, and especially for Baker Mayfield.
And in a strange twist of conscience, I believe Mayfield can lead them directly to a Super Bowl run.