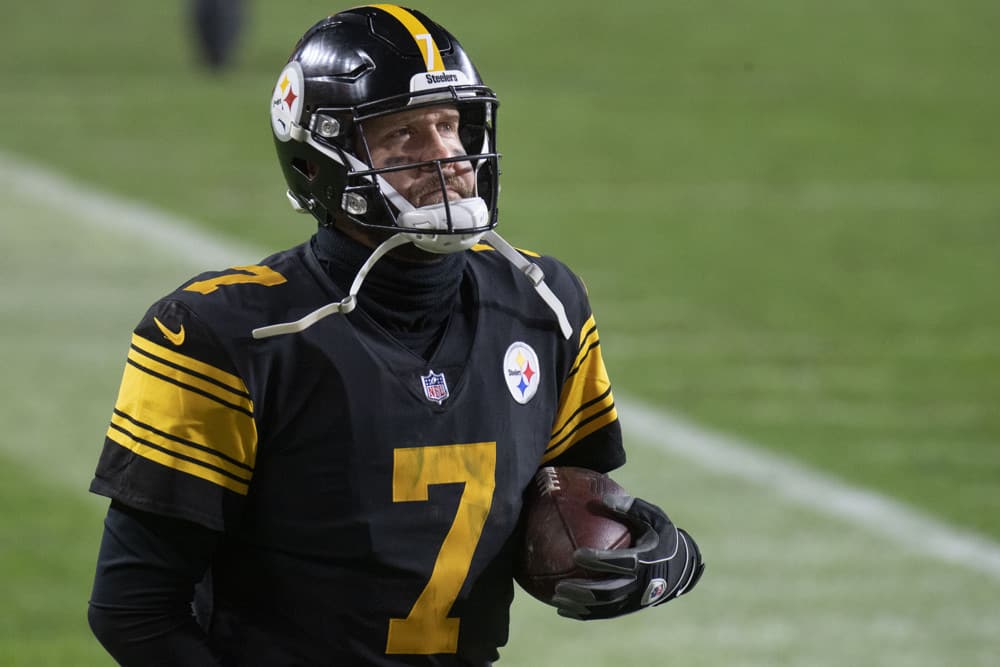 There was some speculation that quarterback Ben Roethlisberger might retire this offseason.
Towards the end of the Wildcard game, Roethlisberger shared an emotional moment with longtime teammate Maurkice Pouncey.
That led to many believing that Roethlisberger might hang it up after a disappointing end to the 2020 season.
Raw emotion from Big Ben and Pouncey after a decade running the offense together.@Steelers pic.twitter.com/mfnNR9qoSZ

— NFL Films (@NFLFilms) January 11, 2021
Despite that, the two-time Super Bowl winning quarterback will be back in Pittsburgh for at least one more season.
The 39-year-old will take the field for this 17th season, but how much more does he have left in the tank?
Is Ben Near The End?
In 2019, Roethlisberger suffered a season-ending elbow injury, which raised concerns if he'd be able to play at an elite level again.
It didn't take longer for the six-time Pro Bowl quarterback to prove the doubters wrong.
Last season, Roethlisberger threw for 3,803 yards with 33 touchdowns and 10 interceptions through 15 games.
He helped the team achieve a 12-4 record before suffering a loss to the Browns in the first round of the postseason.
Despite that, the Steelers and Big Ben agreed to terms on a new contract for the 2021 season.
Ben Roethlisberger willingly reduced his pay to $14M from $19M in this final year of his contract and spread the cash payment through 2022, per source. It lowered the cap hit by over $15M, all so the team can make the right moves to be as competitive as possible this season.

— Adam Schefter (@AdamSchefter) March 4, 2021
On paper, Roethlisberger had a fantastic season in 2020, but the veteran quarterback is not the same player that he used to be.
The Steelers had to change their offense to accommodate the current version of Roethlisberger.
They aren't afraid to air it out as seen by Roethlisberger's 500-plus yard performance during the Wildcard game.
Although, it's worth noting that Roethlisberger is averaging 6.8 intended air yards per attempt, ranking 29th in the league, according to Pro Football Reference.
He is also averaging 6.3 yards per attempt, which ranks him 31st among qualified quarterbacks.
That is not the type of performance that Pittsburgh wants from a player making that much money.
How Can Cleveland Benefit?
It seems that the Cleveland Browns are serious about adding another elite pass rusher this offseason.
Adding a player like Von Miller alongside Myles Garrett could be a dangerous combination.
Garrett is already a player that is nearly impossible to stop for opposing offensive lines.
Myles Garrett strip sack on Burrow 😤

(via @NFL)pic.twitter.com/ysjYwbtaZC

— Bleacher Report (@BleacherReport) September 18, 2020
Then add to the equation that Big Ben is basically a statue in the pocket at this point in his career.
The Steelers are fairly limited in terms of playcallling when they have Roethlisberger under center.
The NFL is turning into a league where mobile quarterbacks are taking over the league.
Honestly, Roethlisberger needs to have an elite offensive line in order to be successful at this point in his career.
An upgraded Browns defensive line could cause plenty of havoc to Big Ben in 2021.
It's worth noting that the Steelers don't have a predecessor to Roethlisberger.
The current backup is Mason Rudolph, who has shown no signs of being the future in Pittsburgh.
Until the disastrous game in Cleveland in which Mason Rudolph threw four interceptions, he attempted 203 passes and was picked off four times.

Here's two of those four… #Steelers pic.twitter.com/dy8lyKrb9m

— Josh Rowntree (@JRown32) May 20, 2020
The Steelers could quickly fall into the same problem as the New England Patriots.
A team without an answer after their longtime quarterback retires or heads elsewhere.
Pittsburgh bringing back Big Ben for another season could be the team trying to delay the inevitable.
Roethlisberger is not getting any younger and it's unlikely that the Steelers catch lightning in a bottle twice in a row.
This could be the beginning of the end for the Big Ben destiny in Pittsburgh.