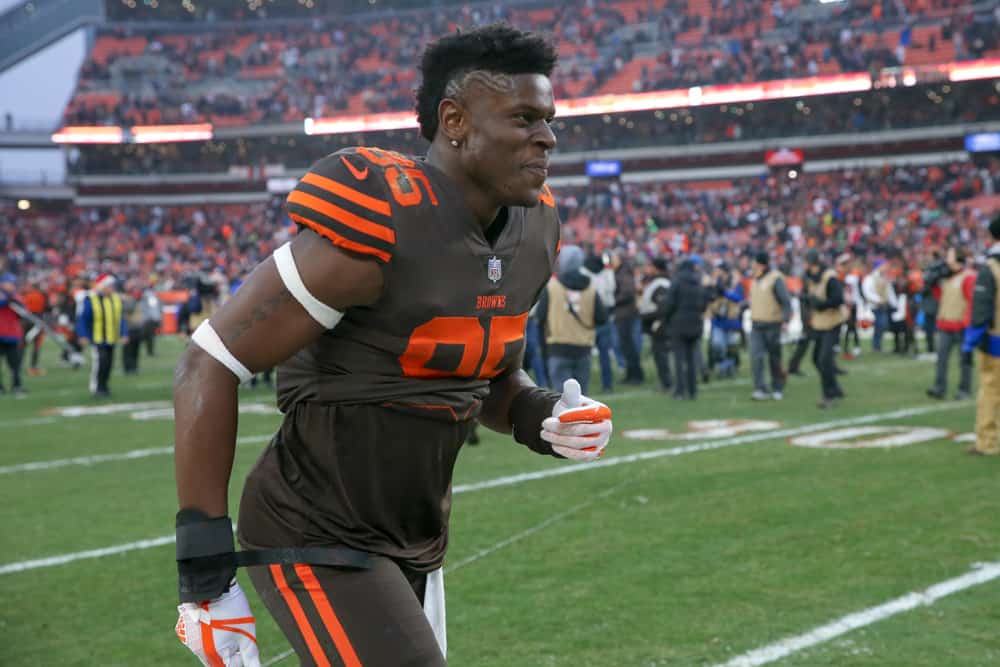 The Cleveland Browns cannot afford to deal with drama before or during the 2021 season.
The focus should be on coming together as a team and pursuing a Super Bowl.
Anyone distracting from that goal has to go.
That means it is finally time to move on from David Njoku this year.
He wanted a trade last season and continues to post cryptic things in 2021.
There are several clear why reasons why the Browns should and can move on from Njoku without too much of a hassle.
Whatever happens I appreciate all the love from all my loyal fans. I've kept quiet for a while but I wanted to express that at least for now. I love u guys https://t.co/1ZjGfSMGzY

— Chief David Njoku (@David_Njoku80) February 27, 2021
3. It Won't Cost Anything
Njoku was a first-round pick in 2017 so his fifth-year option is fully non-guaranteed.
His roughly $6 million salary can be let go without any dead cap hit.
So if a trade partner can't be found, a release is the next logical step.
That makes this decision one that doesn't just help remove a distraction, but also frees up some money if the Browns want to improve elsewhere on the roster.
The only thing this would cost is the Browns moving on from yet another former first-round pick.
But they did have three in 2017 and the top one, Myles Garrett, has panned out just fine.
That was the whole point of Sashi Brown acquiring so many picks.
Some would be busts and others would be stars.
Njoku is somewhere in the middle, but just isn't working out in Cleveland.
2. No Room for Distractions
This point cannot be reiterated enough.
The Browns simply cannot have any players on the 53-man roster causing a distraction during such an important season in franchise history.
Njoku already caused a bit of a stir last season when his trade demand was leaked.
Luckily, the Browns had a head coach in Kevin Stefanski who was able to push all that aside.
Njoku only getting 19 receptions in 13 games could also be a result of the off-the-field drama.
The tight end has every right to ask for a trade if that is what he wants.
No one should act like this is some unreasonable demand as it happens all the time.
The Browns just shouldn't deal with it if he won't drop the demand.
And so far into his four-year career, Njoku's initial potential has never resulted in a great season.
1. Plenty of Options at Tight End
The Browns don't necessarily need Njoku in 2021, especially if he has no intention of re-signing with the team in 2022.
Austin Hooper is atop the depth chart and had 70 targets last season.
Harrison Bryant had 24 receptions and three touchdowns as a rookie.
He just needs to clean up his drops and the Browns instantly have a great combo at the position.
Then there are the rumors of the Browns potentially considering Kyle Rudolph.
Andrew Berry on David Njoku and Kyle Rudolph speculation: "We're really pleased with our tight end room."

— Jake Trotter (@Jake_Trotter) March 3, 2021
The Minnesota Vikings released him this week and the Browns stand out as a great fit due to Rudolph's history with Stefanski.
The Browns could easily cut or trade Njoku and pick up Rudolph on a one or two-year deal.
If Njoku isn't returning in 2022 anyway, this swap makes too much sense.
Njoku has all the physical tools of being a great NFL tight end.
It just isn't a great fit in Cleveland and the Browns should come to that realization now before any more drama distracts from the team's goals in 2021.