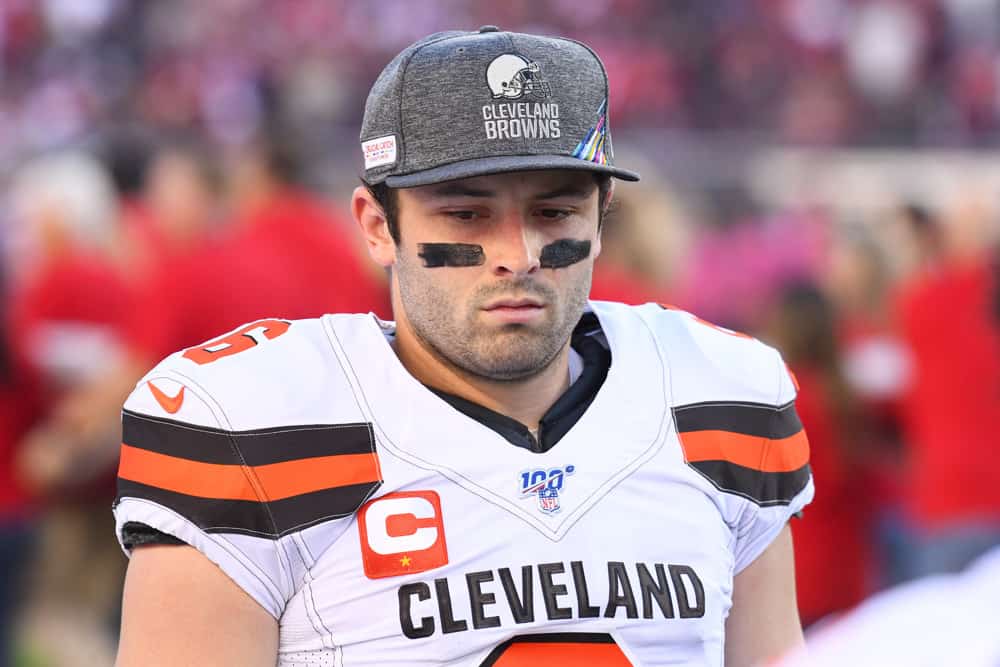 What if your team drafted a star quarterback with some questionable habits and communication skills?
Do you think he could ever become your franchise quarterback?
The AFC North has a player most expected to be the division's premier passer in 2019.
This player had a fine season the year before, but things didn't work out this time around.
Fans, coaches, and teammates hope he'll train hard enough in the offseason to bounce back in 2020.
Cleveland Browns quarterback Baker Mayfield says he does not need a QB tutor.https://t.co/aQWq0QuDyX pic.twitter.com/pmsT1r2lFj

— 247Sports (@247Sports) December 27, 2019
His social habits have been the source of some troubles away from the team.
There have been run-ins with the police.
While some stars are extra cautious about controversies, this guy enjoys mixing it up with others.
He's even taken to the radio waves to battle against critics.
Most starting quarterbacks are leaders in the locker room.
But this player called out teammates in public.
He even broke the unwritten rule of supporting teammates who are holding out.
Baker Mayfield on Duke Johnson: Join us or get out of the way https://t.co/mtZg9MGTRG

— ProFootballTalk (@ProFootballTalk) June 4, 2019
There is an open debate about whether he is cocky or confident.
But his desire to win isn't doubted.
His skill set is impressive.
Those might be the only reasons he hasn't lost the locker room.
We'll see if he can get his team back on the winning track in 2020.
Steelers fans are hoping for the best.
Who Are You Talking About?
Of course, I am talking about Ben Roethlisberger.
His off-field and locker room antics have been talked about for years.
But winning a couple of Super Bowls does wonders for people's tolerance.
Cleveland Browns quarterback Baker Mayfield might want to try that if he wants to win the fans over.
Unfortunately, when you're young and haven't won anything, critics are tough.
"Quarterbacks make coaches, coaches don't make quarterbacks… Baker Mayfield is not a good quarterback which means Kevin Stefanski is not going to be a good head coach." — @ClayTravis pic.twitter.com/xmcyK6DXUs

— Lock It In (@LockItInonFS1) January 15, 2020
There is an expectation that football players tuck themselves away in the offseason.
Working out, studying film, and learning new plays are supposed to take up all their time.
Normal 20-somethings are expected to let their hair down once in a while.
Bars and clubs do good business for a reason.
Twitter tried to shame Baker Mayfield because he went out for beer the week after the season ended.
BREAKING: Baker Mayfield goes home and has a drink at the end of the season https://t.co/LlU17EyafE

— Boomer Beamer: Master of the 12-2 Season (@ImDerBatman) January 1, 2020
Maybe Mayfield is supposed to punish himself for a lousy Browns season.
Cleveland received blistering critiques of its head coach, quarterback coach, offensive line, and gameday play-calling.
But Mayfield is the most convenient scapegoat for fans and critics.
Shouldn't Mayfield Grow Up?
It would be nice if Mayfield grew up a bit.
That's not to say I begrudge him his youth.
When I was his age, I hit a bar on the way home from work most nights.
And I was still pretty good at what I did.
The key is that Mayfield grows up on the football field.
Roethlisberger went 13-0 as a rookie injury replacement.
He followed that up with a Super Bowl in his second season.
The Browns' preseason hype thrust that expectation on Mayfield.
#Browns 2019 season predictions:
– CLE will have a Top 3 Offense
– Baker will be put up 40 TD's & be a Top 10 QB
– OBJ will post 1,200 yds & 12 TD's
– Garrett will be a DPOY contender
– Garrett, Ward, OBJ, Chubb, Schobert & Baker will be Pro Bowlers
– CLE are the AFC North champs

— Everything Cleveland (@EverythingCLE_) March 25, 2019
Kevin Stefanski had a conversation with his young quarterback.
Reportedly, he didn't push Mayfield on his decision not to use a quarterback tutor.
The coach didn't warn him not to drink or have fun.
He didn't lecture him about staying in shape.
But Stefanski told Mayfield to expect a list of football things he needs to work on before the first offseason practice.
"Baker, as a young player, the sky is the limit … "

Kevin Stefanski will have "detailed plan" to help Baker Mayfield make a jump in Year 3 » https://t.co/24tzBgIj9c pic.twitter.com/6v0ZBlwiOu

— Cleveland Browns (@Browns) January 15, 2020
What Else Can Stefanski Do?
Stefanski will spend his offseason watching game film.
He'll give his coaches the same list Mayfield receives.
There will be a game plan that puts his quarterback in a position to succeed.
That will help Mayfield fend off critics.
It will also win Stefanski the respect of his quarterback.
Stefanski had a great quote at his opening press conference.
"Personality is welcome. Your production is required."

A new mantra for the #Browns with Kevin Stefanski as head coach? pic.twitter.com/yis70dOvtA

— FOX Sports Cleveland (@FOXSportsCLE) January 14, 2020
He was asked about the personalities in the Browns locker room.
He responded with, "Personality is welcome. Your production is required."
Mike Tomlin maintains a winning program in Pittsburgh.
We're learning that Roethlisberger is not the only personality he's dealt with.
Scheduling a class on dealing with the press and social media wouldn't hurt.
But Stefanski seems to understand occasional antics or a bad quote do not have to destroy the team.
He set the rule from day one that players better produce on the field.
Winning is the best way to manage criticism.
Just ask Ben Roethlisberger.