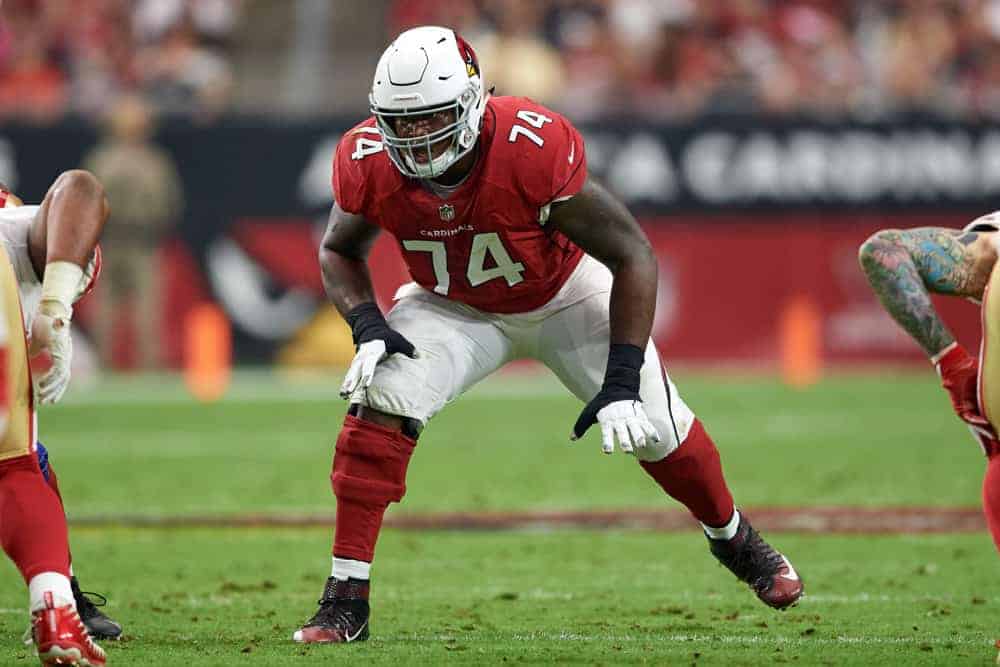 After weeks of speculation, the Cleveland Browns are unlikely to acquire Trent Williams from the Washington Redskins.
This is not the result of a lack effort from General Manager John Dorsey.
According to recent reports, Dorsey inquired about Williams every week of the season. The Redskins are simply uninterested in dealing him prior to next year's offseason.
From @gmfb: The #Redskins aren't trading Trent Williams this year, despite #Browns GM John Dorsey's repeated attempts, but there are indications it could happen after the season. pic.twitter.com/yVCFdlQoCH

— Mike Garafolo (@MikeGarafolo) October 19, 2019
The desire to sure-up the offensive line is warranted, especially with regard to pass blocking. For the first time since 2009, the Browns' rush blocking is outperforming their pass blocking.
The tackle positions tend to endure the brunt of criticism when a team's OL struggles against opposing pass rushes, but placing all of the blame on Greg Robinson and Chris Hubbard is unjustifiable.
Robinson is playing better this season than last.
However, according to league insiders, he is already in danger of being benched.
#Browns left tackle Greg Robinson has either already been benched or he's in serious jeopardy of it, a league source tells clevelanddotcom. Robinson is playing better this year and has surrendered only 1 sack https://t.co/fGWZpe548G

— Mary Kay Cabot (@MaryKayCabot) October 16, 2019
Kendall Lamm is the most likely replacement for Robinson.
However, a trade prior to the October 29th deadline is still a possibility.
With Williams off the trade block, the Arizona Cardinals' former first-round draft pick D.J. Humphries is at least worth exploring as a potential trade target.
Drafted out of Florida, Humphries failed to see the field in his first NFL season. The Cardinals head coach at the time, Bruce Arians, criticized Humphries frequently for his lack of effort at practice.
In his sophomore season, Humphries began the season as the starting left tackle. That was the result of a few pre-season injuries.
He played every offensive snap for 12 consecutive weeks.
Since late 2016, the injury bug continually crept its way into Humphries' career.
He played 21 of a possible 48 games over his last three seasons.
In 2019, Humphries started and completed all six of the Cardinals' regular-season contests. He seems to be getting better as the season progresses, as well.
DJ Humphries had a pass blocking grade of 74.3 against the Bengals via @PFF. That kind of effort is greatly needed upfront.

— Johnny (@JohnnyTouchdown) October 7, 2019
Humphries has contributed to the overall success of the Cardinals' offensive line in both run and pass blocking. As long as he stays on the field, he has first-round talent.
Run blocking grades for the Cardinals' o-line:

LT DJ Humphries: 58.7
LG Justin Pugh: 48.9
C AQ Shipley: 38.4
RG JR Sweezy: 60.0
RT Justin Murray: 53.9

The Cardinals rank 2nd in yards-before-contact/att.

They rank 27th in yards after contact. https://t.co/ahtz7zBySi

— Steven Ruiz (@theStevenRuiz) October 9, 2019
Now in his final year of his contract, the 2-3-1 Cardinals should field offers for their injury-ridden LT. Humphries would be a significant upgrade from Robinson.
Dorsey wouldn't have to give up nearly as much in terms of the Browns' future as he would for Williams.
Humphries is significantly younger, as well.
At 25 years old, he has a lot of miles left. Williams is nearing the end at 31 years old.
Whether or not replacing Robinson at LT fixes the Browns' offensive line struggles remains a mystery.
It is clear, though, that Dorsey is actively pursuing OL upgrades. Humphries is a player that will help the Browns win games now.
The risk of injury is ever-present, but with a 2-4 record heading into the bye week, it is a risk the Browns should be willing to take.