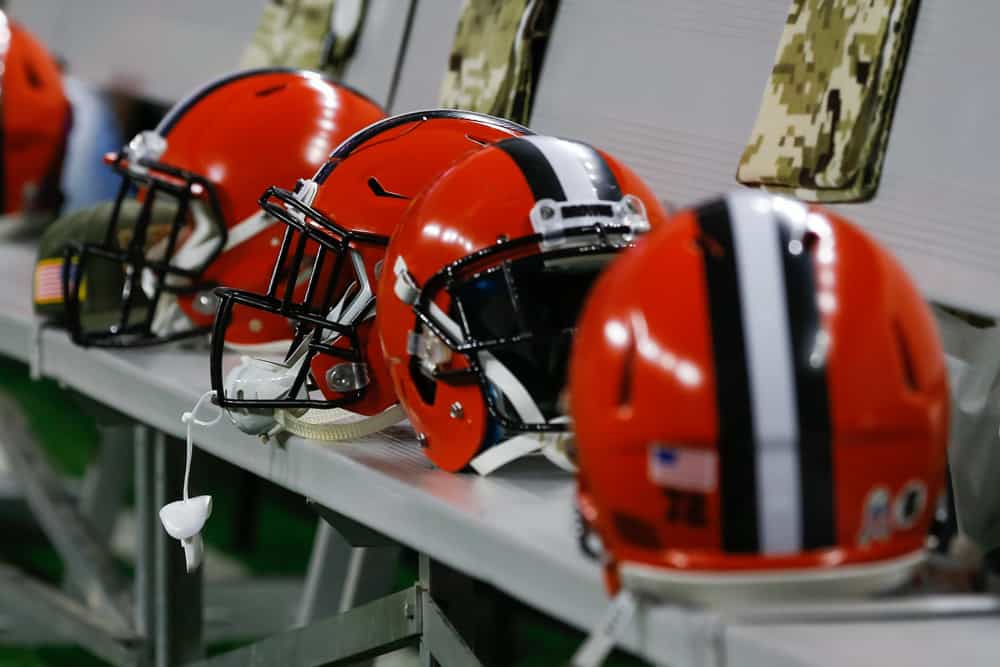 It doesn't feel like it, but we're already at the halfway point of the 2020 regular season.
The Cleveland Browns have put themselves in good position heading into the second half of the season.
They will get a Week 9 bye after taking a tough 16-6 loss to the Las Vegas Raiders last week.
Despite that, the Browns are 5-3 on the year and in favorable position for a playoff spot.
Finally, Cleveland has a competitive football team for the first time in what feels like forever.
They've played relatively well together as a unit, but there are a few players that stand out from the rest of the team.
1. Kareem Hunt
The 25-year-old has stepped up in a big way for Cleveland this year.
Over the last four games, Hunt has been asked to start while running back Nick Chubb is sidelined due to injury.
In those contests, Hunt has produced 66 rushing yards or more in three of the four games he has started.
What Hunt has done on the field this season is something many Browns fans did not expect coming into the year.
Most rushes gaining 10+ yards:
1. Kyler Murray – 18
2. Kareem Hunt – 17
T-3. Clyde Edwards-Helaire/ Derrick Henry – 15 pic.twitter.com/BUGpycBVXs

— PFF (@PFF) October 28, 2020
Through eight games, Hunt has rushed for 529 yards on 115 attempts with three touchdowns on the ground.
Although, that doesn't even tell the whole story of what Hunt has done on the field.
He also has 18 receptions, 113 yards, and four touchdowns through the air.
Hunt has been a useful weapon in both the receiving and rushing game for this Cleveland offense.
In both of the victories without Chubb, Hunt rushed for 72 yards or more in those contests.
He brings a dynamic weapon to this offense and it's nice to have a player like that in your arsenal.
2. Myles Garrett
Some might say, "Can a superstar player like Myles Garrett really overachieve?"
He is expected to put up big numbers, but no one can be asked to put up the stats he has during the first half.
It's honestly almost like a video game when you take a look at what Garrett has done on the field this season.
Highest-graded edge defenders:
1. T.J. Watt – 93.0
2. Khalil Mack – 91.5
3. Myles Garrett – 88.9
4. Demarcus Lawrence – 85.0 pic.twitter.com/ywiVURsZ3Q

— PFF (@PFF) October 29, 2020
Through eight games, Garrett is leading the league in both sacks (9) and fumbles forced (4) and he still has another eight games left to play.
He has also collected 25 tackles and 13 quarterback hits along the way this year.
Last season, Garrett finished with 10 sacks through 10 games before he was suspended.
He was well on his way to a career-high in sacks before his incident in Pittsburgh.
That being said, Garrett could be well on his way to a Defensive Player of the Year award in 2020.
#Browns Myles Garrett has as many or more sacks (9) this year than 7 teams have altogether.

– Seahawks (9)
– Patriots (9)
– Lions (8)
– Raiders (7)
– Titans (7)
– Jaguars (6)
– Panthers (6)

Crazy. pic.twitter.com/eUOpCHnmti

— MoreForYouCleveland (@MoreForYou_CLE) October 28, 2020
Yes, Garrett is expected to play well because he is one of the best pass rushers in the league.
However, what he has done on the field so far is something you couldn't ask of any player.
He is putting together an unreal season and is likely headed towards a new career-high in sacks.
It really wouldn't be surprising to see Garrett taking home some awards at the end of the year.