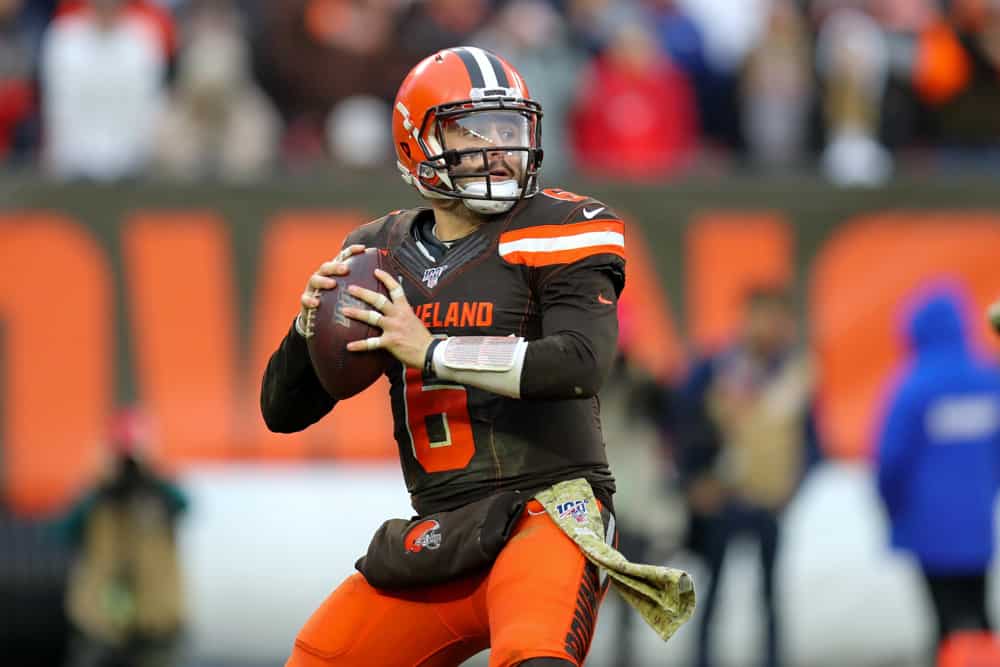 Turn on any Cleveland or national sports radio show and the conversation centers around the same thing: Baker Mayfield and the Cleveland Browns.
The debate, as the Browns hit the bye week, is all about whether Mayfield is the future at Cleveland's quarterback position or if they need to look elsewhere.
Being a former number one overall pick brings pressure with the title, and Mayfield is certainly feeling that from fans and the media.
Playing better over the second half of the season will certainly help his case.
Should we buy or sell stock in the possibility of that happening?

Buy
The main reason to buy this thought is simple.
The Browns schedule, while not overwhelmingly difficult in the first half of this season, lightens up even more over the final eight games.
Opponent's Combined Record – 1st Half: 27-23-1
Opponent's Combined Record – 2nd Half: 23-35-1
Some of the defenses that Mayfield will face in the second half of the season are not just bad.
They are atrocious.
Mayfield will see three of the bottom five defenses (in terms of points allowed per game) over these final eight games.
Two of those teams, the Jets and Jaguars, are also two of the worst-five passing defenses in the NFL, each allowing over 280 yards through the air per game.
Mayfield has also been the recipient of some poor receiver play.
The drops from the receivers, and tight ends for that matter, were a big hindrance against Las Vegas and part of the reason the Browns are not 6-2 right now.
Highest percentage of passes dropped in Week 8:

Baker Mayfield – 20.0% (5)
Tua Tagovailoa – 13.6% (3)
Matt Ryan – 13.3% (4) pic.twitter.com/wncMnBSCDI

— PFF CLE Browns (@PFF_Browns) November 2, 2020
This current bye week also allows some of the guys to get healthy.
Nick Chubb won't be back against Houston, but it's one less week without him in the backfield for Baker.
Nick Chubb appreciation post pic.twitter.com/1pj15r8rrI

— Gridiron (@Gridiron) October 31, 2020
Jarvis Landry, one of Mayfield's favorite targets, should be able to let his ribs recover a bit this week as well.
As the second half moves on, this team will get closer and closer to full strength, which will only benefit Mayfield's play.
Head coach Kevin Stefanski also believes Baker is getting stronger as the season rolls along.
#Browns HC Kevin Stefanski on Baker Mayfield: "Through these 8 games he's owning more and more concepts and I'm understanding what he likes more, and I think that's really important."

— Keith Britton (@KeithBritton86) November 5, 2020
Sell
As my colleague, Andy Webb pointed out, just because the team is favored to win in most of these second half games does not guarantee them all to be wins.
After all, that's why sports exist and are played instead of computer simulations.
The Raiders game was one the Browns were favored in (although not by much) and we all saw how that went down.
This logic should be applied to Mayfield's performance as well.
Just because he is going up against a bad defense that gives up a ton of yards doesn't guarantee a "Player of the Week" type performance.
The Dallas game, even though it ends up a brown and orange winner, was not a particularly great one for Mayfield.
He did enough to win, and never put his team in too bad of a spot.
Still, he came across as more of a game-manager in that instance instead of a true franchise quarterback.
Not to get too caught up in labels and titles, but the fact of the matter is that the Browns do not need Mayfield to be a game-manager nor do they want him to be.
That is not what you want from a number one overall pick.
His performance against the Bengals was great, especially late.
That was a game you could look at as a fan and say, "Baker Mayfield won that football game".
That is awesome, but you are not seeing the Bengals if you're playing postseason football.
Part of having a better second half would mean having a "wow" kind of outing against one of the league's better teams.
He had chances in the first half of this season but failed to capitalize.
Minkah Fitzpatrick picks off Baker Mayfield and takes it back the other way for a #Steelers TD. pic.twitter.com/6btyZNWm3g

— NFL Update (@MySportsUpdate) October 18, 2020
It will be a big second half of the season for Mayfield, one that could play a role into determining his long-term fate in Cleveland.