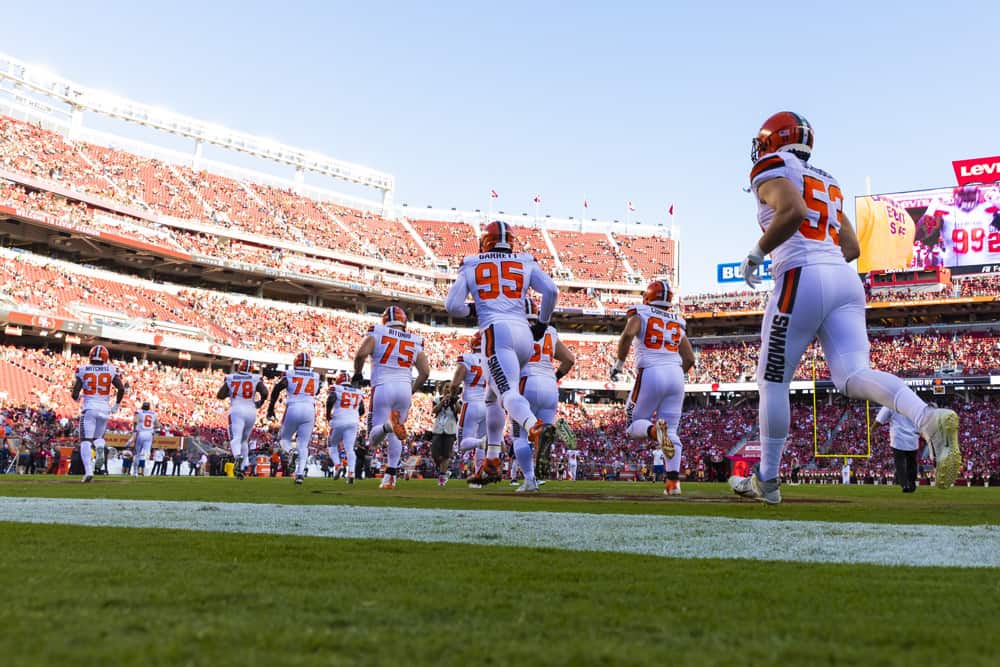 The 2021 season was a frustrating year for the Cleveland Browns.
The Browns appeared ready for a deep playoff run, but fell way below their expectations.
In fact, this Browns team missed the playoffs altogether in 2021.
That being said, there are multiple players that need to step up and make improvements heading into next season.
However, there are two players that need to improve more than anyone else in Cleveland.
Baker Mayfield
It's uncertain if Baker Mayfield will be the starting quarterback in Cleveland after last season.
Although, the front office has backed him and it appears the Browns are willing to give Mayfield another shot.
His first four years in the NFL have been inconsistent and mostly disappointing.
Honestly, Mayfield needs to show major improvement in 2022 or he could be out of Cleveland.
.@RGIII believes Baker Mayfield is under more pressure than anyone in the league 👀

"If he doesn't run the table and win a Super Bowl, I think we might've seen the last of Baker Mayfield in Cleveland after this next season." pic.twitter.com/Uck3Sl3rd9

— NFL on ESPN (@ESPNNFL) February 24, 2022
His disappointing 2021 campaign can partly be blamed on injuries.
Mayfield suffered a torn labrum in his shoulder early in the season and continued to play through the issue.
The former first-round pick should've opted for surgery, but wanted to help his team.
Sadly, Mayfield actually hurt the Browns more than helped them during the 2021 campaign.
He finished with a career-low 3,010 passing yards, 17 touchdowns, and 13 interceptions in 14 games.
Often times, it was tough to watch the 26-year-old go out there knowing he was banged up.
Despite that, Mayfield did make big plays at times and showed flashes of being a franchise quarterback.
2021 Top Moments: Two big throws from @bakermayfield to @dpeoplesjones pic.twitter.com/Xfv7pXrw4X

— Cleveland Browns (@Browns) February 24, 2022
Now, the Browns must decide what exactly they have in Mayfield.
The 2022 season will be his fifth and final year of his rookie contract.
Which means, the Browns are going to need to sign Mayfield long-term or let him walk after the 2022 season.
That being said, Mayfield needs to prove his worth to this organization.
A strong campaign in 2022 could show the Browns that this awful 2021 season was a fluke caused by injuries.
Regardless, Mayfield's improvement on the field is crucial to the Browns' success next season.
Austin Hooper
One of the most disappointing players on offense over the last two seasons has been tight end Austin Hooper.
The two-time Pro Bowl tight end came to Cleveland with high expectations.
In fact, the Browns made Hooper the highest-paid tight end at the time of his signing.
The Browns have signed TE Austin Hooper to a 4 year $44 Million contract. pic.twitter.com/nJ3xVhPTxf

— Everything Cleveland (@everythingcle_) March 16, 2020
Since joining the Browns, Hooper has shown little improvement on the field.
In 2021, Hooper finished with career-lows in multiple offensive categories.
Through 16 games, Hooper recorded 38 receptions, 345 receiving yards, and three touchdowns in 2021.
Those are the stats of a player who has a $13.2 million cap hit heading into 2022.
The Browns need to see better results from Hooper next season or it could be his last in Cleveland.
He was a two-time Pro Bowl tight end before coming to Cleveland, but now is barely involved in the offense.
The departure of fellow tight end David Njoku this offseason could open up more opportunities for Hooper next season.
Although, the Browns could potentially bring back Njoku or sign another tight end because of Hooper's struggles.
Nonetheless, Cleveland needs to see more from Hooper next season especially with the lack of talent at wide receiver.
It's time for Hooper to step up and perform like the player the Browns are paying him to be.