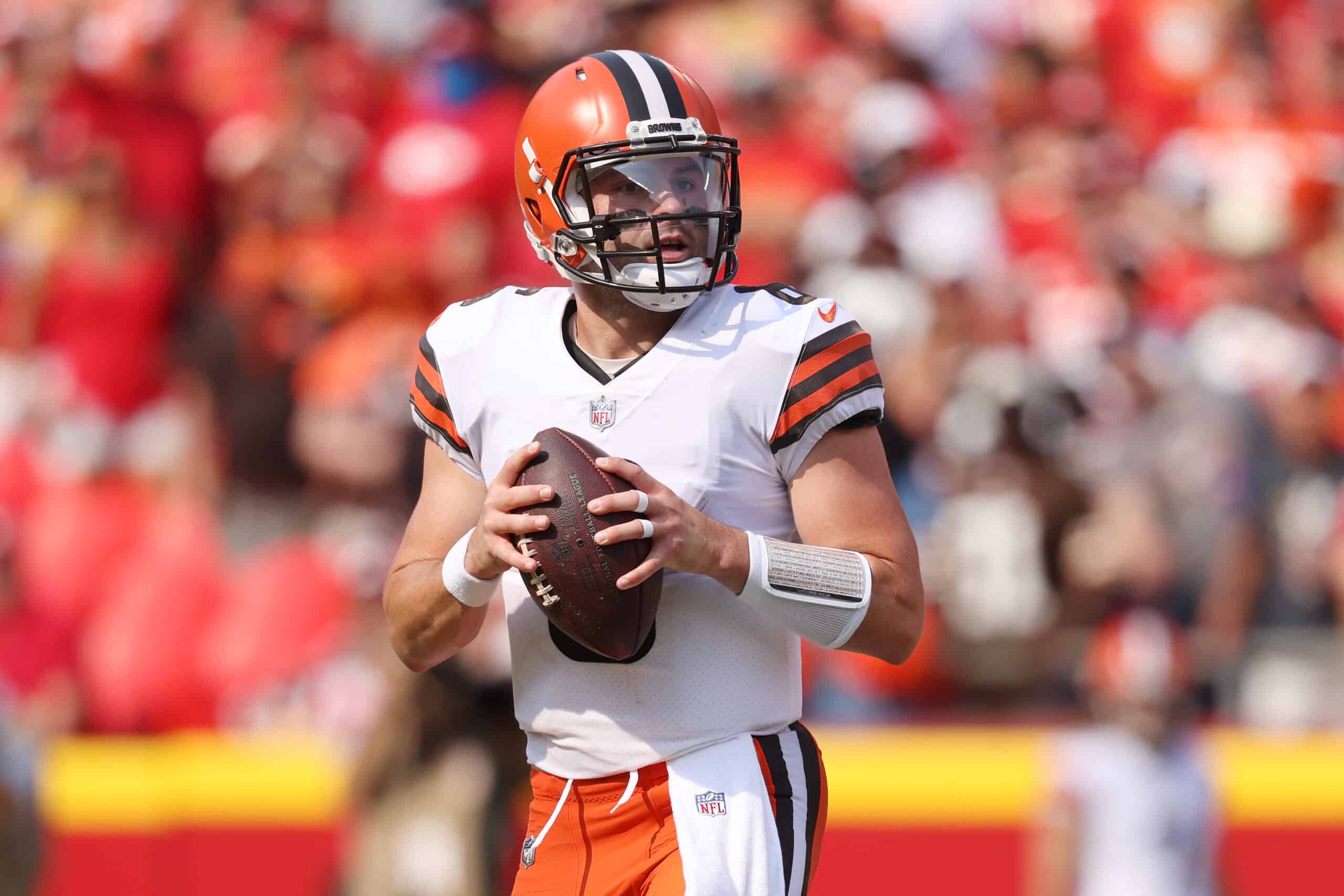 No one would argue that 2021 was Cleveland Browns' quarterback Baker Mayfield's best season.
Injuries, COVID-19, and locker room issues made this one perhaps the most difficult of his career.
Mayfield threw a career-low 17 touchdown passes with 13 interceptions in 14 games.
Despite that, Mayfield did have some magical plays that reminded us of 2020.
Here are three of Mayfield's best plays in 2021.
1. Browns Vs. Cardinals, Week 6
BAKER MAYFIELD HAIL MARY TO END THE HALF 🤯

(via @NFL)pic.twitter.com/rhQuG3OHMa

— Bleacher Report (@BleacherReport) October 17, 2021
The Browns struggled to keep up with the Arizona Cardinals in Week 6.
Kyler Murray and the Cardinals were undefeated and kept rolling throughout this game.
However, Mayfield launched a Hail Mary that was right where it needed to be for Donovan Peoples-Jones to pull it in.
This was a thrilling way to go into halftime and gave the Browns some short-lived hope.
As it turned out, this was the final score for the Browns in this game; they were defeated 37-14.
This was one of the battles of the Heisman winners that Mayfield had in 2021.
Mayfield won the Heisman in 2017, and Murray followed in 2018.
2. Browns Vs. Bengals, Week 9
BAKER MAYFIELD. DONOVAN PEOPLES-JONES. 60-YARD TOUCHDOWN 🚀#Browns

— TWSN (@TWSN___) November 7, 2021
The Week 9 game against the Cincinnati Bengals at Cincinnati was the best Browns game of the season.
Everything was working to perfection in this game.
Here is a classic example.
Mayfield once again found Peoples-Jones to come up with a big score.
The Browns went on to win this game by a score of 41-16.
Mayfield has played well against the Bengals in his career, and Week 9 when he bested 2019 Heisman Trophy winner Joe Burrow was no exception.
3. Browns Vs. Steelers, Week 17
Baker Mayfield goes up top to David Njoku for 6⃣#Browns l #CLEvsPIT l (via @NFL) pic.twitter.com/iWGr2IgNNL

— Bally Sports Cleveland (@BallySportsCLE) January 4, 2022
You could be thinking that the Week 17 season finale in Pittsburgh was filled with plenty of low moments for the Browns offense.
That is absolutely correct.
There were times this game was hard to watch.
This was one of the few shining moments when T.J. Watt was not in Mayfield's face or dragging him to the ground.
We see another sight that was few and far between in 2021, a touchdown throw from Mayfield to tight end David Njoku.
Njoku only caught 4 touchdowns in 2021.
He shows his athleticism pulling in this ball; whereas, Mayfield shows his trust and ability to get the ball where he knows only Njoku can get it.
Conclusion
When Mayfield's finest plays are watched in a sequence like above, it makes us wonder what caused his regression in 2021.
Was it 100% injury-related?
These three touchdowns were thrown after his injury issues which started in Week 2.
If the Browns are in fact going with Mayfield in 2022, we need to see a lot more of these types of plays.
Unfortunately, there are many batted balls, high passes, and interceptions that seemed more indicative of Mayfield's 2021.
The other question will be who is favorite target and WR1 will be.
Donovan Peoples-Jones displayed glimpses of greatness especially in two of the above touchdowns, but injury and inexperience also prevailed.