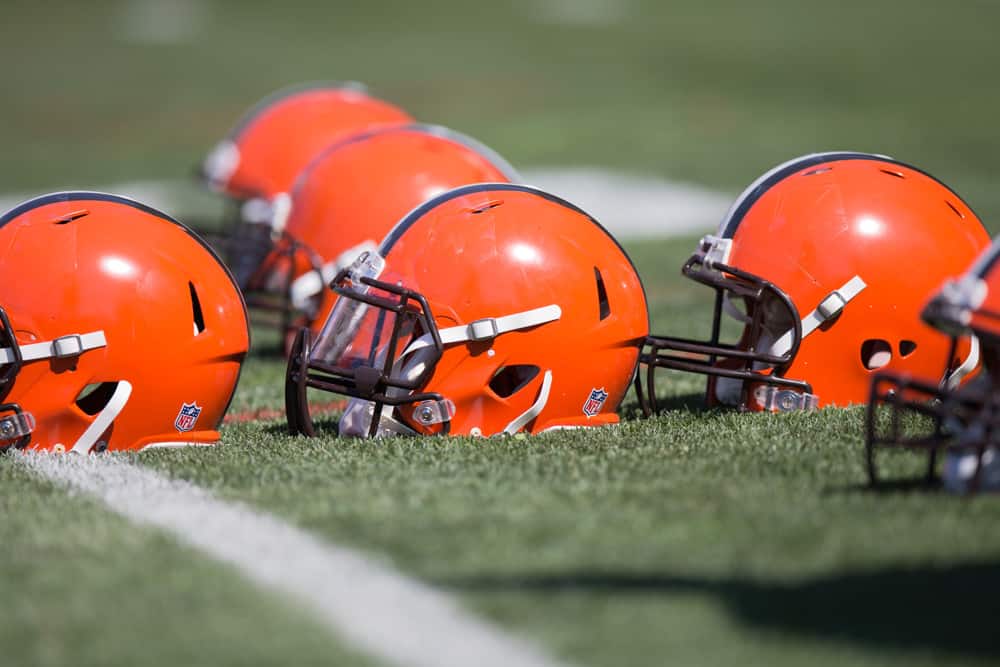 NFL free agency officially starts at 4 p.m. ET Wednesday, March 18.
While Over The Cap shows the Cleveland Browns have $61.96 million in salary-cap space, here are 3 free agents the team should avoid overpaying:
1. Jason Peters, offensive tackle
There's an old cliche in sports: the best ability is availability.
Longtime Philadelphia Eagles offensive tackle Jason Peters is due to become a free agent later this month, and the Browns will explore acquiring him.
However, the 38-year-old offensive tackle has only played in all 16 regular-seasons games once in the last three years.
Peters missed three games in 2019 due to midseason arthroscopic knee surgery, and he missed nine games in 2017 after tearing his ACL and MCL during a Monday Night Football game against the Washington Redskins.
In 11 years with the Eagles, Peters has earned $100,064,598, which is about $9.1 million each year.
While Peters made $6 million in 2019 and $7 million in 2018, it's possible the nine-time Pro Bowler could want somewhere closer to $10 million per year.
No doubt the Browns need to protect Baker Mayfield, who was sacked 40 times last season (seventh-most in the NFL).
Signing Peters would only provide the Browns a temporary stop-gap to protecting Mayfield's blindside.
Peters has not been able to stay healthy, and it's unclear how many seasons he has left in him.
Why would the Eagles — a team that has made three consecutive playoff appearances, including a victory in Super Bowl LII — part ways with Peters unless they knew better?
NFL teams should not pay Peters for past performance.
A team could get a great value at the right price, but Peters can fetch a higher salary for two reasons:
Peters does not have to play having already earned $111,721,983 during his NFL career.
There are only so many good to great offensive tackles in the NFL.
Plus, the Browns hold the No. 10 overall pick in the 2020 NFL Draft, which is deep with offensive line talent.
2. Jack Conklin, offensive tackle
The Tennessee Titans decided not to pick up Jack Conklin's fifth-year option for the 2020 season, which would have paid him $12.86 million.
The Titans must also figure out what to do with unrestricted free agents Ryan Tannehill and Derrick Henry.
NFL teams should be wary that the Titans are willing to let Conklin — the No. 8 pick of the 2016 NFL Draft — walk in free agency.
Football Outsiders found the Titans ranked in the top five in run blocking in two of Conklin's four seasons.
However, the 25-year-old struggled at times in pass protection.
"Conklin has some issues in pass protection, as his pass-blocking grade ranks just 49th on true pass sets over the last two seasons, and he's on the higher end among offensive tackles receiving help (double-teams, chip blocks, etc.)," Sam Monson and Steve Palazzolo of Pro Football Focus wrote.
The Titans haven't ranked higher than 14th in pass protection during Conklin's tenure.
Conklin allowed three sacks in 2019 and five in 2018.
Also, Conklin primarily played right tackle for the Titans, not the more highly-coveted left tackle position.
Still, Conklin will likely fetch a massive salary in free agency.
3. Anthony Harris, safety
Anthony Harris's six interceptions tied for the most in the NFL last season with New England Patriots cornerback Stephon Gilmore and Buffalo Bills cornerback Tredavious White.
The 28-year-old safety made $3 million in 2019 for the Minnesota Vikings, and is due for a huge pay.
Over The Cap has projected Harris to make $14 million per year.
In 2019, the Browns had "internal issues" with safety Damarious Randall, who is due to become an unrestricted free agent.
While the Browns need safeties, they could find a better value than Harris with several players due to hit free agency, including Justin Simmons, Devin McCourty, Ha Ha Clinton-Dix, Tre Boston, Jimmie Ward and Vonn Bell.