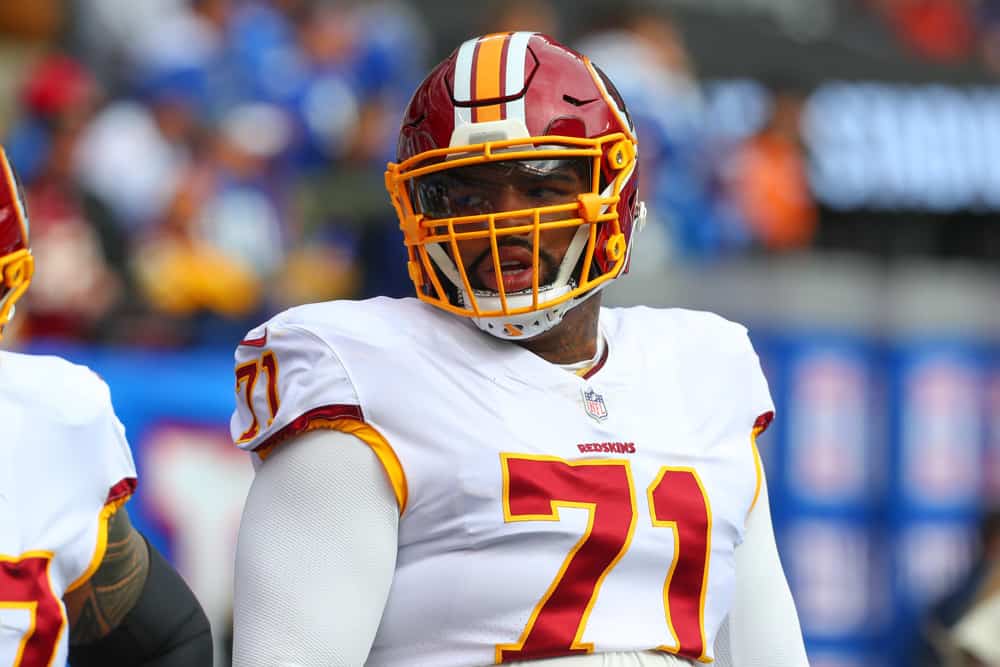 The Cleveland Browns are not the only team that will reportedly have interest in left tackle Trent Williams.
It didn't take long for teams around the NFL to start lining up for his services.
Besides the Browns, the Jets were one of the first teams to express interest according to reports.
The #Jets are among the teams pursuing #Redskins LT Trent Williams in a potential trade, per @Connor_J_Hughes. The #Jets had Kelvin Beachum at LT in 2019, but he's scheduled to be a free agent.

— NFL Update (@MySportsUpdate) March 6, 2020
The latest teams to express interest in Williams are the Cardinals and Texans according to Ben Standig of TheAthletic.com.
Icymi… Sources tell @TheAthleticDC the Cardinals and Texans exploring Trent Williams trade situation.

* Compensation and overall calculus for Redskins

* Why Jets, Chargers may have interest as @TheAthleticNFL beat writers across the league weigh in.https://t.co/TVnLgwACkq

— Ben Standig (@BenStandig) March 7, 2020
Browns Make The Most Sense
The Browns make the most sense for Williams as a trade partner.
They could use a veteran pro bowl presence like Williams to stabilize the left tackle position that the Browns have struggled to fill since Joe Thomas retired.
Bill Callahan, the current Browns offensive line coach, was also Williams' position coach in Washington for 4 seasons.
Williams has no guaranteed money remaining in the final year of his contract, but is said to be seeking a new contract.
The Jets
The Jet's current left tackle Kelvin Beachum is on track to hit free agency after being injured for much of 2019 and missing 3 games.
The Jets also boast more than an estimated $55 million in salary cap space entering the new league year.
Jets general manager Joe Douglas is no stranger to investing in older offensive lineman.
He was part of the regime with the Philadelphia Eagles that helped to resign Jason Peters multiple times in his tenure as Vice President of Player Personnel from 2016-2019.
The Jets also have more than an estimated $55 million in salary-cap space entering free agency.
The Cardinals
The Cardinals are in the market looking for protection for young quarterback Kyler Murray.
Just weeks ago, they resigned their own left tackle D.J Humphries with a 3 year 45 million dollar extension.
It remains to be seen how they would incorporate Williams into their line.
Humphries began his career at right tackle, but has played more on the left side since 2016.
It's also very unlikely that the Cardinals gave Humphries $29 million guaranteed to re-learn his old role.
The Texans
Much like the Cardinals, the Texans are looking to bolster their OL to help quarterback Deshaun Watson.
The Texans have more than $60 million in cap space to spend even though they have made some recent trades.
They are less than a year removed from a deal with the Miami Dolphins that brought them a big name LT in Laremy Tunsil.
They also invested a first-round pick last year in Tytus Howard.
What Trent Williams Will Cost
Some teams may question what kind of shape that Williams is in after missing the 2019 season, but this video was posted of him recently working out, showing he's ready to play.
Washington OT Trent Williams has been given permission to seek a trade through his agent Vincent Taylor, as @diannaESPN has reported. Here is video of Williams working out this week. pic.twitter.com/FwAeT5ELMO

— Adam Schefter (@AdamSchefter) March 5, 2020
It's hard to know what the Redskins will be asking in return for Williams since Bruce Allen is no longer with the team.
But, according to NFL's Network's Ian Rappoport, the Redskins "are not going to give him away."
He also will be looking for a new contract that gives him long-term security.
From NFL Now: The interest in #Redskins LT Trent Williams has picked up now that his trade request has gone public, but Washington wants fair compensation in order to trade him. What now? 👇🏼👇🏼👇🏼 pic.twitter.com/qzdbfWaCl4

— Ian Rapoport (@RapSheet) March 6, 2020
Will the Browns give up some assets and pay Williams the contract that he is looking for?
We should find out soon enough.