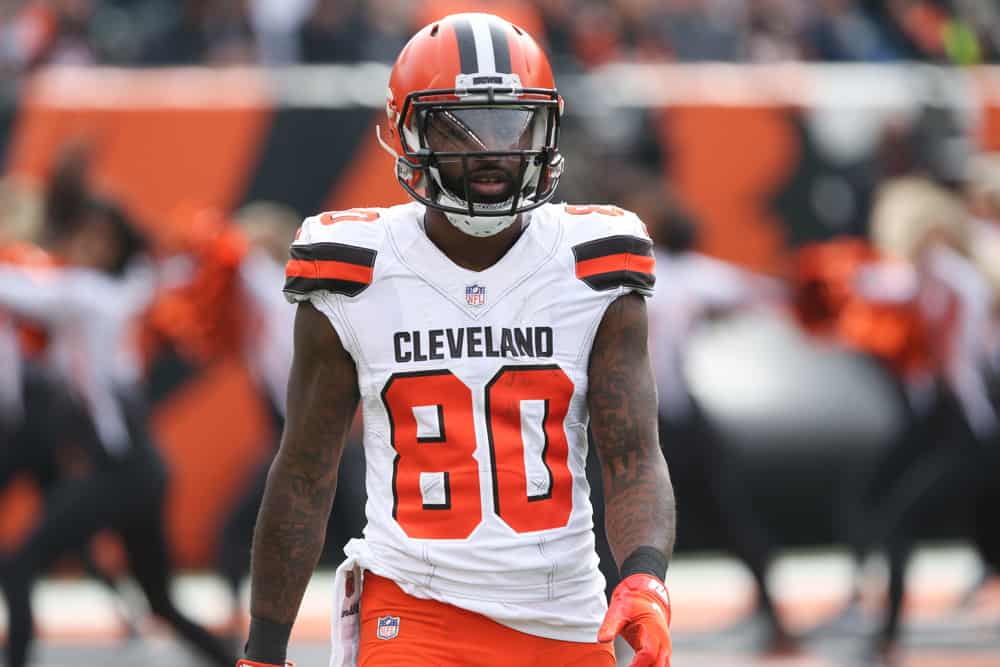 27-year-old wide receiver Jarvis Landry has been a stud since he entered the league as a second-round pick during the 2014 draft.
Landry has landed himself in five Pro Bowl appearances during his first six years in the league.
He has been an overlooked superstar, but has meant quite a lot to the Cleveland Browns over the last two seasons.
In 2018, the Browns gave Landry a five-year $75.5 million extension, which is a huge extension for such a young player.
Landry was well deserving of the deal given what he has done on the field over his career.
this is becoming my favorite thing to look up every week. Baker Mayfield's pass to Jarvis Landry on the sideline in the 4th quarter had a 12.9% chance of being completed, per Next Gen Stats. that's the 5th-most improbable completion of the entire season pic.twitter.com/uigrr6NuWs

— Jordan Zirm (@clevezirm) December 24, 2018
The Browns are a much better team on offense when Landry is on the field.
He has been a reliable, consistent, and durable player throughout his young career.
However, there are a few areas where he could improve and set goals for himself during the upcoming 2020 campaign.
1. Getting Healthy
This seems like a bit of an odd goal since Landry has been healthy throughout almost his entire career.
Landry has not missed a single game since joining the league with the Miami Dolphins in 2014.
He has played in 96 straight games and started in 87 of those contests.
However, Landry underwent surgery this offseason to address a hip injury that has been bothering him.
Browns' WR Jarvis Landry underwent hip surgery earlier this month. The team expects him to make a full recovery for the 2020 season.

— Adam Schefter (@AdamSchefter) February 20, 2020
The Browns organization is hopeful that Landry will be ready to go by the beginning of training camp.
This does not seem like the type of issue that is going to linger into the regular season.
Landry was battling injuries last season and still put up reliable numbers in Cleveland.
He hauled in 83 receptions and 1,174 receiving yards through 16 games in 2019.
Imagine what Landry would be capable of doing for Cleveland if he was at 100 percent last season.
2. Getting At Least 90 Receptions
The 90 reception mark is something that was eluded Landry during his first two seasons in Cleveland.
He has hauled in at least 80 receptions both years, but never reached 90.
While in Miami, Landry was able to finish with over 90 receptions in three of his four seasons with the organization.
To be fair, Landry was the star receiver in Miami, but that is not the case in Cleveland.
The Browns are stacked with Nick Chubb, Kareem Hunt, Odell Beckham, and Austin Hooper alongside Landry on offense.
His targets have decreased as well since joining the Browns, but it's also because Cleveland has more talent on offense than Miami.
Over the last two seasons, Landry's stats have suffered in Cleveland because he's the No. 2 receiver now.
It would be nice to see him get 10 or 15 more receptions this season and show he can still perform just as well as he did with Miami.
3. Finishing Over 1,200 Receiving Yards
Landry has been unable to reach the 1,200 receiving yard mark in a single season throughout his six year in the NFL.
Over the course of his career, Landry has finished with over 1,000 yards three times, but never hit 1,200 yards during a single season.
Throughout his career, Landry has been reliable and basically a top of the line receiver, but gets overlooked most of the time.
It would be fantastic to see him finish within the top three or four in receiving yards for the 2020 season.
Maybe then Landry would finally get the recognition that he deserves in this league.
He's a star receiver that has been pushed into a No. 2 receiver role with Beckham there.
It is time for Landry to send a message to everyone that he is a top receiver in the league and he wants to be noticed.