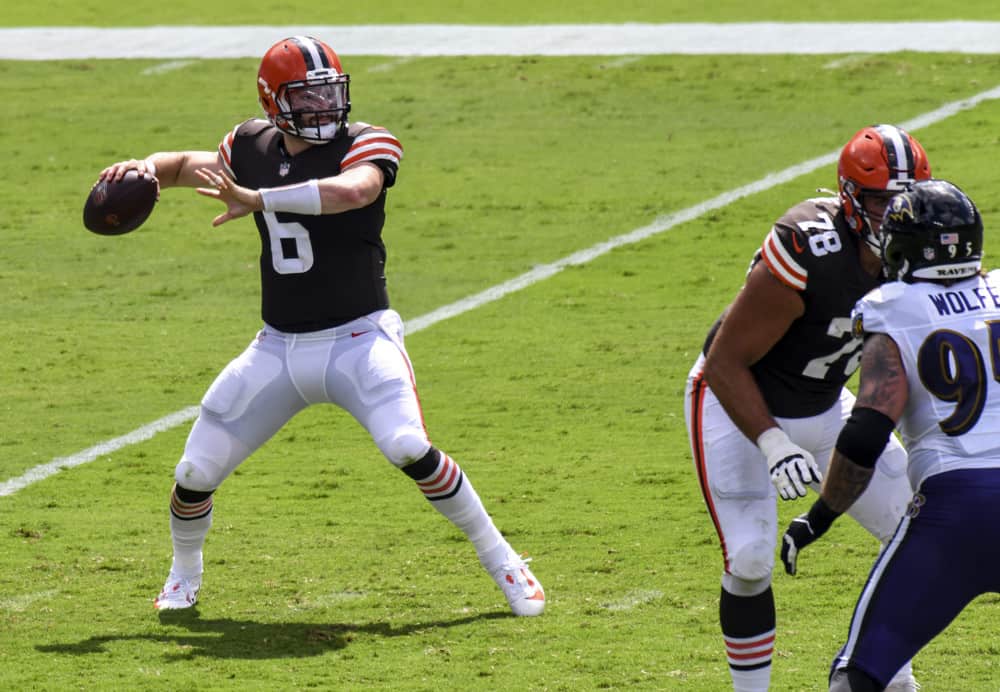 The 3-1 Cleveland Browns will host the 3-1 Indianapolis Colts for Sunday's Week 5 game.
The Browns are coming off a huge win against the Dallas Cowboys which puts them at 3-1 going into Week 5 for the first time sine 2001.
Coach Stefanski doesn't get caught up in the hype.
"I stay pretty week to week. This was a good team win. We're 3-1. But no one just wants to play one good quarter. Long way to go."
@obj @God_Son80 @Browns @TheFanDomeShow @WEWS @CLE_SPORTS_FANS @dawgpounddaily @DawgPoundNation @check_dawg #browns #ClevelandBrowns pic.twitter.com/qJUUXFEnhz

— Champion Designs (est. 2020) (@champdesigns20) October 6, 2020
The Indianapolis Colts are going to be a challenge.
A look at the statistics shows that these teams are nearly equal in a lot of respects.
It's beautiful. I've never seen anything like this before. #browns pic.twitter.com/tsp4W2P6U1

— Dawgs of War Podcast (@DoWPodcast) October 6, 2020
The Browns will need to rely on these 3 keys to score a victory over the Colts.
1. Rushing rules.
1st in rushing yards (818)
1st in yards per carry (5.9)
1st in rushings TDs (8)
1st in defensive takeaways (10)
1st in turnover differential (+6)

The Cleveland Browns finally have an identity#Browns | #Stefanski

— Browns EyeTest (@BrownsEyeTest) October 5, 2020
It's no secret that a big part of the Browns' success has been because of their amazing run game.
The Browns have rushed for 818 yards in the first 4 games and scored 8 rushing TDs.
Of course, Nick Chubb was instrumental in Weeks 2 and 3, but the Browns were creative in Week 4 when he went down with the injury.
In addition to Kareem Hunt, they used Odell Beckham Jr. and D'Ernest Johnson.
The next man up mentality will need to be in play for the Browns to beat the Colts because the Colts defense is tough.
Against the run, the Colts have given up 308 yards in 4 games.
The Browns offense has been working on all cylinders if the running game is established.
2. Clean play on defense.
Yes, the Colts are tough.
Their defense also scored 2 TDs in the first 4 games.
Through four weeks, and with the Monday night games in the books, the Colts' defense ranks first in the NFL in:

— yards/game allowed (236.3)
— passing yards/game (159.3)
— points allowed/game (14.0)
— interceptions (7)
— safeties (2)
— 3rd downs allowed (31%)
— defensive TDs (2)

— Zak Keefer (@zkeefer) October 6, 2020
Colts Head Coach Frank Reich commended his defense:
"The defense is playing really, REALLY good football … it's just four games. We gotta keep the pressure on. We play an explosive offensive next week and it'll be a good test for us."
But the Browns will need to play tough too.
They almost let Dallas storm back into last week's game in the 4th Quarter.
The Browns absolutely cannot give up 3 TDs and 3 two-point conversions in an 11-minute span like they did last week.
3. Time of Possession/3rd Down Conversions
These two go hand-in-hand for the Browns.
They need to lengthen drives and stay on the field to keep the ball out of Philip Rivers' hands.
Thus far in 2020, the Browns are 18/45 on 3rd Downs with an average time of possession (per game) of 30:51.
The Colts have similar numbers.
They are 18/52 in 3rd Down conversions with an average time of possession of 33:56.
Coach Stefanski scripted great plays against Dallas; he will need to do the same or better against Indianapolis so the Browns offense keeps moving the chains.
Key Is Turnovers
Yes, it is really the key to all NFL games.
And the Browns benefitted from costly turnovers by the Cowboys last week.
Philip Rivers has thrown 4 TDs and 3 INTs in 4 games.
Mayfield has thrown 7 TDs and 2 INTs in 4 games.
The Browns can't afford fumbles, interceptions, or any missteps on special teams against the Colts.