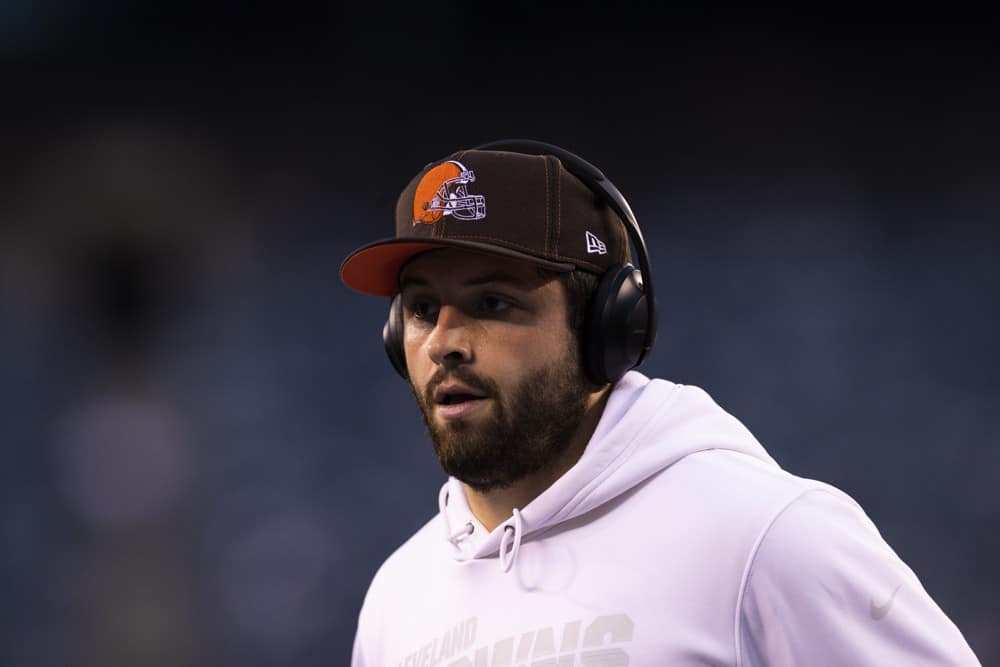 The Cleveland Browns were able to come away with a huge victory over the Cowboys in Dallas during Week 4.
They moved their record to 3-1, but sadly pulling off that key win came at a cost.
Cleveland running back Nick Chubb suffered an MCL injury during that game.
He is expected to miss at least a few weeks, which is a big blow to the offense.
Browns' RB Nick Chubb is being placed on IR with an MCL injury, per Kevin Stefanski.

— Adam Schefter (@AdamSchefter) October 5, 2020
However, the Browns are going to rally together and win for Chubb.
Quarterback Baker Mayfield is staying positive and posted a message for Chubb on his Instagram.
Mayfield's Message
The loss of Chubb is significant because he was their workhorse running back.
Despite that, Mayfield is not going to be negative about it and is wishing Chubb a speedy recovery.
"Good things happen in the great state of Texas… Hurry back @nchubb27. We got you in the meantime," Mayfield said.
Nick Chubb also posted a message thanking everyone for their prayers and promises to be back soon.
"Thanks for all the prayers and wishes. I'll be back soon enough. To the bat cave until then." Chubb said.

The Browns are off to an impressive start and won't let the Chubb injury dampen their spirits.
Cleveland relies heavily on its two-headed rushing attack, but will need to find a way to win without Chubb for a few weeks.
Can Cleveland Win Without Chubb?
This season, Chubb has rushed for 335 yards and four touchdowns through four games.
He almost won the rushing title last season, so his absence will make a major impact.
However, the Browns should be able to win without Chubb on the field.
Running back Kareem Hunt has 275 yards on 50 attempts with three touchdowns this season.
He is expected to get a bulk of the carries until Chubb is able to return.
The Browns might also be able to rely on D'Ernest Johnson who looked impressive versus the Cowboys.
He rushed for 95 yards on 13 carries in the absence of Chubb.
It appears the Browns do still have some weapons in the running game.
The loss of Chubb is obviously significant, but Cleveland does have a stacked offense.
The Browns will need Hunt and Mayfield to step up in his absence.
They will face a tough challenge versus the Indianapolis Colts in Week 5.
It looks like the Browns are staying positive, so we'll see if they can continue their winning streak.