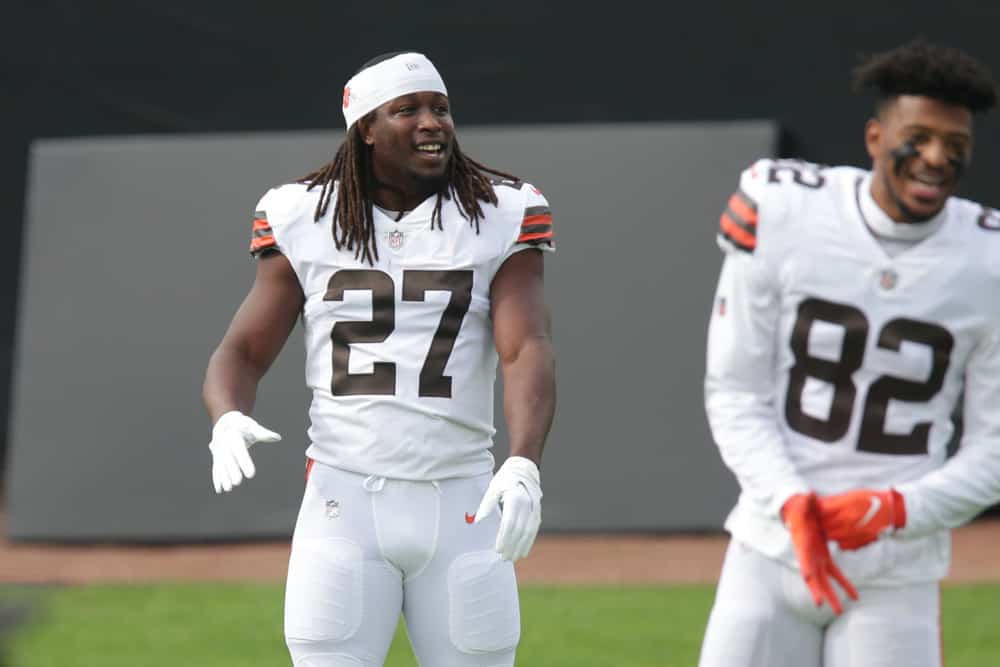 Baker Mayfield and the Cleveland Browns head back to New Jersey this weekend to take on the Jets.
And while it can be easy for a playoff contender to overlook a 1-15 team, The Los Angeles Rams served warning.
New York is fresh off the upset of the year, edging the heavily-favored Rams 24-21.
Kevin Stefanski pushed a lot of the right buttons on the way to Cleveland's 10-4 record.
The #Browns have won their 10th game. Amazing but true. And are not quite done yet. Cleveland appears to have finally gotten it right at the top.

— Ian Rapoport (@RapSheet) December 21, 2020
But he won't have to work much magic other than showing the Jets-Rams game film this week.
Cleveland has advantages at almost every position group this week.
New York's strongest suit, their run defense, took a hit with the loss of Quinnen Williams.
Williams is also the only Jet with more than 2 sacks this year.
Cleveland's defense is probably anxious to exert their authority over the low-scoring Jets offense, too.
Overall, it should be relatively easy for the Browns to notch their 11th win this season.
As long as they remember how the Rams expected to have an easy time of things last week.
Here are 3 keys for a Browns victory over the Jets.
1. Defense Needs To Hit The Jets Hard Right From the Start 
Los Angeles let the Jets score three times before the Rams showed any interest in putting up a fight.
By that time, the Jets smelled blood and played tougher as the game went on.
Yes, the Rams made it close, but they should have run away with it.
The overmatched Jets only needed a big play here and there to fend off the superior team's comeback bid.
Cleveland almost fell victim to the same scenario last week.
#Browns defense stepping up BIG when it counts. Giants have been in the red zone three times and have been held to just 3 points.

— Camryn Justice (@camijustice) December 21, 2020
The Giants were stopped in the Red Zone three times early in the game.
Then some questionable decision making turned 21 potential points into a 3-spot.
Joe Woods' defense would do well to attack early, and not bend like they did last week.
Sam Darnold is having a rough season.
Put it out of his head immediately that things might be better in Week 16.
Three-and-outs are not as exciting, but tempting fate again by relying on a stout Red Zone defense is unwise.
2. Offense Needs To Score Early and Score Big 
Nick Chubb and Kareem Hunt want to erase last week's 3.2 yards-per-rush memory quickly.
But there is no reason to run much early.
Mayfield faces the 30th-ranked pass defense, playing without their best pass rusher.
Let Mayfield attack the Jets and run up a few scores early.
Baker Mayfield targeting the end zone:

🎯 20 TDs
🎯 0 INTs pic.twitter.com/Q8Teq4gHdP

— PFF Fantasy Football (@PFF_Fantasy) December 22, 2020
As we already noted, even a winless team can rally when they believe they are in a game.
Stefanski should throw the kitchen sink at the Jets on the first drive.
And he should keep his foot on the pedal for most of the game.
Chubb and Hunt will run up some yards in between.
But this should be another multi-touchdown game for Mayfield despite the Browns' under-manned offensive line.
Bill Callahan and Stefanski will find ways to keep Mayfield on his feet and effective.
3. Browns Should Rest Who They Can 
It is very possible the Browns will play for a division title in Week 17.
There are also do-or-die scenarios in which a Browns loss can eliminate them from the playoffs.
Cleveland will want all hands on deck in either case.
That makes this weekend Stefanski's best opportunity to rest some players for the playoffs.
If the Steelers beat the Colts on Sunday they will win the AFC North and then likely rest key people against the Browns in Week 17. Should the #Steelers lose to the Colts & the Browns beat the Jets, Pittsburgh will need to play to beat Cleveland in Week 17 to win the division.

— Steelers Depot 🎄 (@Steelersdepot) December 25, 2020
If the team needs another reason to run up the score early against the Jets, this is it.
Cleveland's defensive line rotation would do well to tilt toward the younger members.
Olivier Vernon, a banged-up Sheldon Richardson, and ailing Myles Garrett could use some rest.
Hunt and Chubb won't like it, but D'Ernest Johnson could take over the fourth quarter again.
And they might find Jarvis Landry on the bench with them.
Because a win won't be a victory if Cleveland loses a key player for next week's showdown.