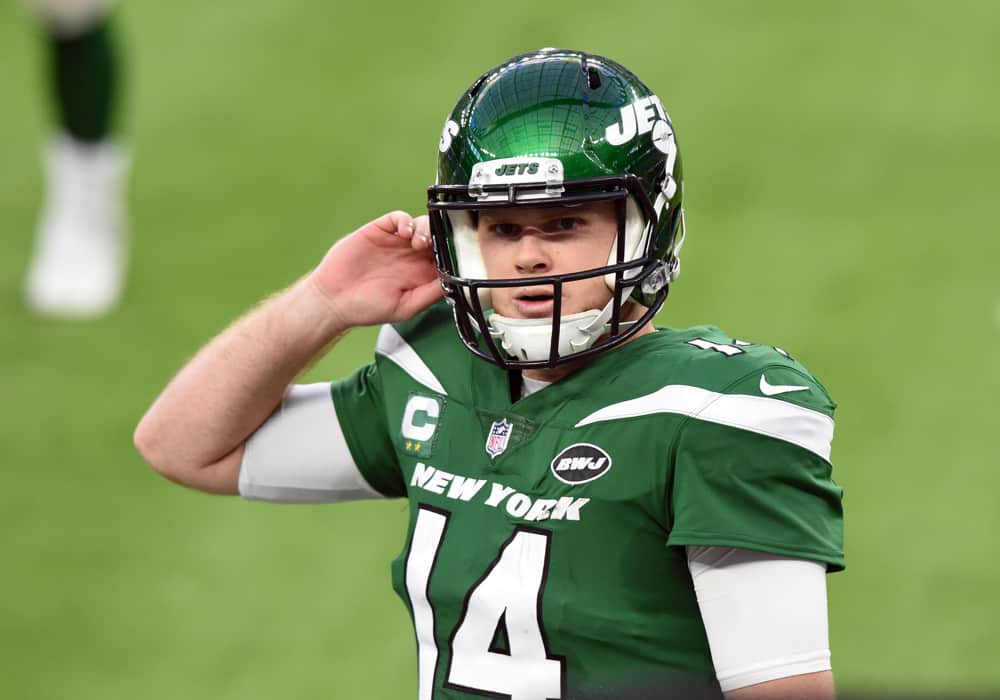 The Cleveland Browns play the New York Jets on Sunday for a Week 16 matchup that casts former 2018 first-round draft pick quarterbacks against each other.
Baker Mayfield was selected 1st overall in the 2018 NFL Draft by the Browns, and Sam Darnold was selected 3rd overall by the Jets.
At the time, some mock drafts projected Darnold would be 1st overall.
Between their selections was RB Saquon Barkley in the 2nd overall spot who went to the Giants.
Because of Darnold and Mayfield's shared history and the polar opposite seasons the Browns and Jets are having, it was only a matter of time before Darnold was asked to comment on Mayfield's success.
Given that his team is 1-13 and just trying to finish the season by winning some games, it is unclear what he was expected to say.
He offered the following:
"Baker's been playing great. He's been doing great," Darnold said via Chris Ryan of NJ.com. "I honestly haven't been watching a ton of him. Obviously, they're winning games, so he must be doing a good job."
Sam Darnold
Darnold came to the Jets with a lot of promise.
Quite honestly, the Jets have not had a successful starting quarterback for years.
He has a limited supporting cast, and the Jets organization doesn't show any movement toward building a team around him.
That's why I think a good coaching staff can turn Darnold into a good QB. Kinda like this year vs last year with Baker Mayfield

— ParkwoodRC (@Parkwood09) December 26, 2020
Certainly, he has heard the Trevor Lawrence whispers all season long.
But after the Jets pulled off an improbable win in Week 15 over the Los Angeles Rams, the Jets' chances of drafting Clemson's Lawrence first overall in the 2021 NFL draft have diminished greatly.
Many are shocked that Jets coach Adam Gase has made it through the entire season given the questionable decisions he has made.
The best Xmas gift any Jets fan got today? Knowing that the number of days Adam Gase has left in charge at Florham Park are down to single-digits. pic.twitter.com/yjj6dR60U5

— Glenn Naughton (@AceFan23) December 25, 2020
Some say it doesn't matter whether it is Darnold or Lawrence under center, the Jets need to invest in a team to help either one succeed.
Despite potentially losing out on Lawrence, Darnold's future with the Jets is uncertain.
He is in the third year of his four-year rookie contract valued at $30.2 million.
Because he is a first-round pick, it does have a fifth-year option for the 2022 season.
Baker Mayfield
On the flip side, Mayfield had a good rookie season followed by a 2019 slump that most of the Browns team and organization also experienced.
A new GM and head coach have proven to be a big boost to the Browns on and off-the-field.
Wise draft picks and free agent signings have given Mayfield the supporting cast he needs for the Browns to succeed.
Gone are the sideline quarrels with coaches and other distractions that also hurt the Browns.
It is Baker's time to put it all together and lead his team into the playoffs.
Browns vs. Jets
Because the pressure is entirely on the Browns (and Mayfield's) shoulders, this game is a dangerous one.
The Jets have absolutely nothing to lose.
They played like it last Sunday over the Rams.
And the Jets would like nothing more than to spoil the Browns prospects for a playoff run.