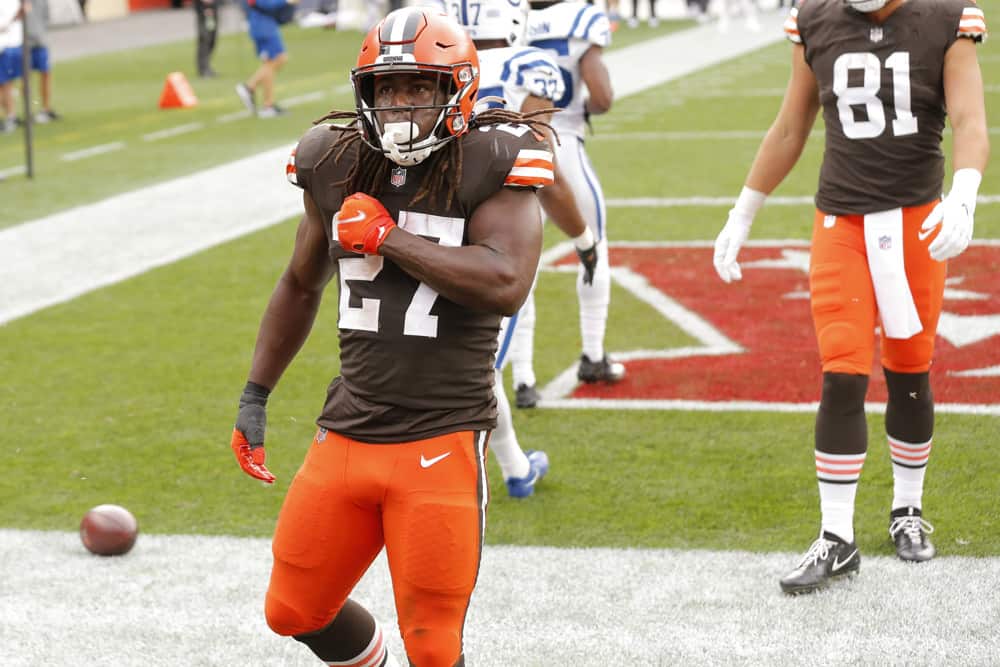 The NFL offseason is in full swing.
While fans eagerly await the return to the gridiron, winter transactions will have to suffice as entertainment for now.
Fans are well aware of why this offseason in Cleveland differentiates from others prior.
There is a core to already build upon, something absent from previous winters.
Still, there is an opportunity for General Manager Andrew Berry to help the Browns take another step forward heading into the 2021 season.
There are moves he can make to help put his team over the top.

1. Sign JJ Watt
What once started as a dream scenario has crept closer to reality in recent days.
Defensive end JJ Watt, after announcing his departure from the Houston Texans, continues to search for a new playing home.
While Cleveland was a part of the early conversations, the odds of him signing a deal with the Browns continue to increase seemingly by the day.
How about JJ Watt on the Cleveland Browns? @jjones9 thinks it's a great fit pic.twitter.com/k2dfqMVqTO

— CBS Sports HQ (@CBSSportsHQ) February 12, 2021
The latest odds from TheActionNetwork.com actually have Cleveland listed as the favorites to land Watt this offseason.
So many Browns mock drafts have them taking an edge rusher in the first round of the draft (including mine).
Finding someone to play opposite of Myles Garrett to disrupt opposing backfields and elevate the pass rush is a priority for the Browns defense.
Watt has struggled to stay on the field, playing more than 10 games in just two of his last five seasons.
He may not be the same caliber player he once was during the start of his career.
As Tampa Bay just displayed in the Super Bowl, an elite defensive line can help lead you to a title.
A duo of Garrett and Watt instantly makes Cleveland's defensive front one of the most, if not the most, feared in the NFL.

2. Sign Richard Sherman
While we're at it, why not try and take care of the secondary?
Richard Sherman is another highly recognized name that, despite being a touch past his prime, can be a huge boost for Cleveland.
Reports from Mary Kay Cabot of Cleveland.com  say that the Browns are likely to pass on Sherman, but don't rule anything out just yet.
Yes, they do have younger talent at the position they feel can make an impact.
Greedy Williams missed all of last year and is expected to start opposite of Denzel Ward when he returns.
It's hard to be sure of what exactly Williams will bring on the field as we've only seen him in 12 NFL games.
None of those were particularly great for Greedy.
Sherman, although an older and more expensive option, should give the Browns a better idea of what to expect from their second cornerback spot.
Highest-graded CBs since 2019:
🔒 Richard Sherman – 89.5
🔒 Jaire Alexander- 88.4 pic.twitter.com/XV3KPlFNYd

— PFF (@PFF) February 14, 2021
Lowest passer rtg allowed since '19:
🔒 J.C. Jackson – 48.0
🔒 Richard Sherman – 51.7 pic.twitter.com/5merpchhue

— PFF (@PFF) February 11, 2021
No need to get overly excited yet, as the likelihood of signing Sherman is lower than that of landing Watt.
Seeing the former poster boy for the "Legion of Boom" in brown and orange would be a cool sight though, and one that makes the Browns better.

3. Draft a Game-Changing Inside Linebacker
This move is obviously easier said than done, but one that would take the Browns defense to the next level (noticing the theme of these moves yet?).
The middle-layer of Cleveland's defense was by far their weakest in 2020 and will need addressed moving forward.
In my mock draft for BrownsNation, I had the Browns taking Tony Fields II out of West Virginia in the third round.
He's an explosive, athletic inside linebacker that can get it done against the run and in coverage.
WVU/Arizona ILB Tony Fields (@T_Fields1) is that dude #seniorbowl pic.twitter.com/xxVmhd9MVg

— MGA Sports Agency (@MGASportsAgency) January 26, 2021
I still can't tell if this is WVU LB Tony Fields II (@T_Fields1) knowing where the ball was going pre-snap or if while he was blitzing he just recognized it that fast but seems like he was gunning for Lovett the whole way.

Man is a tackling machine.#WNSFilm pic.twitter.com/M3zHXiDXBO

— Brandon Olsen (@WNS_Brandon) January 14, 2021
Free agency is another avenue to explore here, with guys like Avery Williamson and Jarrad Davis both available.
Jarrad Davis HIT STICK 💥

(via @thecheckdown) pic.twitter.com/tMm0q82LRR

— ESPN (@espn) September 20, 2020
But if Berry goes the route of signing Watt and/or Sherman, the big-name free agent signing at ILB pretty much goes out the window.
Whether it's in the draft or through free agency, the middle of Cleveland's defense needs to see upgrades.