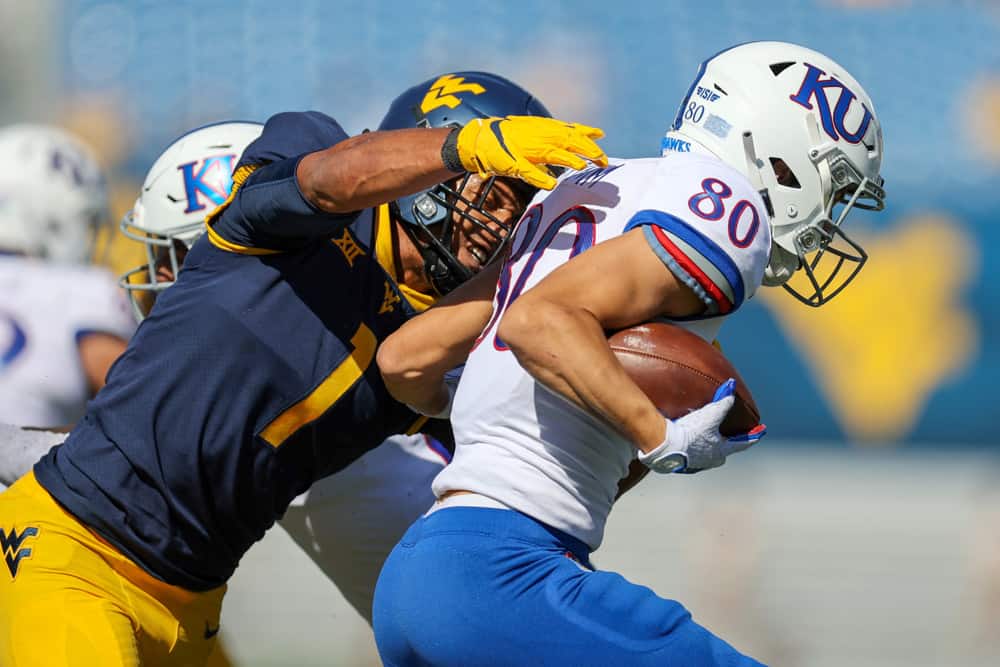 The defense was certainly the focus for this Cleveland Browns mock draft.
The Browns will have a plethora of offensive weapons returning next season, led by quarterback Baker Mayfield.
The defense, one that may be forced to stop the offensive attack of the Kansas City Chiefs in the postseason one day again, needs upgrades.

Gregory Rousseau, EDGE, Miami (Round 1, Pick 26)
When Olivier Vernon was brought over in a trade with the New York Giants, fans thought he could be a consistent force alongside Myles Garrett.
That dream never truly came to fruition despite good stretches of play from Olivier.
If the Browns want a true pass-rushing threat opposite of Myles, they'll need to upgrade this offseason.
Gregory Rousseau, a defensive end out of Miami, could provide the answer to that issue.
Gregory Rousseau's FSU tape is nsfw, IOL had no answer for him.pic.twitter.com/b0Pb3GHoI4

— Austin Gayle (@PFF_AustinGayle) July 21, 2020
The last time the football world saw Rousseau was in 2019 when he logged 19.5 tackles for loss as well as 15.5 sacks.
He opted out of the 2020 season: an understandable decision given the context of the COVID-19 pandemic.
Sitting out may have put a small dent in his draft stock, but that could ultimately help him fall to Cleveland who has the 26th pick in the first round.
One interesting bit about Rousseau is that he played both wide receiver and safety during his high school career.
The 6-foot-7, 253-pound menace learned the defensive end position quickly, and in dominant fashion.
Consistency is the one aspect of Olivier Vernon that bothered Browns fans more than anything.
That isn't an issue with Rousseau, who recorded a tackle for loss in about 70% of his defensive outings in 2019.
The Hurricanes move him around on the defensive front too, giving him opportunities to rush an opponent's interior.
He did that as well as just about anything else the Hurricanes asked out of him.
Some patience may be required with Gregory, who had ankle surgery in 2018 in addition to missing the entire 2020 campaign.
His tremendous upside and versatility could turn him into the perfect edge player to pair with Garrett.
Gregory Rousseau, Edge, MIA-

– Freaky Athlete
– Outstanding Length
– Arm Extension and Hand Placement
– Stays Clean w/ Length and UOH
– Quick and Powerful Hands
– Versatility
– Very Good Sack Production
– Lateral Agility Vs O/S Zone
– Understanding of Run Concepts#NFLDraft pic.twitter.com/dEFhuSZsaH

— Ryder McConville (@RyderM25) July 6, 2020
Aaron Robinson, CB, UCF (Round 2, Pick 59)
Teams want their cornerbacks to be "sticky" these days, meaning they can hold their own in man-to-man coverage.
It's a must to have those types of guys, as most competent NFL quarterbacks will eventually start to pick apart zone looks defensively.
Aaron Robinson, a cornerback out of Central Florida, meets that description.
UCF CB Aaron Robinson, an Alabama transfer, had a great first day in Mobile. Super sticky all day long. pic.twitter.com/u6NivcWhIy

— Cory (@realcorykinnan) January 27, 2021
Aaron Robinson officially has my attention.

Did y'all know that I love physical cornerbacks? pic.twitter.com/MDDagl3ooI

— John Vogel (@johndavogel) January 28, 2021
Robinson, a big-time recruit out of Deerfield Beach, Florida, attended Alabama as a freshman and played just four games with the Tide in 2016.
That following summer, he announced his transfer to UCF.
He would have to sit out in 2017 due to NCAA transfer rules and missed time in 2018 after suffering a bad injury in the season opener.
2019 and 2020 would be much smoother.
In 2019 he recorded 49 total tackles, 4.5 for losses, and snatched one interception.
Last year was not quite as productive, totaling 41 tackles, just one for a loss, and no interceptions.
He was named second-team All-American Athletic Conference both seasons.
The Browns do not need to give up on Greedy Williams, but they do have to get consistent play out of the cornerback position opposite of Denzel Ward.
Williams played just 12 games in an up-and-down rookie season and missed all of this past year.
Terrance Mitchell was serviceable as a replacement but is not the long-term solution.
Robinson is a quick, physical corner that could make an immediate impact in Cleveland's secondary.

Alim McNeill, IDL, North Carolina State (Round 3, Pick 89)
Continuing with the defensive theme, I have Cleveland targeting Alim McNeill out of NC State with their first of two third-round picks.
The interior of the defensive line will need to be addressed since Larry Ogunjobi, in all likelihood, will be too expensive for Andrew Berry to bring back.
Sheldon Richardson and Andrew Billings will return, but adding depth will be needed.
Earlier in February, Pro Football Focus ranked McNeill as the second-best interior defender in the draft.
PFF also place him on top of their Power 5 interior defender rankings with a run defense grade of 92.1, the best in the country.
DON'T SLEEP ON ALIM MCNEILL 😴 pic.twitter.com/JN9nfJFfvb

— PFF Draft (@PFF_College) February 3, 2021
It's a bit of a down year for defensive tackles, hence McNeill falling to the third round.
Similarly to Rousseau, McNeill played a skill position in high school (running back) and you can see the speed and quickness that stem from that.
320 lb Alim McNeill is DT2 in the NFL Draft

He also played RB in High School

(h/t @michiganinsider) pic.twitter.com/oMoABr2zcJ

— PFF Draft (@PFF_College) February 4, 2021
He played his final year with the Wolfpack at 335-pounds, yet moved like he was around 275.
Oh it feels so good. @AlimMcneill pic.twitter.com/XUJAlb2lii

— Taylor McIntire (@taylormcintire) October 10, 2020
He is every bit strong as he is quick, a huge plus for defensive tackle prospects.
Hello Alim McNeill! He's got some serious grown man strength. pic.twitter.com/50mg3O8N3M

— Dante Collinelli (@DanteCollinelli) February 2, 2021
The consistent play was a staple of McNeill's collegiate career, logging over four tackles for loss and at least one sack in each of his three seasons at NC State.
He was never dominant enough to garner big-time national attention, but draft profiles highlight his hard-working mentality and desire to get better.
In an interview with bloggingtheboys.com, McNeill mentioned shedding a few pounds that he had to put on in college to handle constant double-teams.
"I'm kinda homed in more on exploding more… I feel like I can explode better off of blocks", said McNeill.

"Like when a guard comes and attacks me, and I have the center, and then he goes off and attacks the linebacker or whoever, I feel like I can explode and escape faster than what I did".
Tony Fields II, LB, West Virginia (Round 3, Pick 91)
It feels like I wrote dozens of articles this past season that mentioned the shortcomings of the Browns linebackers.
It was a unit that was looked at as bad before the year even started and didn't change that narrative when it was all said and done.
They need to add talent there this offseason, and West Virginia product Tony Fields II is one man who can help.
I still can't tell if this is WVU LB Tony Fields II (@T_Fields1) knowing where the ball was going pre-snap or if while he was blitzing he just recognized it that fast but seems like he was gunning for Lovett the whole way.

Man is a tackling machine.#WNSFilm pic.twitter.com/M3zHXiDXBO

— Brandon Olsen (@WNS_Brandon) January 14, 2021
WVU/Arizona ILB Tony Fields (@T_Fields1) is that dude #seniorbowl pic.twitter.com/xxVmhd9MVg

— MGA Sports Agency (@MGASportsAgency) January 26, 2021
He served as the MIKE of the Mountaineer defense who boasted the fourth-best defense in the FBS last year in terms of points allowed per game.
Fields II was dynamite, recording 88 total tackles, four for loss, two pass deflections, and one interception.
He's all over the field with sideline-to-sideline athleticism.
Instinct is something that the Browns LB's lacked in 2020, with Mack Wilson and others constantly out of position.
Fields II may not be the biggest dude out there, but his knack for shedding blocks and finding the ball carrier is what makes him special.
He can hold his own in coverage as well, a big plus for modern NFL linebackers.
TheDraftNetwork.com projects him as a WILL linebacker at the next level, but Cleveland's defense will (ha, get it?) take any LB-upgrade they can.

Talanoa Hufanga, S, USC (Round 4, Pick 110)
Safeties from USC almost always make for an interesting prospect (thanks, Troy Polamalu), and Talanoa Hufanga is no exception.
The Trojans aren't the college football powerhouse they once were, but that doesn't mean they don't have talent littered across their roster.
Hufanga, even in a shortened pandemic-infused season, took a huge step forward in 2020 and boosted his draft stock in the process.
TALANOA HUFANGA WITH THE PICK! USC BALL DOWN 5 IN THE FOURTH! #Trojans #FightOn #USCvsUCLA pic.twitter.com/rmgrcdQAt9

— Inside The Draft (@Jacobkeppen) December 13, 2020
Talanoa Hufanga tips the pass and comes down with the INT then hurdles a Washington State player 😂😂 #USC pic.twitter.com/8kUGx3xwNj

— 🌹🏆 (@RespectDaBeard1) December 7, 2020
His 40 solo tackles and four interceptions were both best in the Pac-12.
He would finish with 62 total tackles, five and a half for loss, and three sacks.
Those numbers were good enough to earn him Pac-12 Defensive Player of the Year honors.
The problem is that people typically scoff at the defense of that conference as a whole as the late-night West Coast games seem to always be high-scoring affairs.
Regardless, being the best defensive player in any conference should carry weight.
The safety position was not particularly strong for Cleveland in 2020, but help is already on the way for 2021.
Grant Delpit, who missed all of his rookie season with a torn Achilles, will return to help aid the secondary.
If Hufanga falls to the Browns in the 4th round, however, he could turn into a fun project-player for Cleveland that could eventually carve out a consistent role on the defense.
His athletic ability alone should net him at least a starting special teams role early in his career.

Robert Hainsey, OT, Notre Dame (Round 4, Pick 130)
Browns fans may not have a ton of love for Notre Dame athletes right now thanks to Chase Claypool's social media antics.
Robert Hainsey could change that narrative and provide additional depth for the Browns offensive line.
One of the more enticing aspects of Hainsey's game is his ability to play cleanly.
There are few things more frustrating for an offense than a cheap false start or holding penalty on the offensive line.
That doesn't happen too often for Hainsey.
It didn't happen at all this past season.
Robert Hainsey played 836 total snaps at right tackle this season.

He committed ZERO penalties. pic.twitter.com/PuR4YFoSqd

— PFF Draft (@PFF_College) January 31, 2021
He started for three seasons for the Irish, which TheDraftNetwork believes is an indication of him not getting any stronger at the NFL level.
There may be some truth to that, but I'm not one to rule out further development for someone in their early 20's.
He's on the heavier side of tackles, weighing 290- pounds at 6'5".
Most seem to think he can hold his own in the running game, especially with zone concepts, but could struggle in pass-protection.
That may have more to do with his physical build than anything else, as Hainsey did not allow a single sack during the 2019 campaign.
He isn't ready to start at the NFL level yet, and he may not ever reach starting quality.
Still, he's a smart and technical offensive tackle, qualities that any NFL general manager should at least look at.
Only offensive linemen to not allow a pressure in the Senior Bowl:

💥 Creed Humphrey, Oklahoma
💥 Robert Hainsey, Notre Dame pic.twitter.com/jmOCEUBZXb

— PFF Draft (@PFF_College) January 31, 2021
Whop Philyor, WR, Indiana (Round 5, Pick 168)
Slot receivers are a lot of fun to watch in the NFL.
Browns fans know just how much of a treat it was to watch Jarvis Landry dice up opposing defenses across the middle of the field each Sunday.
There's plenty of slot-talent in this year's draft, and someone Clevelanders may recognize is Whop Philyor.
Philyor played his college ball at Indiana, scoring a touchdown against Ohio State in their matchup last season.
The name is certainly fun, but his ability on the field is that much better.
@IndianaFootball WR Whop Philyor is a tough cover in the slot. If you looking for Y receivers, there's plenty in this draft.#DraftTwitter #2021NFLDraft #CRFB pic.twitter.com/e8bXSgbPsC

— EJHolt215_NFL (@EJunkie215) February 7, 2021
We're still trying to figure out how Whop Philyor brought this in.

(Via @IndianaOnBTN)pic.twitter.com/0nB9VHgSSc

— PFF Draft (@PFF_College) October 16, 2019
One of the (many) reasons fans love Landry is because he plays hard each snap.
Often, he'll put his head down to try and pick up a few yards as opposed to ducking out of bounds early to avoid contact.
One isn't always better than the others, but fans naturally gravitate towards the former.
That kind of effort is what the Browns would get from Philyor.
Whop Philyor runs HARD. 👀

cc: @IndianaFootball pic.twitter.com/P0nLsncK9o

— Big Ten Network (@BigTenNetwork) November 7, 2020
Philyor led the Big Ten with 54 receptions this past season and was top-ten in receiving yards with 495.
Had the 2020 season not been shortened due to COVID-19, Philyor had a legitimate chance to become Indiana's all-time receiving leader in terms of both yards and receptions.
He's an incredible talent that is entering this draft as a bit of a sleeper.
Wide receiver is not an immediate need for Cleveland, but if Philyor falls this far, I don't think Andrew Berry should pass on Whop.
No, his real name is not Whop for those wondering.
It is Mister Elias De'Angelo Philyor.

Robert Jones, IOL (Round 6, Pick 206)
Some more offensive line depth never hurt anyone, did it?
At this point in the draft, it's unlikely to come across any sort of generational talent that will transcend the franchise.
The Browns don't need to try and find a superstar late given the talent already present on the roster.
Robert Jones, an interior offensive lineman that projects as a guard at the NFL level, could provide good value for a 6th round pick.
The Middle Tennessee State product is not the most athletic guy in the draft coming in at 319-pounds.
That's one of his bigger knocks heading into the draft as teams know he's not a guy you rely on around the perimeter.
Still, his sheer physicality could help carry him a long way at the next level.
What #MTSU OL Robert Jones just did to consensus top 7 Edge Rusher Shaka Toney should be illegal 😳😳@TWSN___ @seniorbowl #TheDraftStartsInMobile pic.twitter.com/2YAx7PDdCm

— Jake Sirkus (@JakeSirkus) January 28, 2021
Jones was an All-Conference USA Football honorable mention in both 2019 and 2020.
Before MTSU, Jones made a name for himself at Highland Community College as one of the best JUCO linemen in the nation.
It's a story you would see on Netflix's Last Chance U, an underdog story that Browns fans can appreciate.
Again, he won't be competing for a starting spot right away, if ever.
Teams always need depth on the offensive line though, Cleveland included.

Tre Norwood, Cornerback, Oklahoma (Round 7, Pick 250)
Tre Norwood had an interesting career at Oklahoma.
It's not often you see guys transition from cornerback to safety on a snap-to-snap basis, yet that's what Norwood did for the Sooners.
Right away, that willingness to adjust to new roles for the betterment of the team should make NFL coaches excited.
Tre played every game his freshman season in 2017, solidifying his role as a difference-maker with the Sooners defense.
Norwood did the same in 2018, only this time as a starter.
He racked up 58 tackles, two of those for loss, one sack, and one interception.
2019 looked to be another great year for Norwood, but a torn-ACL sidelined him for the entire year.
In a reduced 2020 campaign, Norwood earned All-Big 12 honorable mention and intercepted five passes.
Lowest passer rating allowed to the slot among safeties in 2020:

♨️ Tre Norwood, Oklahoma – 54.2 pic.twitter.com/ahXBf4hjoR

— PFF Draft (@PFF_College) February 9, 2021
One of those was a pick-six off Florida quarterback Kyle Trask.
TRE NORWOOD PICK-SIX 💨 it's 14-0 and it's not even 3 minutes in… #CottonBowl pic.twitter.com/OnK8MK4MtJ

— Cover Zero (@CoverZeroIG) December 31, 2020
So, why would he be available in the seventh round?
Well, at just 6'0", 192-pounds, there are obvious concerns over his size.
He played very physically at Oklahoma, but the NFL isn't the Big-12.
NFL GM's may be worried about Norwood's ability to keep up with bigger and stronger targets at the next level.
That kind of size isn't doing much against a Rob Gronkowski, Travis Kelce, or D.K. Metcalf.
Granted, not every receiver or tight end in the NFL is as monstrous as those three.
Tre still may want to try and put on some weight before getting his professional career started.
For Cleveland, getting a versatile guy in the secondary this late in the draft should be seen as a win.

Summary
It's a weird feeling knowing the Browns' first draft pick won't be until the 26th selection.
After spending year after year in that top-ten, it's a different approach now for the Browns.
Finding value with each of your picks becomes a priority instead of trying to hit a home run with that early first-round pick.
That's not to say Andrew Berry is incapable of knocking this draft out of the park.
There are needs and weaknesses on the roster, some more clear than others.
Taking care of the defensive side of the football and finding a consistent pass-rushing partner for Myles Garrett is the objective of this mock draft.
If guys like Philyor and Jones end up being a part of the offense somewhere down the line, that's gravy on top.