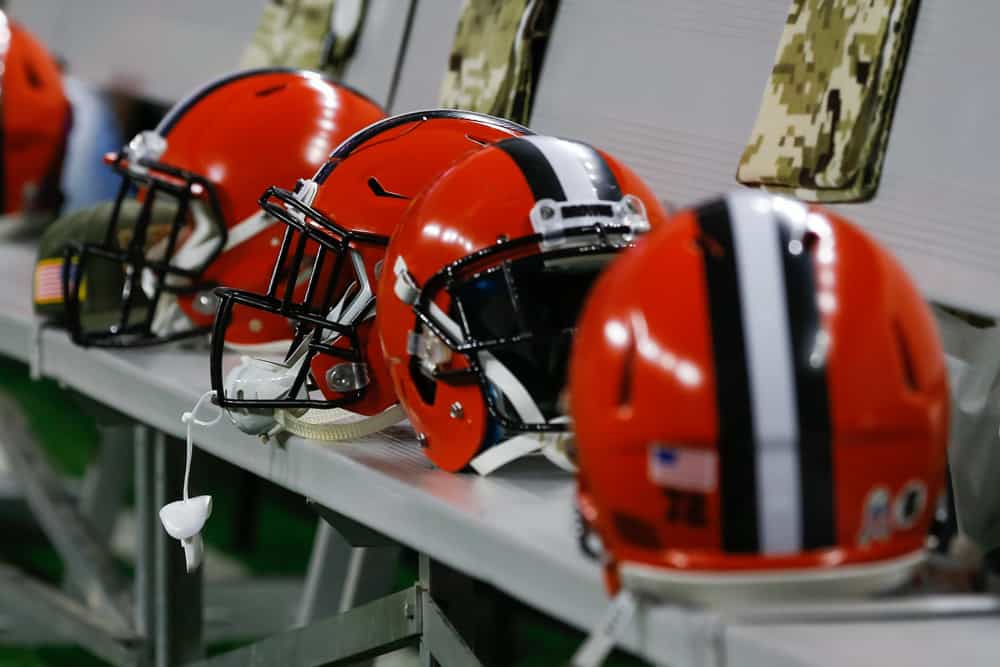 The Cleveland Browns are at 5-2 and in the thick of the AFC playoff hunt.
With that being said, the team still needs some help to give them a better shot against the elite teams in the AFC.
The Browns currently have $31,098,672 in free salary cap space, leading the NFL.
Here are three realistic targets the Browns could swing a trade for.

1. Ryan Kerrigan
The Browns currently have the (arguably to some) Defensive Player of the Year in Myles Garrett, who is dominating this season.
But here's the catch, he's responsible for half of the Browns sacks this season.
He could use a little help on the defensive line.
That's where Ryan Kerrigan comes in.
A four-time Pro Bowler Kerrigan brings 94 career sacks to the table in 147 games.
He's sitting at four sacks on the season, and that is in a part-time role, as he's lost playing time to Montez Sweat and Chase Young in Washington's youth movement.
The only drawback is his 11.5 million salary on the season, which the Browns would pick up a little over $6 million if they traded for him.
Can you imagine him lined up across from Myles Garrett, though?
And if you're not down with that, we got two words for you:

🗣 RYAN. KERRIGAN.

📺 #DALvsWAS FOX pic.twitter.com/qn1gQm6Vdl

— Washington Football Team (@WashingtonNFL) October 25, 2020
2. Kenny Stills 
This isn't the sexiest name as far as wideouts go, but the Bengals aren't going to trade AJ Green within the division.
But Kenny Stills makes sense.
An 8-year vet out of Oklahoma, Stills is currently wasting away on an awful Texans team that are going to be sellers at the deadline.
While he hasn't broken the 1,000-yard mark in his career, that isn't exactly his game.
In this clip, you can see he's used mostly in the slot.
I've missed you Kenny Stills pic.twitter.com/TYc1yHzyZ7

— Texans Thoughts (@Texans_Thoughts) October 25, 2020
Stills has the speed to stretch the field, and has scored 37 TDs in his career, with a high of 9 in 2016 with Miami.
What makes him a great fit is that his contract is up at the end of the year, and he would most likely cost the Browns a low draft pick.
With OBJ out for the season, the Browns don't need someone with a long contract, especially with Baker Mayfield spreading the ball around to Donovan Peoples-Jones, Rashard Higgins, and tight end Harrison Bryant.
The Browns just need to find some depth for the playoff run.
3. Justin Simmons
We all know the Browns need some help in the defensive backfield, and in a previous article I touched on Bradley McDougald as being a potential trade target from the Jets.
But a good front office is casting multiple lines, and Justin Simmons would fit the bill.
A fifth-year vet out of Boston College, Simmons is having a bit of a down year compared to last season, where he racked up 4 INTs and 93 total tackles.
He went into the off-season wanting big money, and he and the Broncos came to terms on a one-year, $11 million dollar deal.
This could be a great trade because it would add a young, dynamic free safety to the roster who might just need a change of scenery to turn his season around.
If it doesn't work out, he's a free agent at the end of the season.
And if he does work out?
The Browns will be able to ink him to a new deal. Win/Win.
While these are just hypotheticals, don't be surprised to see Andrew Berry make some moves before the deadline.