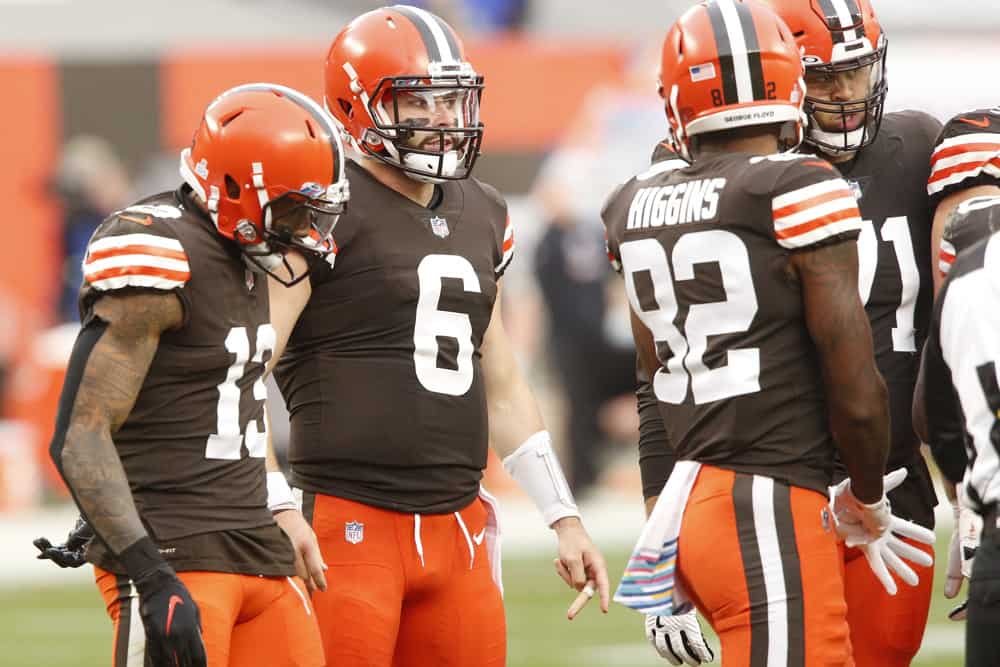 Luckily, the Cleveland Browns were able to pull off the win against the Cincinnati Bengals in Week 7.
It was much closer than expected, but Cleveland escaped with the 37-34 victory.
Sadly, the Browns are going to be without star wide receiver Odell Beckham Jr. for the rest of the season.
He was forced to exit early during Sunday's game and it has been confirmed that he suffered an ACL tear.
Odell Beckham Jr. says he suffered a torn ACL against the Bengals and is out for the season, per @JosinaAnderson pic.twitter.com/RE9q9RnkVu

— Bleacher Report (@BleacherReport) October 26, 2020
The Browns are now going to have to find a way to win without Beckham or running back Nick Chubb.
Cleveland will face off against the Las Vegas Raiders in Week 8, which should be a good test for this team.
It'll be interesting to see how Cleveland changes their gameplan without two of their biggest stars available on offense.
3. Myles Garrett Continues Causing Chaos
The Browns defense is looking like a one-man army at this point in the season.
Superstar defensive end Myles Garrett continues dominating offensive lines each and every week.
He has no doubt put himself in the Defensive Player of the Year conversation.
Myles Garrett has recorded a sack in 6 straight games 😳 @brgridiron

That's the longest active streak in the NFL. pic.twitter.com/lesZvE975m

— Bleacher Report (@BleacherReport) October 25, 2020
The performance by Garrett was a huge reason why the Browns were able to get the win on Sunday.
He finished with three tackles, two sacks, and one forced fumble against the Bengals in Week 7.
The strip sack on quarterback Joe Burrow was an enormous play for Cleveland in this one.
MYLES GARRETT IS UNSTOPPABLE 😤

A sack in six straight games 🔥

(via @thecheckdown)pic.twitter.com/6YTy3mFM1m

— SportsCenter (@SportsCenter) October 25, 2020
Garrett is leading the league with nine sacks and four fumbles forced this season.
The Browns need to continue leaning on him to pressure the quarterback.
Cleveland needs Garrett to make an impact in order to win against Las Vegas.
2. Time For Rashard Higgins To Step Up
As mentioned before, the Browns are going to be without OBJ for the rest of the season.
That means, Rashard Higgins will be asked to be the No. 2 receiver against the Raiders on Sunday.
The 26-year-old has been inconsistent during his career with Cleveland, but has a chance to prove himself here.
Higgins and quarterback Baker Mayfield looked good together during the victory over the Bengals.
📽 Baker Mayfield trouve Rashard Higgins pour 30 Yards ! #Browns pic.twitter.com/bJJ69KaBRn

— NFL France (@NFLFrance) October 25, 2020
Somehow, Higgins hauled in all six of his targets for 110 yards on Sunday.
It was an outstanding game from Higgins who had five total receptions heading into that contest.
It'll be interesting to see if that was a fluke performance or if Higgins can remain a consistent option for this offense.
The Browns are in desperate need of help on offense, so hopefully, Higgins can somewhat fill the void of OBJ.
1. Baker Mayfield Stays Consistent
Finally, Browns fans saw a glimpse of what Mayfield can actually do with this offense.
Mayfield looked absolutely horrendous during the first quarter of Sunday's game.
It wouldn't have been surprising to see head coach Kevin Stefanski bench Mayfield after what he saw during the first quarter.
Mayfield was 0-for-5 with an interception heading into the beginning of the second quarter.
Luckily, Stefanski stuck with Mayfield and it paid off in the end.
Baker Mayfield started 0/5 with an INT, then went nearly perfect:

22-23
297 Yards
5 TDs

His only incomplete pass was a spike to stop the clock.

Shut the haters up. pic.twitter.com/Rj1lLbWYSL

— SportsCenter (@SportsCenter) October 25, 2020
After his awful start, Mayfield connected on his next 21 passes and helped lead this offense to victory.
His performance came out of nowhere, but the Browns are happy that it finally happened.
However, it remains to be seen if Mayfield can carry over this momentum into his matchup with the Raiders.
Staying consistent has been one of the biggest issues for Mayfield throughout his career.
The Browns desperately need Mayfield to continue playing like this, especially with two of their biggest playmakers sidelined.