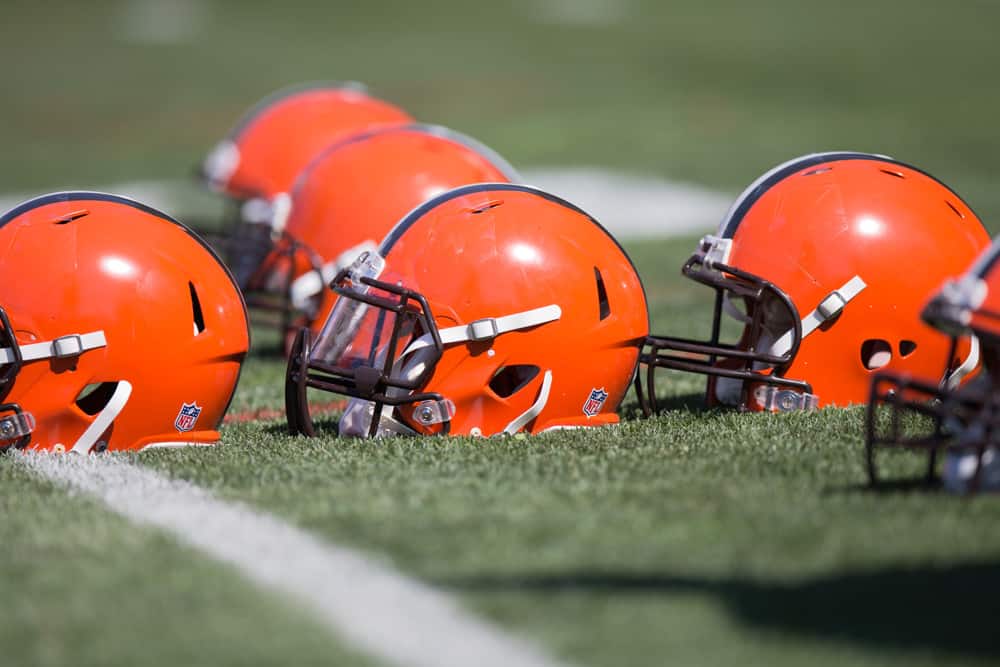 The NFL is all about match-ups these days.
Each week, team's do their best to maximize their strengths while exploiting their opponent's weaknesses.
This presents the opportunity for different guys to shine in different weeks depending on who's on the other side of the ball.
This, of course, is what makes football the ultimate team sport.
Through two weeks for the Cleveland Browns, different guys have stepped up.
While week one was disappointing across the board, Kareem Hunt and Jarvis Landry gave the offense a little bit of life.
Against the Bengals, Nick Chubb and Odell Beckham Jr. tortured Cincinnati's defense.
Let's look at a couple guys to keep an eye on for Sunday's contest with Washington.

1. Porter Gustin
With Olivier Vernon and Adrian Clayborn both questionable ahead of week three, look for second-year man Porter Gustin to get the start.
Gustin performed well against the Bengals, recording two tackles and one tackle for loss in the defensive red zone.
Big time players make big time plays 😤

Gobbled up by @PorterGustin

Miss seeing this on Saturdays ✌️

— Barstool SC (@BarstoolSC) September 18, 2020
Washington is third-worst in the league in terms of sacks allowed per game at 3.5.
The matchup for Gustin will likely be Gerod Christian, who struggled mightily in Washington's opener.
According to PFF, Geron Christian was the worst left tackle in the NFL on Sunday, and I'm not really inclined to disagree. pic.twitter.com/182TAbz3L9

— Matt Valdovinos (@MVScouting) September 17, 2020
He seemed to be better in week two, but I'm still licking my chops if I'm Gustin.
Look for Joe Woods to have his defense aggressive early and often to try and rattle former Buckeye Dwayne Haskins.
With so much attention assured to be on Myles Garrett, Gustin is due for a big day.

2. Austin Hooper
This one may be more of a hunch, but Austin Hooper has been a bit too quiet for the Browns liking so far this season.
He has just four total catches on six targets this year for 47 receiving yards.
Washington is ranked a pedestrian 17th in passing defense this season.
With David Njoku out, and with Landry and OBJ due to receive a lot of attention from Washington's secondary, this could be a prime opportunity for Hooper to prove why Andrew Berry went and signed him this past offseason.
Additionally, Hooper started slow in 2019 as well, going scoreless through the first two weeks of the season.
In a week three matchup against the Colts, he broke loose and caught two touchdowns.
Could history repeat itself for the big tight end just a year later?
Give Austin Hooper one more week (vs WAS) to prove himself before dropping

With Njoku injured, Hooper's snaps went from 77% to 98% and he was targeted on 4 of Baker's 21 attempts last week (one being this EZ miss)

The Browns have yet to play in a ~normal~ game so don't panic pic.twitter.com/cByWvxziYa

— Kev Mahserejian (@RotoSurgeon) September 22, 2020
3. Terrance Mitchell
With Greedy Williams still sidelines, opposing offenses will continue to try and attack Terrance Mitchell opposite of Denzel Ward.
Washington has a clear number one with another former Columbus standout, Terry McLaurin.
However, Haskins has found a solid number two this season.
After a low-key breakout season in 2019, Steven Sims Jr. continues to provide help at the receiver position for Washington.
Steven Sims is Weapon X #HTTR pic.twitter.com/T8xDtVnKvC

— Chris Bryant (@HogfarmerChris) May 25, 2020
With Ward and McLaurin almost guaranteed to square off, keep an eye on plenty of throws towards the direction of Sims Jr. and Mitchell.
As much as Kevin Stefanski would love to have Greedy Williams back in action, Mitchell has done more than enough to hold his own so far in 2020.
#Browns outside corners Terrance Mitchell and Denzel Ward were 🔒🙅‍♂️ in coverage vs. CIN. They both finished top-15 in yds allowed per cover snap and each forced three pass-breakups, T-1st among WK2 CBs. pic.twitter.com/EAS7XeKDT5

— PFF CLE Browns (@PFF_Browns) September 22, 2020
a.j. green beat terrance mitchell on the first play from scrimmage but couldn't get both feet down.

the next four times mitchell was targeted against green, he brought the clamps.

denzel ward had a great game too, but he's a top 5 pick. mitchell balled out. pic.twitter.com/A8NsRg8q7J

— john sheeran (@John__Sheeran) September 18, 2020
Of course, the big names on the roster will need to execute.
There's no chance for Austin Hooper to finally shine this week if Baker Mayfield can't get him an accurate ball.
Week three against Washington should be a fun one as plenty of guys look to step up and make an impact.