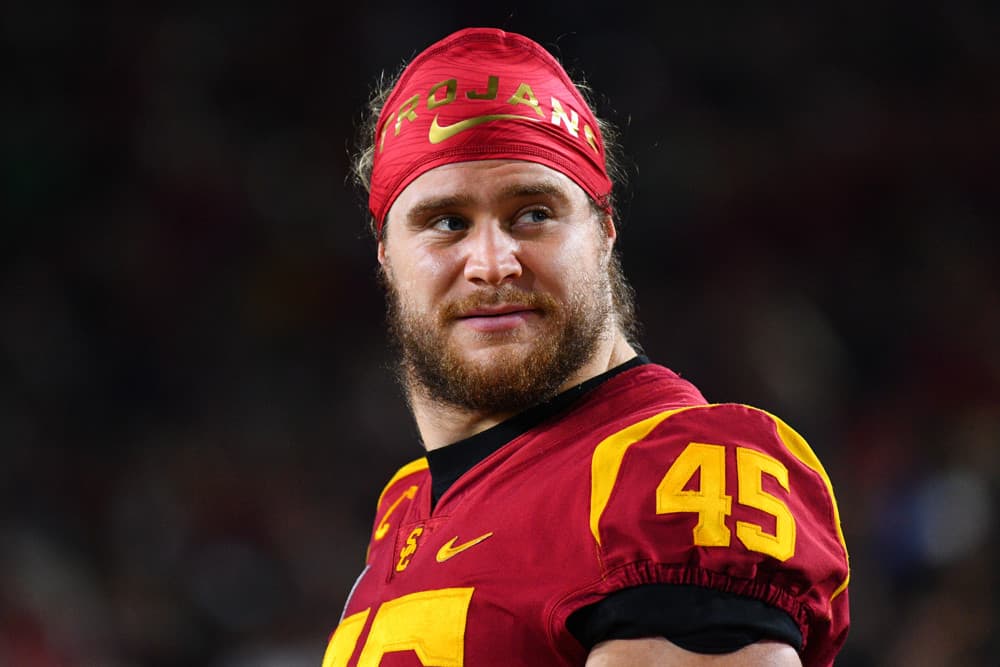 Porter Gustin appeared in just six games for the Cleveland Browns in 2019.
Being a defensive end on a team that also has Myles Garrett and Olivier Vernon will come with issues as far as playing time goes.
So far in 2020, however, Gustin seems to be growing into a larger role with the Browns than he did last year.
The question now becomes, what role should Gustin have moving forward?
And does he have a case to start over Olivier Vernon?
Making An Impact
Part of the problem with the Browns defensive line in 2019 was the inability to control the line of scrimmage on a consistent basis.
Boasting the third-worst rushing defense just one year ago, things needed to change this season.
Gustin continues to help be a part of that change.
The former USC Trojan made his presence felt this past Thursday night in the Browns win over the Bengals.
Big time players make big time plays 😤

Gobbled up by @PorterGustin

Miss seeing this on Saturdays ✌️

— Barstool SC (@BarstoolSC) September 18, 2020
If you didn't know who Gustin was before Thursday night, you should now.
Porter Gustin joins Malcolm Brown as undrafted former 5-stars who are making plays in the NFL early this season

— Charles Power (@CharlesPower) September 18, 2020
Fans may become even more familiar with Gustin if he gets the chance to start over Vernon.
That's a decision that could be coming sooner rather than later.
Starting Over Vernon
Again, it all comes back to production.
Vernon graced the field just ten games in 2019 after signing a big offseason deal.
That accounted for just 48% of the total defensive snaps last season.
In addition, Vernon recorded just three and a half sacks and four tackles for loss.
He wasn't bad by any stretch, but the expectations were a bit higher.
Vernon did not play against Cincinnati due to an abdominal injury.
Instead, Adrian Clayborn started in his place.
Clayborn brought down rookie QB Joe Burrow for a sack early before his own night would be ended by a hip injury after just 18 snaps.
Adrian Clayborn brings down Burrow for the sack 💪

(via @thecheckdown)pic.twitter.com/Jy0MNeNitG

— B/R Gridiron (@brgridiron) September 18, 2020
That paved the way for Gustin to get his opportunity on a nationally televised stage.
Needless to say he did just fine being placed alongside Myles Garrett and the rest of the Browns starting defensive front.
Wanna see something funny??? Poor #9… 🤣🤣🤣 If Cincy doesn't fix their O-line, #9 is gonna be a lot of wasted potential. 🤕🤕🤕 Meanwhile Porter Gustin is wanted by the Cincitucky Police for rookie abuse.👊🏼👊🏼👊🏼 pic.twitter.com/J3wKeIgusS

— The Brown Spider!!! #D4L (@BrownSpiderCLE) September 19, 2020
In the short-term, the decision could be easy.
There's no indication that Vernon will be back for week three.
There is no timetable for Clayborn to come back either, however, Tom Pelissero of NFL Network reports that Clayborn hopes to play through the injury.
So we may see Clayborn back out there sooner than later, it might not just be at 100%.
This should once again allow for Gustin to get an opportunity for playing time.
The Browns aren't exactly spoiled with other options to go with either.
The only other defensive end listed on the depth chart on ourlads.com (aside from Garrett, Vernon, Gustin, and Clayborn) is Joe Jackson.
Jackson was taken in the fifth round of last year's draft by the Cowboys but came over to Cleveland this past offseason.
Gustin might not be the perfect long-term answer to pair next to Myles Garrett.
Given the circumstances, however, he's certainly earned the chance to start in week three against Washington.