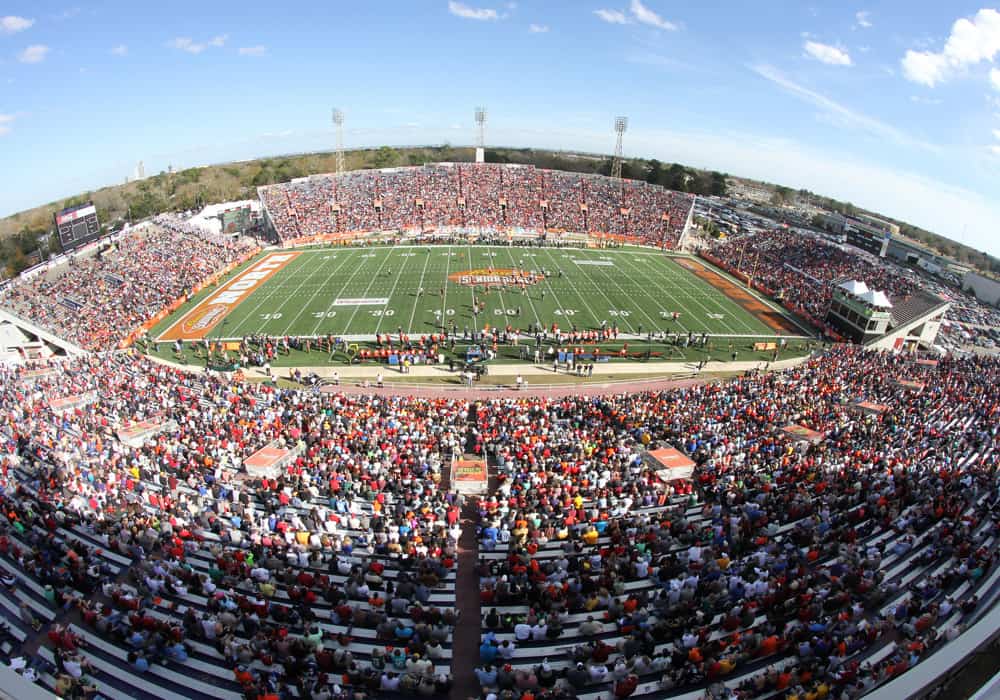 The Senior Bowl ended with a National's win over the American's, 27-24.
This collegiate all-star game allows seniors from all levels of college football to practice and play in front of scouts.
However, not every player impressed the coaches and scouts at the Senior Bowl.
Here are three players who saw their draft stock fall after a week in Mobile.
1. Tuf Borland, LB, Ohio State
Tuf Borland was a standout linebacker for the Buckeyes, becoming a full time starter in 2017.
He was a consistent presence for the Buckeyes, and was named a team captain in 2018.
Borland would finish a truncated 2020 season with seven games played, racking up 48 tackles and 1.5 sacks.
A sure tackler, Borland has struggled in pass coverage, no more so in the 2021 CFP National Championship game.
It didn't change in Mobile.
Rhamondre Stevenson is one of my favorite RBs in this draft class and him making a play in the passing game is good to see. Granted, I feel like we've seen something like this before from Tuf Borland… pic.twitter.com/RkeV78zISW

— Matt Holder (@MHolder95) January 28, 2021
Borland has shown he is no more than a two-down player at best at the next level, and more than likely just a depth piece or special teamer.
He's fallen to perhaps an undrafted free agent or Day 3 selection.
2. Sage Surratt, WR, Wake Forest
Sage Surratt is a talented wide receiver out of North Carolina, setting multiple records in high school before graduating.
Surratt initially committed to Harvard, but opted to stay close to home and commit to Wake Forest.
He played two seasons for the Demon Deacons, catching 41 passes for 541 passes and four TDs in 10 games in 2018.
He really exploded in 2019, playing in 9 games and catching 66 passes for 1001 yards and 11 TDs.
Surratt opted out of the 2020 season, so getting the invite to the Senior Bowl allowed him to get his name back out on the radar.
At 6'3, 215 lbs, he has the ability to use his frame to muscle DBs out of the way and come down with the ball.
Surratt's ability to catch the ball can't be denied.
BIG catch from @SageSurratt_14 pic.twitter.com/O1aCwTPfKr

— Nick Faber (@NickFaberNFL) January 26, 2021
But, his fastest 40 yard dash time was clocked at 4.6 seconds, which isn't ideal for wide receivers.
While he is still definitely draftable, his lack of separation has dropped him from a first or second round grade to a third or possibly fourth round grade.
3. Alex Leatherwood, OT, Alabama
Alex Leatherwood took home a TON of hardware this season; a national championship trophy, first team all SEC, unanimous All-American, and the Jacobs Blocking and Outland trophies.
At 6'6 and 312 pounds, he doesn't lack for size.
So how is his draft stock falling?
This is why.
LOOK AT QUINCY ROCHE ON ALEX LEATHERWOOD HERE! LOOK AT THAT BEND! #SeniorBowl pic.twitter.com/kAeocAm5tc

— Inside The Draft (@Jacobkeppen) January 27, 2021
This wasn't the only example.
#UAB EDGE Jordan Smith with the stab-chop against #Alabama OT Alex Leatherwood. pic.twitter.com/AOroR7oTlI

— Gavino Borquez (@GavinoBorquez) January 26, 2021
While these were just one on one's, this is what many scouts look at when measuring if tackles can make the jump to the next level.
Leatherwood has all the measurables, but he also played on one of the most stacked teams college football has ever seen.
He had extremely talented teammates that were able to essentially erase his mistakes during game days.
He routinely was beaten by speed rushers, and had difficulty sealing the edges on rush plays.
This could easily have been a case of nerves, or just a rough week of practice.
Whatever the case, that inability most likely dropped him out of the first round and into the second.