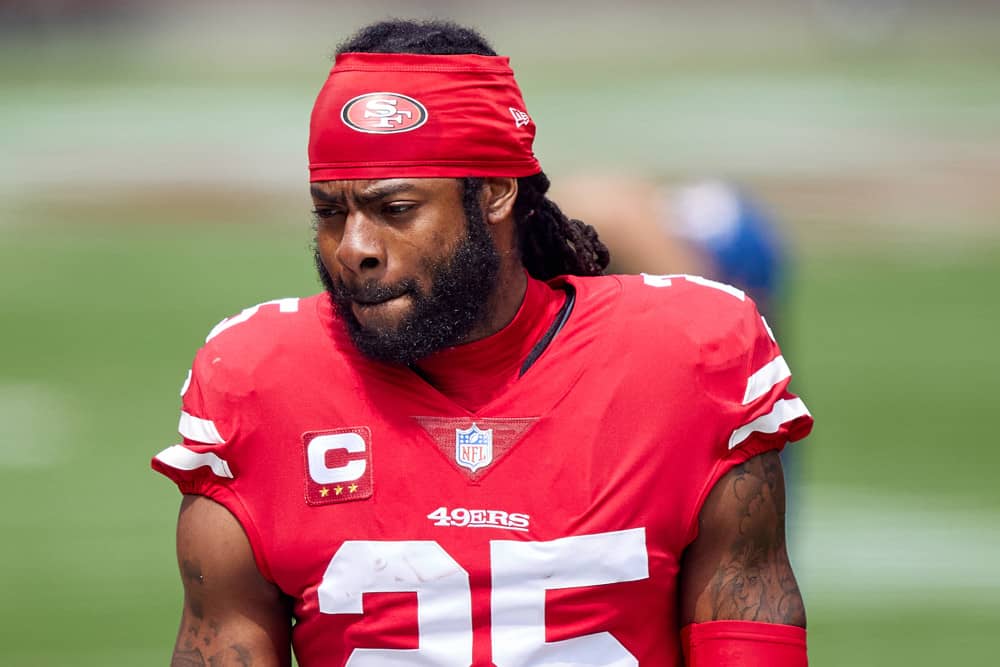 It's no secret the Cleveland Browns need to upgrade their defense this offseason.
Specifically, the Browns must find an impact defensive lineman to play alongside Myles Garrett, especially considering Olivier Vernon becomes an unrestricted free agent.
Such a player would make the back seven's job much easier even though the Browns also need to make upgrades in their linebacking corps and secondary.
While cornerback Richard Sherman is an unrestricted free agent, Browns general manager Andrew Berry would be wise to let another team sign the five-time Pro Bowler.
Richard Sherman stated that he is not likely to re-sign with the 49ers in free agency this off-season#McVayder pic.twitter.com/nJLyASFbDa

— The Gridiron (@TheGridironLS) December 6, 2020
Sherman's best days are behind him considering he is due to become 33 in March.
In pro sports, the best ability is availability: Sherman hasn't played a full 16-game season since 2016 when he still played for the Seattle Seahawks.
Injuries have forces Sherman to missed 21 games in the last four seasons.
A calf injury limited Sherman to five games in the 2020 season.
Sherman didn't miss a game in the first six years of his career in Seattle.
It is likely Sherman will seek a multi-year deal that pays him more than $10 million each year.
Since his rookie contract ended, Sherman has made more than $10 million each year in six of the seven seasons.
The Browns enter free agency with about $17.94 million in salary-cap space, according to OverTheCap.com.
Given the Browns' other needs, they don't have enough cap space to pay Sherman the money he likely seeks.
There are several other less expensive and younger free agent cornerbacks the Browns could choose to sign instead of Sherman.
If the Browns choose to draft a rookie cornerback, they have several picks they could use, including the 26th overall selection in the 2021 NFL Draft.
During the draft held from April 29 – May 1, the Browns also have:
Second round: 59th overall pick
Third round: 89th overall pick and the New Orleans Saints 91st overall pick
Fourth round: Philadelphia Eagles pick; Own pick
Fifth round: Own pick or Los Angeles Rams pick*
Sixth round: Own pick
Seven round: Bills pick
Editor's Note: The asterisk* indicates that the Browns traded a fifth-round pick to the Jacksonville Jaguars for Ronnie Harrison. However, it's unknown if that was the Browns' fifth-round pick or the pick they acquired from the Rams.
If selecting the right rookie or lack of cap space are concerns, the Browns could also use their picks to make a trade to upgrade their secondary.
Despite earning five All-Pro nods (three first-team: 2012-2014 and two second-team: 2015 and 2019), Sherman isn't given the same respect as some of the NFL's other elite cornerbacks like Jalen Ramsey, Stephon Gilmore and Patrick Peterson because Sherman is considered a zone cornerback.
Many teams use their cornerbacks in the same way, but Sherman rarely — if ever — travels across the field to match up one-on-one against an opposing team's best receiver: Sherman typically lines up on the left side of the field.
Playing on one side allows Sherman to pick up offensive tendencies, which will help as his athleticism begins to fade during the back-half of his career.
Plus, most NFL starting quarterbacks are right-handed, which allows Sherman to create turnovers, create disruptions for the offense and take away one side of the field.
The Browns are also expected to get back cornerback Greedy Willams (shoulder) and safety Grant Delpit (Achilles) in 2021 after both players missed the entire 2020 season.
It's no doubt the Browns' secondary needs a cornerback to pair opposite Denzel Ward.
Terrance Mitchell and Kevin Johnson are both unrestricted free agents.
However, the Browns are getting back two key players from injury, have several draft picks and have some salary cap restraints headed into free agency.
For those reasons, the Browns should pass on Sherman.