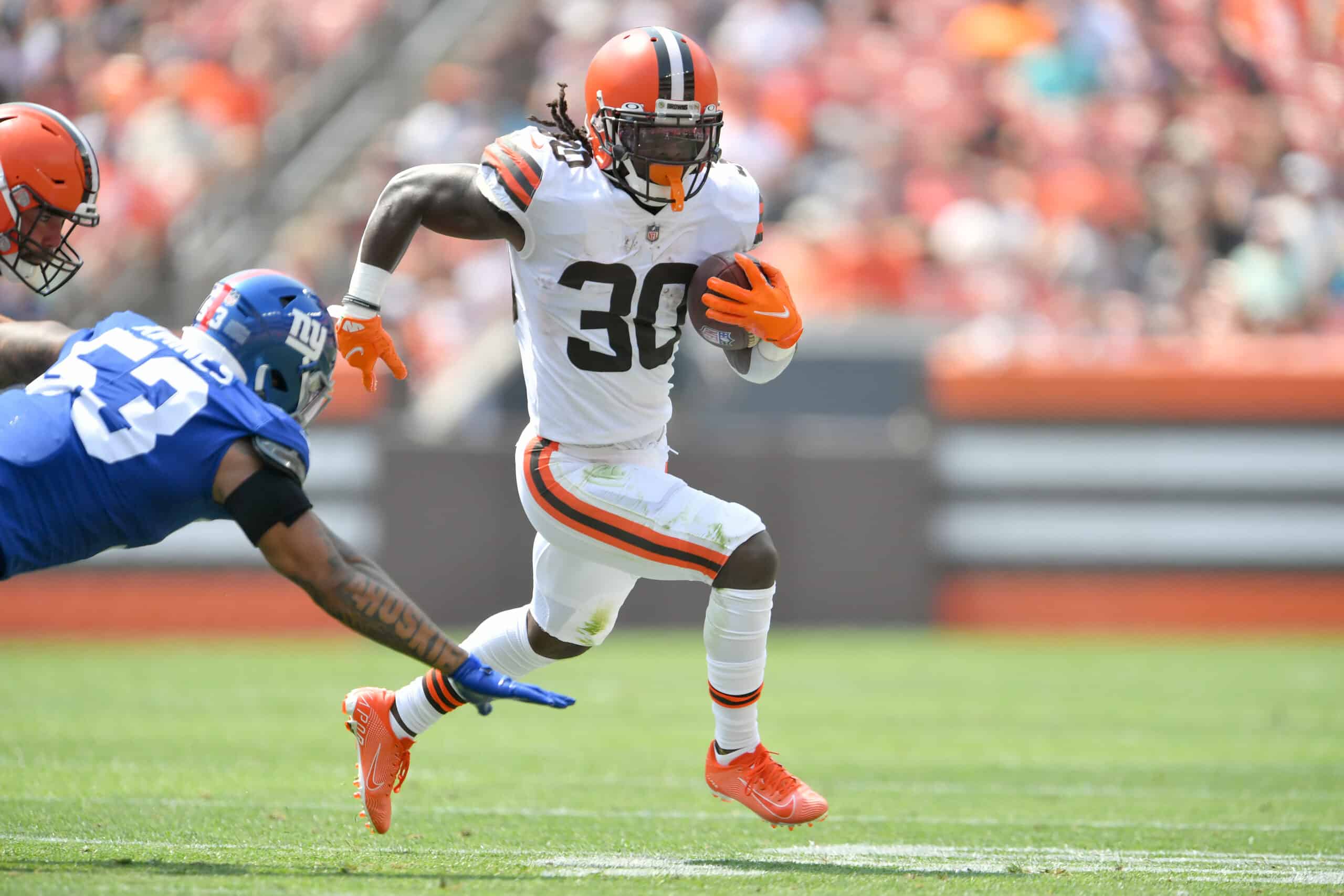 The New York Giants and Cleveland Browns butted heads for a couple of practices last week.
And on Sunday, they took the field for their second preseason games in a hot and steamy FirstEnergy Stadium.
Each coach rested most of their starting players, content to see what their backups could do.
And while fans might have preferred to see the likes of Myles Garrett and Baker Mayfield, they saw some important football.
Preseason game number 2 is in the books. #Browns beat #Giants 17-13 in Cleveland #DawgCheck pic.twitter.com/F1FqKia4xD

— Mike Pellegrini (@MIKE_BROWNS_UK) August 22, 2021
Every NFL team needs to make final roster cuts soon, and there are a lot of questions to be answered.
In Jacksonville last week, many of the Browns' rookies made their presence felt.
But there are some veteran players who are not quite ready to cede their positions to the youngsters.
Here are 3 Cleveland Browns players who stood out in the Browns-Giants preseason game.
1. D'Ernest Johnson 
Andrew Berry drafted running back Demetric Felton in the sixth round of the 2021 draft.
And wide receiver Donovan Peoples-Jones showed the Browns how much a sixth-rounder can contribute.
Felton is trying to earn a "jack of all trades" role in Kevin Stefanski's offense.
He's returning and covering kicks, catching passes, and this week, he ran the ball.
#Browns D'Ernest Johnson pushing hard today. Really earning that spot on the 53-man roster.

— Camryn Justice (@camijustice) August 22, 2021
Felton touched the ball first, fielding a punt and making a couple of defenders miss him on a short return.
But then D'Ernest Johnson trotted out with the starting unit and carried the offense deep into the red zone.
Johnson ran 4 times and caught 4 passes on the day to remind Stefanski he already has a versatile third running back.
It is also notable that Johnson replaced Felton in the red zone offense later in the game.
2. Elijah Lee
Multiple injuries to Cleveland linebackers might have increased Elijah Lee's playing time.
But he took full advantage of the opportunity, leading the team in tackles and headlining the biggest play of the game.
Lee came in untouched to help Brian Allen and Malik McDowell stuff the Giants 2-point conversion attempt.
The play kept the Browns in the lead, 14-13, and got Robert Jackson off the hook for his penalty on the first attempt.
Giants score a TD by they get STUFFED on the 2 point conversion on the half yard line. Cleveland leads 14-13 with under 8 to go! pic.twitter.com/CiLpL9SATP

— Bookies.com (@bookies) August 22, 2021
At one point, Lee appeared injured as he came off the field shaking his arm.
But he showed some toughness running back onto the field minutes later.
Lee's chances of making the roster are thought to hinge on his special teams contributions.
But with a strong all-around game Sunday, he made his case to be part of the linebacker rotation.
3. Khadarel Hodge 
Another hotly contested roster spot is the fifth or sixth wide receiver position.
Donovan Peoples-Jones appears to have moved ahead of Rashard Higgins, already.
Fans grew enamored of free agent Davion Davis and Anthony Schwartz' speed could be enough to earn his spot.
Khadarel Hodge only had one opportunity against the Jaguars in the first preseason game.
4th and goal.

KhaDarel Hodge brings in an impressive catch. 👀

— Pro Football Network (@PFN365) August 22, 2021
And it was a glaring miscue, ruled a drop although the pass placement could have been better.
When Hodge saw Case Keenum's pass coming in high and hard, he might have had a quick flashback.
But he leaped and hauled it in for a 4th-and-goal touchdown, a standout play for the right reasons this time around.
Hodge caught only 2 of his 4 targets, but both incompletions were not catchable.
Other Notables: Kelly, Hance, and McDowell 
John Kelly gave Stefanski more to think about when it comes to running backs.
He was the leading rusher after a strong 4th-quarter showing with 58 yards on 9 carries.
But it was his tackle-breaking, ankle-twisting 21-yard run outlet pass that received the biggest cheers.
Blake Hance started at center and more than held his own.
5-yard run by John Kelly puts us in the lead! #nygvscle #nflpreseason
Tune in: @nflnetwork @WEWS and our mobile app! pic.twitter.com/k1lQEPF43P

— Cleveland Browns (@Browns) August 22, 2021
Not only was there little pressure from the inside, but Hance was also downfield on several long runs.
And Malik McDowell looks like his football muscle memory kicked in.
Most fans saw Lee and Allen hit the runner untouched on the stuffed 2-point conversion.
But that was McDowell on the bottom of the pile with one of his 5 tackles to go with 2 QB hits and a sack.
Cleveland's third preseason game is Sunday night, August 29, in Atlanta.