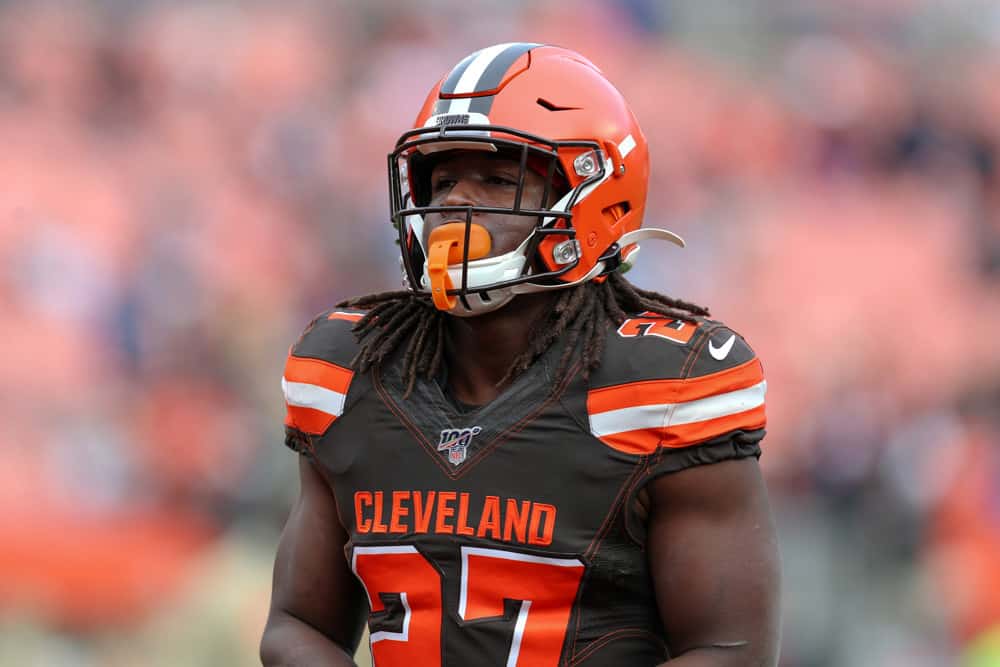 Over the last few years, the Cleveland Browns front office has found a handful of hidden gems.
That includes free agency, drafting, and acquiring players through trade.
Although, one of the bigger moves was the acquisition of running back Kareem Hunt.
The fifth-year back has been a key piece to the organization since joining the team in 2019.
Lately, there have been rumblings that the organization might part ways with the former Pro Bowl back.
However, the organization should ignore the temptations and keep the two-headed running back monster alive in Cleveland.
Here are 3 reasons the Browns need to keep Kareem Hunt long term.
1. HomeTown Discount
In 2020, the Browns got a steal when Hunt agreed to a two-year $13.2 million deal.
The 26-year-old likely would've been able to get a better deal in free agency.
Although, the Browns gave Hunt a chance in 2019, so it looks like he returned the favor and signed a team-friendly deal.
After the Browns signed Hunt other organizations followed suit and locked up their receiving backs to similar deals.
The Colts and RB Nyheim Hines have agreed to a 3-year, $18.6M extension with $12M guaranteed, his agents @ed_waz & @J_App10 tell ESPN.

The $6.2M/year in new money per year makes Hines one of the top 10 highest-paid RBs in the league and ties him to Indy through 2024.

— Field Yates (@FieldYates) September 10, 2021
However, Hunt does more for the Browns than just catch passes in the backfield.
Last season, Hunt rushed for 841 yards on 198 attempts with six touchdowns.
He has also been a reliable option in the receiving game as well with nearly 40 receptions in each of the last two seasons heading into 2021.
The Browns are paying Hunt an average of $6 million a year for starter production type of numbers.
Cleveland has little incentive to trade Hunt while he is still producing above average numbers for cheap.
2. Fantastic Depth
It's tough to find another team in the NFL with the same type of running back duo.
Hunt and Nick Chubb are a fantastic one-two punch that you can't find anywhere else.
Also, Chubb has missed time with injuries, so having Hunt as insurance is something many other organizations cannot match.
Hunt is a starter caliber player that would be a full-time back on plenty of professional teams if he wasn't with Cleveland.
Luckily, Cleveland has Hunt locked up through 2023, so it's unlikely he'll go anywhere before then.
The Browns do have D'Ernest Johnson who has shown flashes of being a capable option earlier in the season.
D'Ernest Johnson vs Broncos

🔥 168 total yards
🔥 1 TD
🔥 24.8 PPR fantasy points pic.twitter.com/NipfMa9ELw

— PFF Fantasy Football (@PFF_Fantasy) October 22, 2021
Although, you can't have enough depth, so the Browns have little incentive to move on from either player.
They might as well keep Chubb, Hunt, and Johnson, so they will be covered no matter what happens to their team.
Also, Chubb has missed time in each of the last two seasons, so having Hunt around is a plus for Cleveland.
3. Return On Investment
There certainly is an argument to be made that the Browns could trade Hunt this offseason.
Then, they could sign someone else or use the combination of Chubb and Johnson in 2022.
In theory, it could make sense for Cleveland, but the organization has little incentive to do that.
Hunt is locked up through 2023 on a cheap deal and continues to produce.
He works perfectly in this offense and behind Chubb as a change-of-pace back.
It seems highly unlikely that the Browns would be able to get something of equal value for Hunt.
The Browns have plenty of cap space and draft capital to restructure this organization without destroying their two-headed monster.
There's almost no reason for the Browns to move on from Hunt unless they receive an offer that they absolutely cannot refuse.
Until then, fans should expect Chubb and Hunt to continue wreaking havoc on defenses.