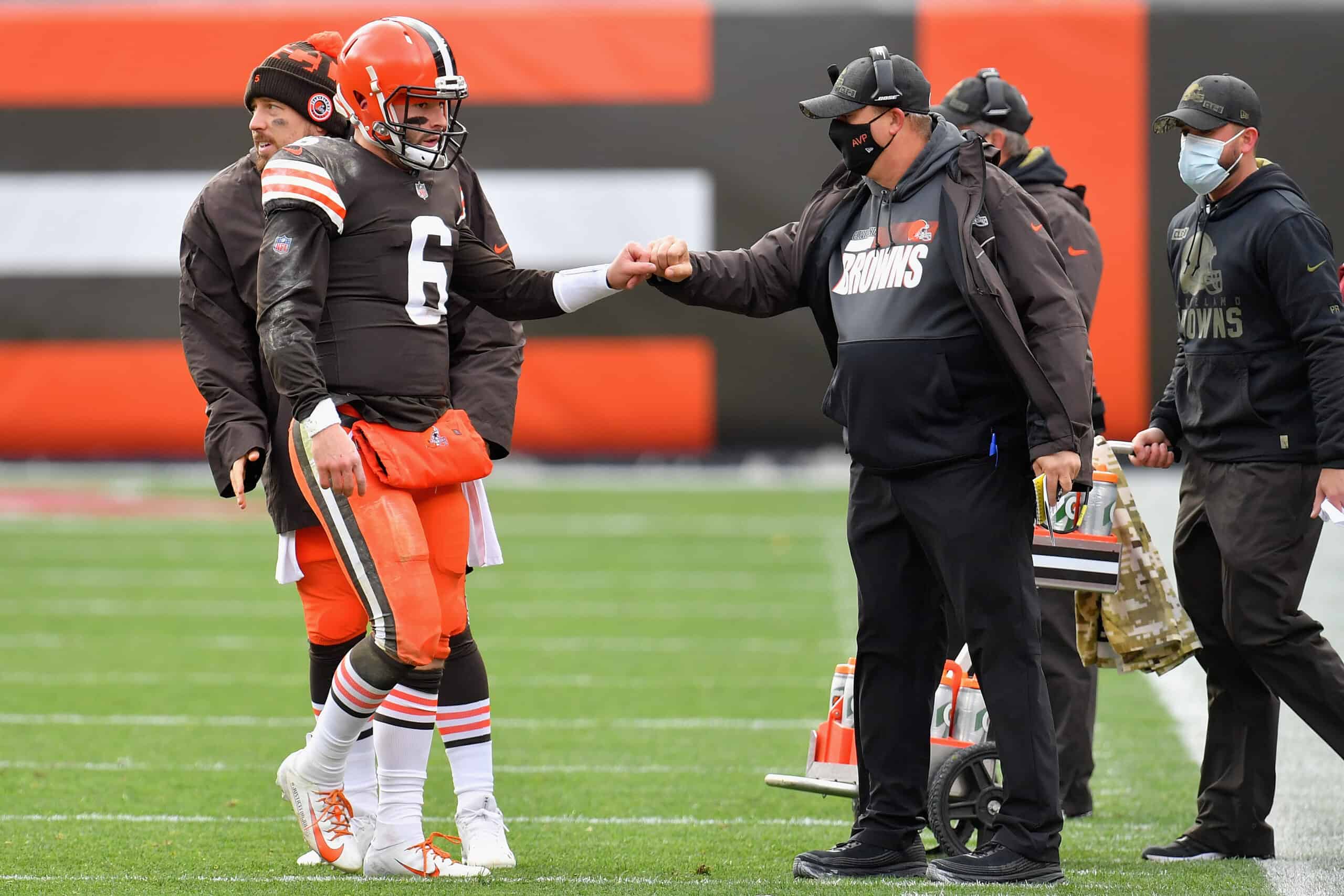 By now, everyone knows that the Cleveland Browns have been ravaged with COVID-19 positive test results this week.
That means a number of starters and Coach Stefanski could be unavailable for the Week 15 Saturday afternoon game against the Las Vegas Raiders.
Coach Stefanski has been steady and measured on how his team is preparing in the midst of this chaotic mess.
"I really believe that they are going to focus on the task at hand."
Stefanski also has the utmost faith in his players and coaches who can participate on Saturday.
"I think the guys proved last year that they do not need me. I'm here, I'm going to support them and I am going to do my job, but if I can't be out there with them Saturday, they will be ready to go."
One of those guys is offensive coordinator Alex Van Pelt who will be the play caller in the game should Stefanski not be able to be there.
#Browns coach Kevin Stefanski said he has the utmost confidence in OC Alex Van Pelt and ST coordinator Mike Priefer to fill his roles if he's unavailable Saturday. They've been through this before in playoffs this past January

— Nate Ulrich (@ByNateUlrich) December 15, 2021
Here are three reasons to believe in Alex Van Pelt's ability to call the plays.
1. He Did It Before
Van Pelt was the play caller for the Pittsburgh Steelers wildcard blowout game in January.
He is 1-0 as the play caller, and some argued he was more creative than Stefanski at the time.
Van Pelt is confident in his team and everyone's ability to pull together on Saturday.
"I love our plan this week. I love focus, regardless of whether we're in the building or not. The guys are locked in so I feel good going into Saturday."
#Browns OC Alex Van Pelt: "I love our plan this week. I love focus, regardless of whether we're in the building or not. The guys are locked in so I feel good going into Saturday."

— 92.3 The Fan (@923TheFan) December 15, 2021
2. He Is A Former Quarterback
*Throwback* Alex Van Pelt QB 10,913 yds passing 64 TDs in his #Pitt career. pic.twitter.com/7B0R6vFSUJ

— Mike-Panther247 (@MikePanther247) May 20, 2017
Van Pelt knows what Case Keenum is facing better than anyone else because he is a former NCAA and NFL quarterback.
Pulling in a play caller in the 11th hour that has quarterback experience is the best possible scenario.
With former Churchill quarterback Alex Van Pelt calling the plays on offense, @Browns earn first playoff win in 26 years. Van Pelt led Churchill to Region IV-5A final in 1987, legendary coach Jerry Comalander's final season. pic.twitter.com/IMcR3NSzE6

— SA_terrence1 (@sa_terrence1) January 11, 2021
3. Van Pelt Works Closely With Stefanski
Stefanski has been criticized for some of his play calls this season.
For better or worse, Alex Van Pelt works with him closely during the week and in the game.
Van Pelt is normally up in the booth communicating with Stefanski through the headset.
The point is while there will be some creativity from Van Pelt's play calling, there will still be some of the Stefanski stamp on them.
#Browns OC Alex Van Pelt on calling plays with HC Kevin Stefanski likely out Saturday: Just like last year, I don't want Kevin Stefanski to say, "What the hell is he doing?"

— Nate Ulrich (@ByNateUlrich) December 15, 2021
This is comforting especially during a week when it is unclear who will be playing on offense on Saturday.
The other slight consolation is Stefanski's positive test result happened on Wednesday so he has several days to work with Van Pelt over Zoom to figure out the game plan given these unusual circumstances.
Conclusion
It is not yet official that Stefanski will not be on the sidelines on Saturday.
There is still a possibility, though somewhat slim, that the vaccinated Stefanski could have two negative test results 24 hours apart.
In the meantime, if Van Pelt is put in the role as the play caller on Saturday, the Browns are in good and capable hands.