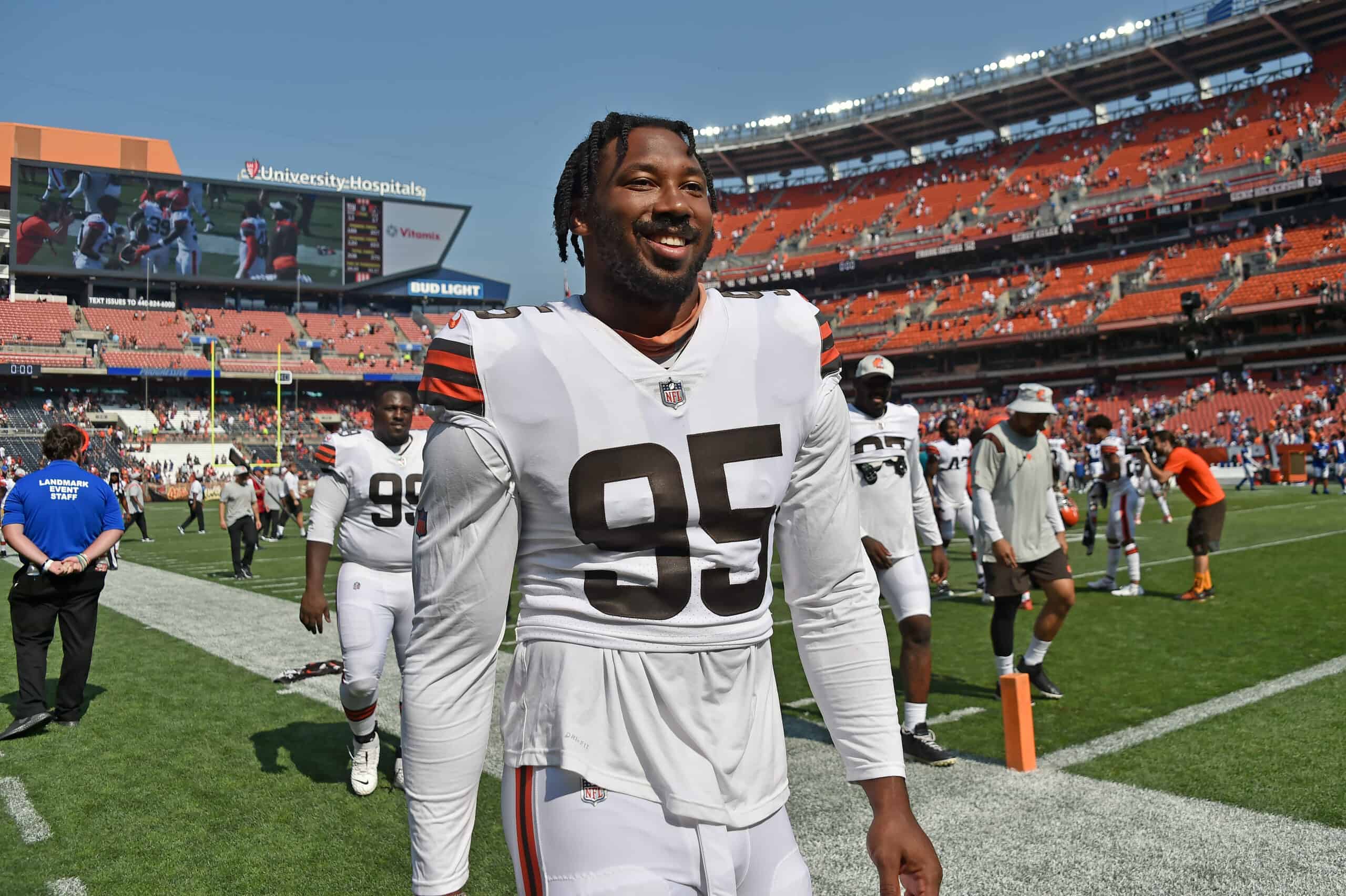 Cleveland Browns defensive end Myles Garrett has been at the top of his game for his entire NFL career.
He broke the Browns single-season sack record of 14 in grand style with a strip-sack, fumble recovery, and his first career NFL touchdown on Sunday.
🚨 MYLES GARRETT TOUCHDOWN 🚨 #NFLAggies pic.twitter.com/nu0oR6iuoJ

— Tim England (@tengland_150) December 12, 2021
Garrett received another honor today; it is the elusive Madden 99 rating.
EA Sports explains who receives the 99 rating.
"A 99 Overall (OVR) rating is not only the sign of an amazing player in the game, but the elite members of this title are among the best players in the NFL."
That definitely describes Myles Garrett.
He is the first Cleveland Browns player to receive this rating and join the exclusive 99 Club.
EA Sports calls the 99 Club, "the most prestigious club in NFL gaming."
The 1st @Browns player to reach the #99Club‼️ @Flash_Garrett earned it 💪 #Madden22 pic.twitter.com/D3LLSdGYXa

— Madden NFL 22 (@EAMaddenNFL) December 16, 2021
Garrett's Reaction
There was a joyous celebration with his family when he learned of his entry into the Madden 99 Club.
The moment @Flash_Garrett found out he was a part of the @EAMaddenNFL 99 club with his family 🤩 pic.twitter.com/vDZiMz6xhg

— ESPN Cleveland (@ESPNCleveland) December 16, 2021
Welcome to the #99Club @Flash_Garrett 👏@Browns | #Madden22 pic.twitter.com/Oapp3XlEa0

— EA SPORTS (@EASPORTS) December 16, 2021
It is nice to see Garrett enjoying the moment with his family in the midst of a turbulent week for the Browns.
He is seen laughing amidst a backdrop of lettered balloons spelling out the words "Madden Club".
Garrett is very deserving of this accolade and perhaps the strip sack play on Sunday is what ultimately sealed the deal.
He is arguably the best player on the Browns roster.
When he is not able to play, as was the case last season when he had COVID-19, the Browns defense is a lot less imposing.
Though it is a quarterback award traditionally, Myles Garrett's name should also be in the NFL MVP conversation.
He may force the point if he continues on his sacking rampage.
Garrett has 15 sacks with four games left in the season.
The Browns need him now more than ever with massive issues with COVID-19 on the offensive side of the ball.
Congratulations Myles Garrett!