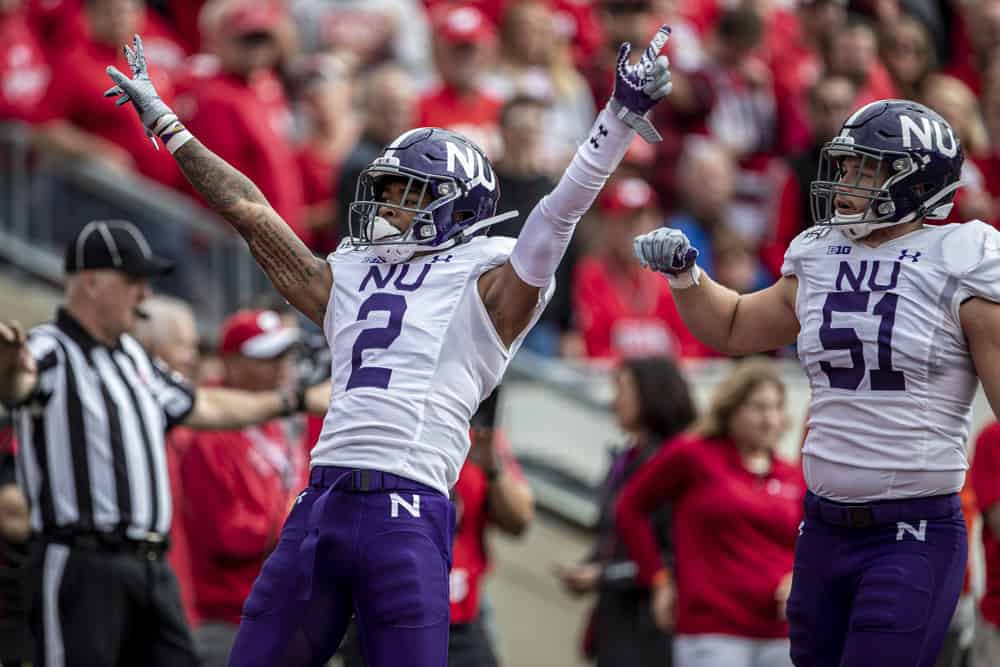 On Thursday, the Cleveland Browns surprised no one by selecting a defensive player in the first round.
However, it was quite shocking that the team went defensive back over drafting defensive line help.
They selected Northwestern defensive back Greg Newsome II with the No. 26 overall pick.
Leading up to the draft, Newsome talked himself up quite a bit and clearly the Browns bought into what he was selling.
"When a team drafts me, first of all, they're going to get the best corner in the country, Newsome said at his Pro Day. I don't take that lightly. I know that I am the best, and the reason why I know that is I can do it all."
There is no denying that Newsome was one of the best defensive backs available in the draft, but there are a few things that people might not know about him.
He Only Recorded One Interception
During his three years at Northwestern, Newsome only recorded one interception.
At first glance, that might be a concern to professional teams when evaluating him.
Although, it should be noted that good defensive backs don't get the ball thrown in their direction too often in college.
Newsome did only record one interception, but that shouldn't alarm anyone.
He finished his Wildcats career with 25 passes defended in three seasons.
Throughout his college career, he has proven that he can lockdown basically any receiver.
Browns fans could see Newsome's interception numbers quickly rise if opposing teams overlook his impact on the field.
Newsome Allowed Zero Touchdowns In 2020
As already mentioned, opposing teams didn't throw Newsome's way too often last season.
When they did, he allowed 12 catches with 10 passes defended through the 2020 campaign.
This is not a joke, Newsome allowed a passer rating of 31.7 this past season, with no touchdowns allowed and an interception.
He is truly a special talent and the Browns should be excited to have Newsome in their secondary.
Getting myself hyped with some Greg Newsome tape. pic.twitter.com/GDI2bgHC32

— Johnny Kinsley (Andrew Berry Hive CEO) (@Brickwallblitz) April 30, 2021
Newsome dealt with injuries throughout his college career, but proved he is an elite talent when he is on the field.
Browns fans shouldn't count on this touchdown-less streak to continue at the professional level.
However, it is quite impressive that no wide receiver was able to score on him last season.
Defying The Odds
It's not too often that players from Northwestern get selected in the first round on draft day.
In fact, Northwestern didn't have a player taken in the first round since defensive tackle Luis Castillo in 2005.
Newsome becomes the second player taken in the first round at Northwestern, so that's quite impressive.
He was well deserving of having his name called on Thursday after his strong performance in college.
It certainly appears that Newsome is excited to be joining the Browns roster.
From @NorthwesternU the moment Greg Newsome learned he's becoming a Brown #NFLDraft pic.twitter.com/xG7sXBDG1O

— .@JohnTelich8 (@JohnTelich8) April 30, 2021
He'll join a somewhat crowded secondary with Denzel Ward, Greedy Williams, and Troy Hill already on the roster.
Despite that, Cleveland is going to find a way to get Newsome involved on defense.
This pick might've come as a bit of a shock to Browns fans, but they should certainly be happy about getting Newsome and the potential he brings to Cleveland.