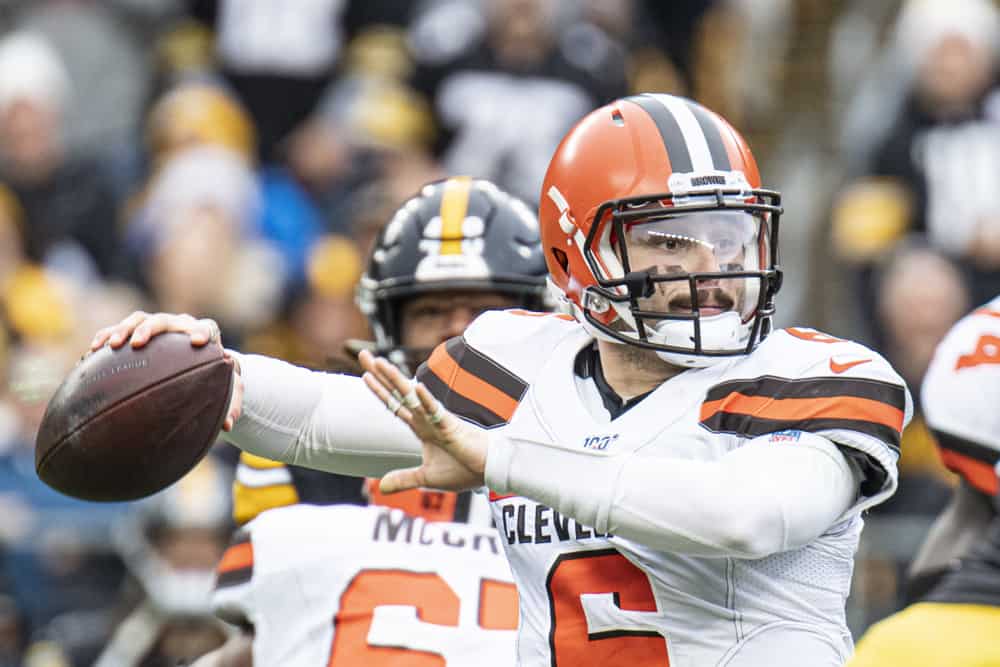 Now that…that was rough.
38-7 is a rough pill to swallow, but even worse against the Steelers.
Needless to say, it's been awhile since the Browns were able to pull out a win in Heinz Field.
The last time the Cleveland Browns won at Heinz Field, the #1 song in America was 50 Cent's "In Da Club" #Steelers #Browns

— Dianna Russini (@diannaESPN) October 16, 2020

Regardless of the outcome, every game is a learning experience, and lessons can be drawn from it.
Here are three things we learned about the Cleveland Browns in Week 6.

1. The Offensive Line Isn't Quite Ready For Primetime
In Mayfield's first few seasons, the offensive line was perhaps the biggest question mark on the roster.
There has been a slew of moves to add depth, but the Browns doubled down this past off-season and shored up both tackle spots.
They drafted Jedrick Wills Jr. at #10 overall to anchor the left side of the line, and lured Jack Conklin away from the Titans with three year, $42 million dollar deal (with $30 million guaranteed).
According to many sports pundits and talking heads, this was supposed to be a Top 10 unit.
No excuses for Baker Mayfield in 2020.

The Cleveland Browns now have a top 10 offensive line. pic.twitter.com/wYpsC0zeAR

— PFF (@PFF) July 12, 2020
The truth is, it's not.
In the four games against Cincinnati, Washington, Dallas, and Indianapolis, the Browns have given up 5 sacks.
In the two against Baltimore and Pittsburgh, that number is 6.
Baltimore and Pittsburgh may not be the defenses with Ray Lewis and Troy Polamalu, respectively, but they're still top 10 units.
In both games, the O-Line showed that they couldn't keep up with units that are that deep and talented.
Getting Wyatt Teller back from a calf injury will help with that, to a point, but there is still work to be done.

2. Outside of Myles Garrett, the Browns have no pass rush
Garrett, a wrecking ball on the defensive line since he was drafted, notched another sack against the Steelers, raising his season total to 7.
The next closest Brown is Adrian Clayborn.
With 2.
It was abundantly clear that teams only have to scheme to stop Garrett to bring the Browns pass rush to a screaching halt.
Olivier Vernon hasn't been much help since coming over from the Giants, and the Browns linebackers aren't known much for their collective pass rushing abilities.
Blitzing the defensive backs?
Let's not discuss that this week.
The Browns defensive staff HAVE to start getting pressure on opposing QBs.
Forcing teams into mistakes is something the Browns have taken advantage of in their four wins, and against deep, well-coached teams like the Steelers and Ravens, forcing turnovers is the only real way to beat them.
The best way to do that is to make opposing QBs uncomfortable in the pocket.

3. The offense NEEDS Nick Chubb back
While Kareem Hunt is extremely talented in his own right, Nick Chubb is a game-changer.
Hunt carried the ball 13 times for 40 yards, but the Browns only rushed for 75 yards overall.
Now this granted,  they spent the entirety of the game playing from behind, the Browns offense is predicated on running the football.
While he can't do it all himself, we've seen since his injury that the Chubb/Hunt duo out of the backfield adds a whole other dimension to the offense, and it's been absent since he went down with his MCL injury.
Jordan, here on Twitter, is speaking for all of us this week.
Raise your hand if you missed Nick Chubb this week 🖐

— Jordan (@jordancicchelli) October 18, 2020
The Browns have a series of winnable games coming up which will give them the opportunity to get back on track.
The Browns' next game is against the Bengals, in Cincinnati. Kickoff is a 1 p.m.