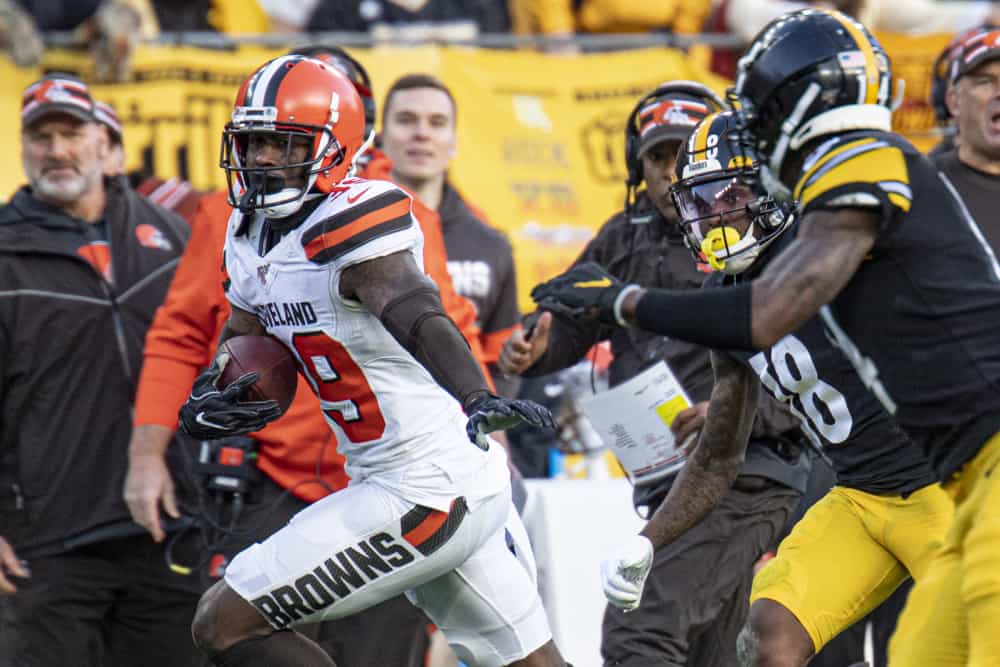 Everyone is excited to see the 4-1 Cleveland Browns take on the 4-0 Pittsburgh Steelers in Week 6, and here you can find where to watch, listen, and stream the game.
Rise and shine! ☀️

RT if you're ready for GAMEDAY!#CLEvsPIT pic.twitter.com/rw7rzZoKeV

— Cleveland Browns (@Browns) October 18, 2020
How To Watch
The Browns and Steelers are the featured game on CBS, as Jim Nantz and Tony Romo will be calling the game.
How To Listen
The three flagship stations for Browns football are WKRK 92.3 The Fan, 98.5 WNCX, and ESPN 850 AM WKNR.
Regarding satellite radio, here are the SiriusXM stations for your Browns:
Satellite Broadcast Station: Channel 226
Satellite Streaming Station: Channel 807
#Browns pregame radio starts NOW!

Listen live » https://t.co/1KqaNDx99m pic.twitter.com/4x1JhTbxYm

— Cleveland Browns (@Browns) October 18, 2020
Here are the Browns radio affiliates for those outside of Cleveland, according to the team website:
Akron
WAKR – 1590 AM
Akron
WONE – 97.5 FM
Canton
WHBC-AM – 1480 AM
Canton
WHBC-FM – 94.1 FM
Columbus
WTOH – 98.9 FM
Corry (Pa.)
WWCB – 1370 AM
Dayton
WHIO-AM – 1290 AM
Dayton
WHIO-FM – 95.7 FM
Dayton
WZLR – 95.3 FM
Dover
WJER – 1450 AM
Erie (Pa.)
WPSE-AM – 1450 AM
Erie (Pa.)
WPSE-FM – 107.1 FM
Fostoria
WFOB – 1430 AM
Geneva
WKKY – 104.7 FM
Jamestown (N.Y.)
WQFX – 103.1 FM
Lima
WWSR – 93.1 FM
Mansfield
WRGM – 1440 AM
Mansfield
WVNO-FM – 97.3 FM
Marietta
WJAW – 100.9 FM
Norman (Okla.)
KREF – 1400 AM
Sandusky
WMJK – 100.9 FM
Tulsa (Okla.)
KAKC – 1300 AM
Uhrichsville
WBTC-AM – 1540 AM
Uhrichsville
WBTC-FM – 101.9 FM
Wooster
WQKT – 104.5 FM
Youngstown
WKST – 1200 AM
How To Stream
Here are the fans' main options to stream the game:
Will the Browns Take Down the Undefeated Steelers in Week 6?
After a very strong start to the season, the Browns are swaying the analysts.
Many more experts are feeling like Cleveland can win in Week 6.
The Steelers opened as 5.5-point favorites as the home team.
However, the line has dropped to three points.
By accounting for home-field advantage, the Browns and Steelers are evenly matched.
The first of two regular season matchups between these two rivals should be a tremendous contest.
Baker Mayfield, Odell Beckham Jr., and Jarvis Landry all expect to play, so we should be in for many highlight plays in Week 6 and potentially a Browns victory.
Looking Ahead: Week 7 Matchups
Browns fans hope that Mayfield and company are not looking ahead to next week, but here are the matchups.
Browns at Bengals: Sunday, October 25 at 1 pm eastern
Steelers at Titans: Sunday, October 25 at 1 pm eastern