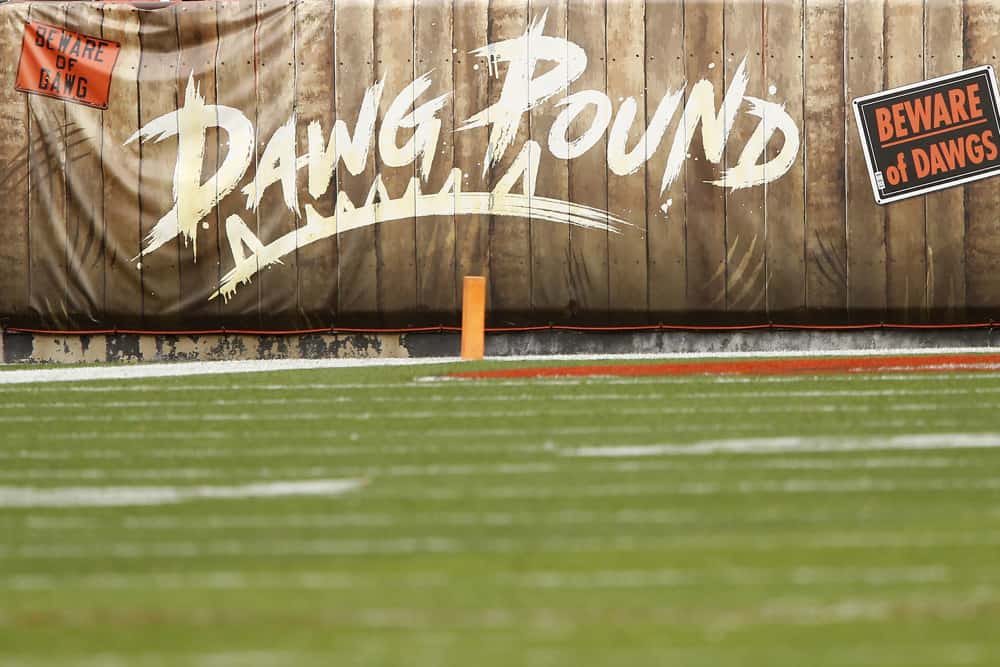 The Cleveland Browns lost a heartbreaker to the Baltimore Ravens on Monday Night Football by the score of 47-42.
Best MNF Football game this season. Proud the #Browns didn't give up after being down 14. Came up short. Parkey makes his kicks, we win this game. Simple. I am done ranting for the night. Goodnight Cleveland!

— Josh (@perpanator) December 15, 2020
This was a decidedly different team, who competed hard up to the last seconds of the game, than the one who fell to the Ravens in Week 1 by the score of 38-6.
Here are 3 things we learned in this game.
1. Baker Mayfield Gave Everything He Had And Then Some.
Baker Mayfield is finally playing QB the way he did at Oklahoma, moving with underrated athleticism, scrambling, throwing on the run AND working in big throws from the pocket, all the while doing so with a hotdoggy arrogance that is what fuels him.

— Skip Bayless (@RealSkipBayless) December 15, 2020
For all the doubters, haters, and naysayers, Mayfield showed for the second week in a row that he is an outstanding quarterback.
Even after beating Tennessee, there were whispers he couldn't do it two weeks in a row or against a better defense, but he did.
And he did it, coming from behind, countless times.
He wasn't error-free; the interception was his first since the Bengals game where OBJ got injured.
But he kept going, relentlessly.
He spread the ball out; Jarvis Landry, Donovan Peoples-Jones, Hollywood Higgins, Harrison Bryant, and Kareem Hunt made big plays.
This game showed his heart and competitive fire.
At the end of the game, he looked emotionally and physically spent and with good reason.
2. The Browns Defense Couldn't Stop The Ravens.
31 rushing yards on the first drive for @Lj_era8. Gonna be a looong night for the @Browns defense if they cannot contain.

— Joey Walsh Jr (@757JoeyWalsh) December 15, 2020
Boy did they look vulnerable from beginning to end, and the Ravens did not have to pass the ball much to win the game, only 176 yards passing in total.
It's hard to describe how out of position and out of sorts the Browns defense looked repeatedly.
Jackson rushed for 124 yards on 9 plays and 2 TDs.
On top of that, J.K. Dobbins rushed for 53 yards and 1 TD, and Gus Edwards had 2 TDs on 49 yards.
The Ravens completed just enough pass plays to keep the run game going; the Browns never dominated and stopped them.
Trace McSorley completed a pass to TE Mark Andrews who found himself wide open often enough for 5 catches and 78 yards at key points in the game.
Even with Lamar Jackson in the locker room suffering from cramps, McSorley came in long enough to move the chains, and ultimately gets hurt so that Jackson would run out of the tunnel and save the day Superman-style.
Baker Mayfield on Lamar Jackson returning from the locker room and throwing a 44-yard TD: "It was like a scene out of a movie."

— NFL Update (@MySportsUpdate) December 15, 2020
3. Kicking Wins (And Loses) Games
Both sides of the spectrum showed up last night.
Cody Parkey who has been consistent, waivered.
He missed an extra point and field goal.
Justin Tucker who is a rock star showed why.
Yes, he had an extra point blocked, but that didn't stop him from booting a 55-yard winning field goal with 2 seconds left.
By the looks of the kick, he could have made it from 60+ too.
That was a awesome game, both team had to fight back so hard. It's up to the point that I am thinking if @Kareemhunt7 hadn't made it in and @Browns had used up some more time it would have been decided in OT. But that's crazy thinking. #GoBrowns

— Freedom (@merosooch) December 15, 2020
Time management also played its part, and that's on Coach Stefanski who called a great game for the most part.
But the Browns scored to even the game at 42 and gave the Ravens offense a minute to work with to win.
That proved to be plenty especially when Tucker is on the sidelines ready to kick from practically anywhere on the field.
There have been very few coaching mistakes this year, but that was one especially in light of the fact that the Browns defense couldn't stop the Ravens (see #2 above.)
The Browns need to pick themselves up and get ready for 2 straight away games with New York teams; both should be wins.