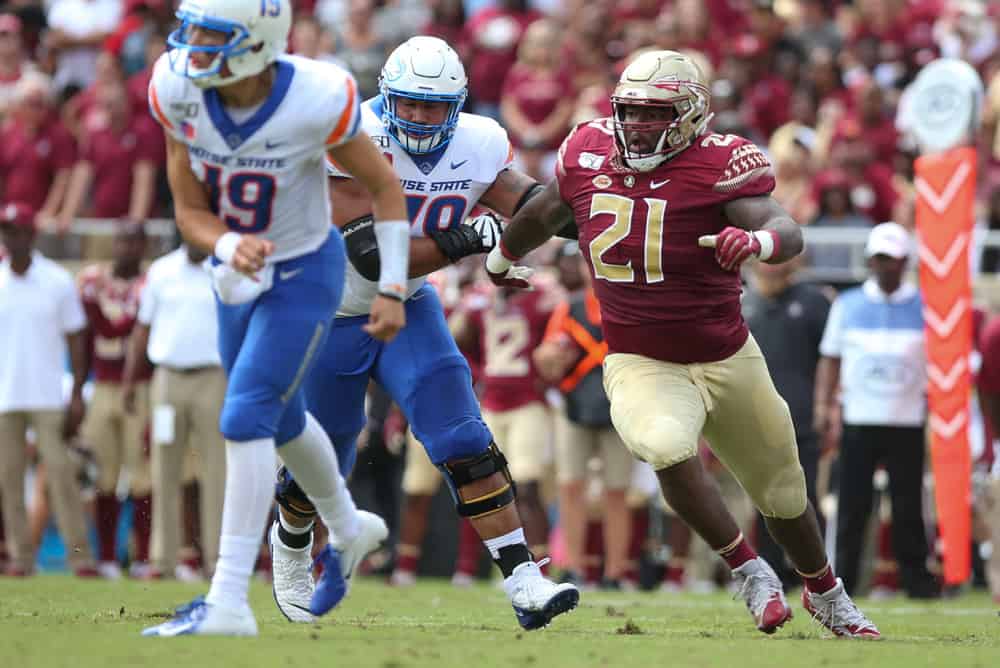 The Cleveland Browns did not rest on their laurels after what many described as an extremely good series of draft picks made at the 2021 NFL Draft last weekend.
As soon as the draft ended, the Browns began pursuing the undrafted free agent (UDFA) pool of players.
Among those was Florida State defensive tackle Marvin Wilson, the 6′ 3 1/2′, 303 pound senior.
#Browns are signing former Florida State DT Marvin Wilson to a rookie free-agent deal, per @TomPelissero

Wilson: #94 on PFF's Top 300 Big Board pic.twitter.com/epS7SHJy4z

— PFF (@PFF) May 1, 2021
The Browns signed Wilson, 22, despite fierce competition from other teams.
The #Browns are signing former Florida State DT Marvin Wilson to a huge rookie free-agent deal that includes a $30,000 signing bonus plus $162,000 in guaranteed base salary, per source. Cleveland won a swift bidding war for Wilson, one of the top players to go undrafted.

— Tom Pelissero (@TomPelissero) May 1, 2021
Here are three things you probably didn't know about Marvin Wilson.
1. Wilson Was Highly Sought After In High School
Wilson grew up in Houston, Texas.
He was the top defensive end recruit in the country coming out of Episcopal High School in Bellaire, Texas.
Wilson received 27 offers but ultimately chose Florida State.
2. His Draft Stock Dropped During 2020 Season
Browns sign Florida State DT Marvin Wilson, per @TomPelissero

Season grades
🔸 '18: 90.1
🔸 '19: 90.7
🔸 '20: 67.7 pic.twitter.com/t1Z3V3vJ00

— PFF Draft (@PFF_College) May 1, 2021
College athletes always have to weigh the pros and cons of when to declare for the NFL Draft.
In Wilson's case, he opted to stay for his senior season which was not as productive as his previous seasons.
He played a different role in the defensive scheme in 2020 which did not work out as well for him.
Wilson had 11 solo tackles and 6 assists in 6 games in 2020.
In 2018 and 2019 through 21 games, he had 36 solo tackles and 49 assists.
Analysts believe if he had declared for the 2020 NFL Draft, he would not have gone undrafted.
He likely would have been a Day 2 prospect.
3. Wilson Is A Likeable Well-Rounded Person
Marvin Wilson is a down-to-earth person.
When asked why he chose Florida State over all of the other schools that made him an offer, Wilson cited FSU's honey-fried chicken as one of the deciding factors.
"The best meal I had by far was when I was at Florida State. They had this thing called honey fried chicken. I was like, 'That sounds kinda suspect,' and I got one piece. I bit into that one piece of chicken and went and grabbed the pan, and we ate that whole pan of honey fried chicken. That's probably the best chicken I've ever had in my life."
FSU's Fried Chicken Friday got even more publicity because of Wilson.
#HoneyFriedChickenFriday pic.twitter.com/N9RLmU7KZM

— FSU Football (@FSUFootball) February 3, 2017
An unrelated tidbit about Wilson is that he is a big fan of poetry and has earned awards for some of his poetry writings.
Marvin Wilson is an interesting addition to the Cleveland Browns 2021 roster.
The challenge will be for Joe Woods and company to bring out the 2018 and 2019 play of Wilson and to figure out what stymied him in 2020 so it can be avoided.
Welcome to Cleveland, Marvin Wilson!