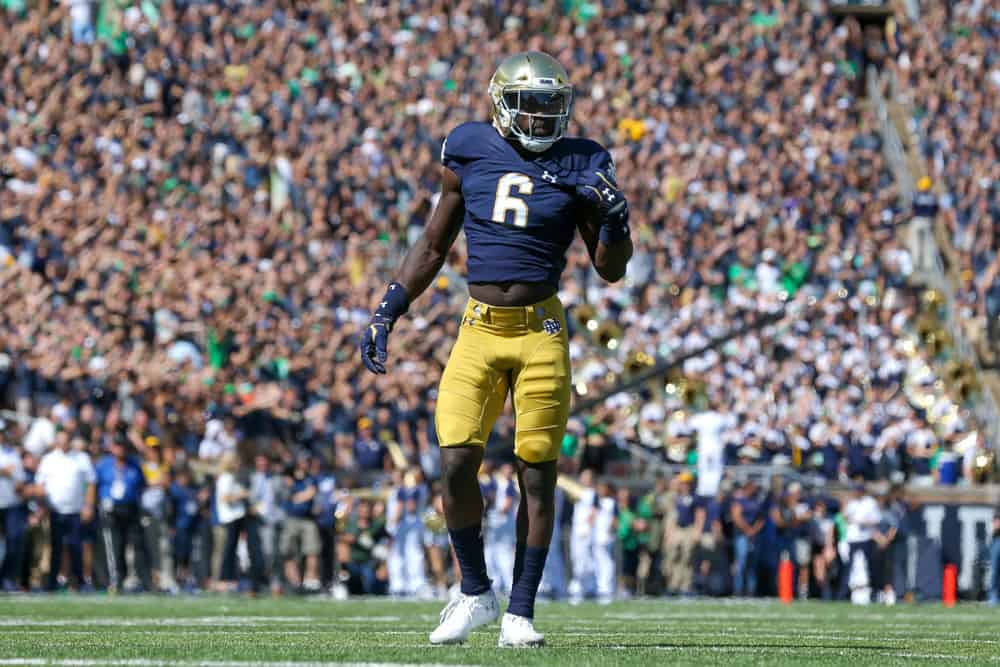 File this under the theme of much ado about nothing.
Cleveland Browns linebacker Jeremiah Owusu-Koramoah (JOK) called into The Jim Rome Show and talked about his draft experience.
Of course, Jim Rome asked him about the reported heart issue which caused his draft stock to drop.
How JOK Responded
He shut down any lingering doubts by saying there are no concerns with his heart.
JOK alluded to the fact that people have to consider the source of the information.
He also mentioned that going back to his Notre Dame career, there was no issue.
Notre Dame Coach Kelly Never Addressed It
Coach Brian Kelly talked about what a fantastic player JOK is and never mentioned a heart issue.
Kelly knows Joe Woods from their days together in the mid 90s at Grand Valley State University.
"I know what [Woods is] looking for. I mean, I know what everybody's looking for. They want guys that can make plays and not have to come off the field…Jeremiah's a guy that can play on all downs, and, man, does that give you great flexibility. He's [also] going to be a great special teams player. He just enhances what you do."
Here's What We Know
On some mock drafts, JOK was projected to go in the first round, potentially to the Cleveland Browns with the 26th pick.
When JOK dropped into the second round, the Browns traded with Carolina to move up from 59th to 52nd to draft him.
With the 52 pick in the 2021 NFL Draft, your Cleveland Browns select…LB Jeremiah Owusu-Koramoah, Notre Dame! pic.twitter.com/Db962JjXhi

— Cleveland Sports Talk (@CLEsportsTalk) May 1, 2021
ESPN's Adam Schefter broke the news post-draft about a heart issue that was revealed later in the teams' due diligence process.
Jeremiah Owusu-Koramoah had a heart issue that came up late in the process and was a concern for most teams, which is why he fell out of the first round and to pick No. 52 with Cleveland, per sources. Doctors ultimately cleared Owusu-Koramoah but it did contribute to him falling.

— Adam Schefter (@AdamSchefter) May 3, 2021
Remember there was not an NFL Combine this year.
In a "normal" year, players get physicals at the NFL Combine, and any issues are released at that time.
It is understandable that late-breaking news on the health front would cause some scrambling behind the scenes.
Andrew Berry Is Not Concerned
There obviously was something pertaining to his heart, but it must be very minor.
The key takeaways are that doctors cleared him, JOK says it is nothing, and Browns GM Andrew Berry is not concerned about it.
"No, he didn't run a 40 at his pro day, and we knew he was sort of a little dinged up, but he participated otherwise in his pro day.  No, there's nothing that would prohibit him going forward with us…I can't begin to speculate in terms of what made him, I guess, allegedly drop, but I can say that we were very comfortable with him from a medical standpoint."
Andrew Berry on JOK

"Jeremiah is completely healthy. There's nothing in his background that would suggest he can't have a long great career." pic.twitter.com/u5PoyWCKRR

— Nick Karns (@karnsies817) May 4, 2021
On 92.3 The Fan yesterday, Berry added:
"He's completely healthy. There's really nothing in his background that would suggest he can't have a nice, long career."
It's time to move on from this story and focus on what JOK brings to the Cleveland Browns defense.
Welcome to Cleveland, JOK!