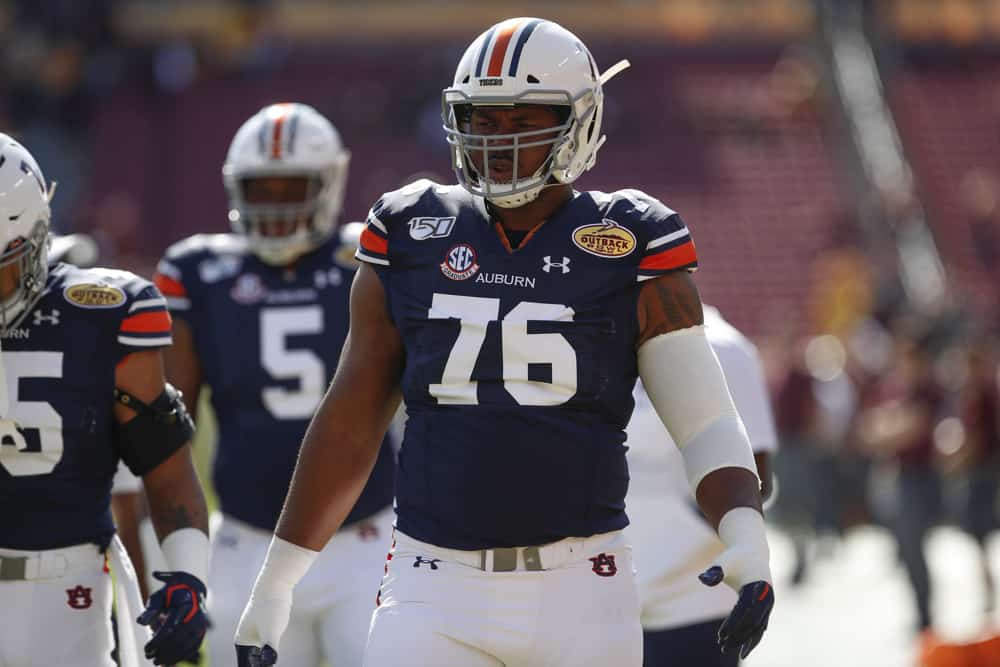 Saturday, January 25th marks the 70th edition of the annual Senior Bowl, featuring players that have completed their college eligibility and look to enter the NFL Draft.
The Browns have specific needs to address in the draft and will evaluate several candidates in a North versus South battle.
Here's a quick profile of seven players that the Browns should observe closely.
Don't be surprised to see one or more of these seniors in a Browns uniform next season.
No matter where you connect to the NFL universe, there's a reason for you to be in Mobile. #NFLDraft @seniorbowl https://t.co/yqE8M4v2od

— Luke Easterling (@LukeEasterling) January 4, 2020
Anfernee Jennings – LB – Alabama
Anfernee Jennings putting in work. He's one to keep an eye on in the @seniorbowl. #CollegeFootball #NFL #RollTide #BamaFactor #SeniorBowl #NFLDraft

— Justin Riley (@JustinRiley7) January 16, 2020

Anfernee Jennings is a punishing linebacker, a phenomenal tackler and one of the hardest hitters in college football.
He has big strong legs and can overpower offensive linemen with a bull rush blitz.
Jennings has the speed to close and make good open-field tackles but needs work on his pass coverage.
He might be a great complement to former teammate Mack Wilson in the Browns' linebacking crew.
It will be interesting to watch him line up against different types of personnel in the Senior Bowl to see his versatility.
Prince Tega Wanogho – OT – Auburn
*Gets first rep of K'Lavon Chaisson vs Prince Tega Wanogho* (LT)

*Licks lips*

My God. @BrandonThornNFL would you come look at this? pic.twitter.com/YMLMYWwuPe

— Dalton Miller (@DaltonBMiller) October 27, 2019

This Auburn behemoth is one of the more underrated offensive tackles in the draft.
Prince Tega Wanogho is the seventh of nine children from a family in Nigeria who came to the United States as a high schooler to play basketball in Montgomery, AL.
Wanogho has improved year over year in Gus Malzhan's offense at Auburn and above all, he has the size and footwork to be an NFL starter.
Look for Wanogho to be a locker room favorite at the Senior Bowl, as his friendly demeanor has won over teammates on every level.
Kyle Dugger – S – Lenoir Rhyne
Just bringing this clip back. Kyle Dugger is an absolute stud. @KingDugg_3 pic.twitter.com/RsmgDMrFFq

— Nathan Papandrea (@NathanPapandrea) January 13, 2020
He's one of the best defensive players that no one has seen at tiny Division II Lenoir Rhyne.
Dugger is an absolute freak and primed to be a standout safety in the NFL.
He is big and strong, and a bruising tackler, in addition to having the closing speed to play effective zone coverage when needed.
It's quite possible that this well-kept secret will be the talk of the 2020 Senior Bowl.
Evan Weaver – ILB – California
Evan Weaver – LB #89 – was a tackle machine for California that played through his pads and used his size well in the box. Where he really shines is with his ability to process a play:

– Fast flow vs zone and helps force cutback

– Patient read vs option, mirrors RB's hips pic.twitter.com/moSmLBnJnQ

— Matt Lane (@ChiefinCarolina) January 15, 2020

Evan Weaver is an old-school style linebacker, reminiscent of a young Brian Urlacher.
He has a big body and seems a little flat-footed at times.
However, he is deceptively fast and has an impressive jumping ability.
He has the personality to be a team leader and will probably be all over the field in the Senior Bowl.
It may be a bit of a gamble for the Browns to draft him as a Sam or Mike in the 4-3 defense.
But he has shown versatility and improvement all year and looks ready to play on Sundays.
Matt Peart – OT – UConn
The @seniorbowl is looking live at @UConnFootball vs. @UCF_Football. One intriguing high upside under-the-radar OL prospect that could really ascend thru the draft process is Huskies' OT Matt Peart (@matthewpeart65). The NFL isn't sleeping on this guy. #TheDraftStartsInMOBILE pic.twitter.com/GmvR4v1Dt4

— Jim Nagy (@JimNagy_SB) September 28, 2019

At 6'-7" and 300 pounds, Matt Peart will likely standout at the 2020 Senior Bowl game.
Although UConn has struggled over the last several seasons, Peart has started in 36 games over five years for the Huskies and been a force in their relatively successful run game.
Peart is extremely athletic, and a scrappy blocker for a big man.
He has the presence to be a leader on and off the field.
A good showing in the Senior Bowl could elevate his status in the 2020 draft, and the Browns will be watching.
K'Von Wallace – S – Clemson
1⃣2⃣ days until kickoff. K'Von Wallace ends the game against NC State in 2017. K'Von has interceptions against NCSt in '16, '17, and '18. pic.twitter.com/nEou8p0b6J

— Hold That Tiger (@HoldThatTigerCU) August 17, 2019

K'Von Wallace is a field general and a standout on the National Champion runner-up defense.
Although his speed is impressive, Wallace lacks the size to be in the discussion for an early-round draft selection.
Watch for Wallace to be a ball hawk in the Senior Bowl.
He has a nose for the football and creates turnovers.
He may be a late-round sleeper that can fit in well in Cleveland next year.
Leki Fotu – DE – Utah
Leki Fotu is super quick for a big man. His game against USC was some of the best DT film I've seen this season. pic.twitter.com/gq5r8VTwzp

— Dante Collinelli (@DanteCollinelli) January 17, 2020

Whether the Browns target a defensive lineman in the early draft rounds or not, you're going to want to keep an eye on 6'-6", 335-pound Leki Fotu from Utah in the Senior Bowl.
Fotu has wrecked some of the better offensive lines this season en route to a breakout season.
Fotu has earned consideration as a solid run-stopping tackle.
His potential is impressive and could be a great depth addition to the Browns' defensive line.
Look for Fotu to have an impressive showing in the Senior Bowl against some high-quality offensive linemen.