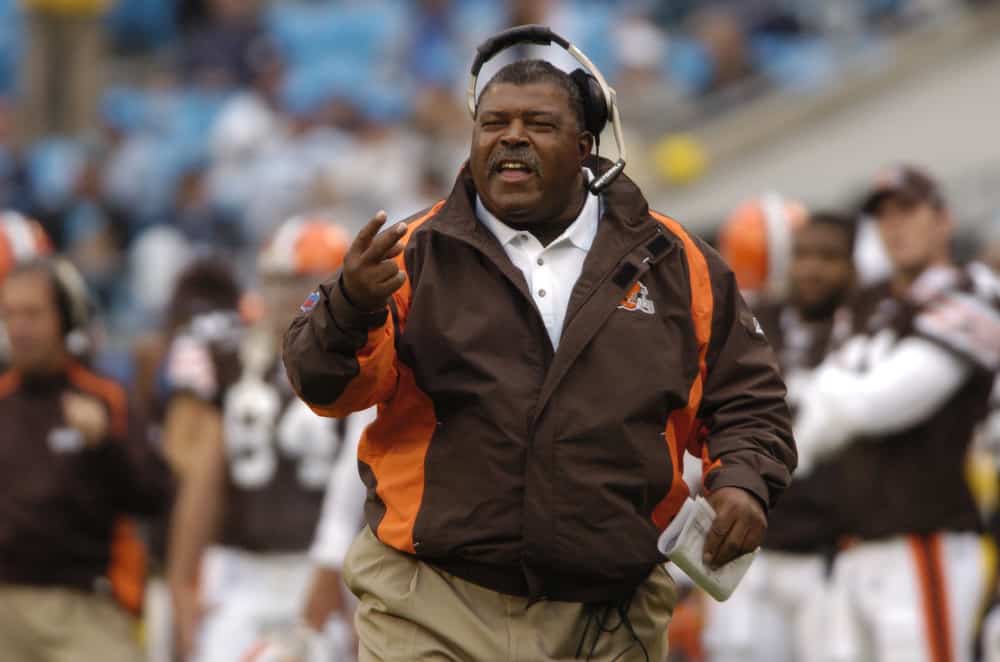 The Cleveland Browns have blown it up and are starting over once again in 2020.
That means a new coach in Kevin Stefanski and a new general manager to pair with him.
Just another year being a post-99 Browns fan.
Constant turnover in those two leadership positions is nothing new for Browns fans who have been watching since the 1999 season.
Browns, this decade.

HCs: Eric Mangini, Pat Shurmur, Rob Chudzinski, Mike Pettine, Hue Jackson, Freddie Kitchens.

GMs/scouting chiefs: George Kokinis, Tom Heckert, Mike Lombardi, Ray Farmer, Andrew Berry, John Dorsey.

Football czars: Mike Holmgren, Joe Banner, Sashi Brown.

— Albert Breer (@AlbertBreer) December 31, 2019
In fact, it has nearly become an annual event to spend countless hours guessing who the Browns will hire and if it will finally work out.
So far, no luck.
The Browns have put together a less than impressive list of head coach and GM combinations since 1999.
The purpose of this article is to take on the sad task of ranking those combos from worst to first.
For the sake of simplicity and sanity, those on an interim job status were not up for consideration.
So no Terry Robiskie or Gregg Williams this time around.
It should also be pointed out that so much dysfunction makes it hard to come up with these rankings.
Most of the list is entirely up for debate.
The records have been terrible and even promising years have deteriorated and seemed worse weeks after looking like the team had finally turned things around.
All the spots are interchangeable, but let's start with the clear worst of the worst.
11. George Kokinis and Eric Mangini
This was a total mess right from the start.
George Kokinis and Eric Mangini were brought in together for the 2009 season after both Romeo Crennel and Phil Savage were let go after four seasons.
The new GM didn't even last through the season and was mysteriously escorted out of the facility in Berea upon losing his job.
NFL: "The grievance filed by George Kokinis against the Browns has been amicably resolved. Terms of the settlement are confidential."

— Adam Schefter (@AdamSchefter) February 24, 2010
Mangini was hired before Kokinis and a 1-11 start to the season was the result of the new supposed dynamic duo.
The coach would have followed the GM out the door at the end of the year if not for a 4-0 finish to the year that kept Mangini in town for another year.
5-11 is not the worst record of the expansion era, but this duo is the worst thanks to Kokinis lasting an incredibly short amount of time in the organization even by Browns standards.
Turnover in the front office is never good and it ended up coming back to haunt Mangini as well.
10. Mike Lombardi and Rob Chudzinski
The Browns moved on from Pat Shurmur and Tom Heckert in 2013 by bringing on Michael Lombardi as GM and Rob Chudzinski as head coach.
Both were one-and-done with the Browns.
2013 was the first full season under Jimmy Haslam and the new owner was supposed to make the team great again now that Randy Lerner was out of the picture.
Instead, the Browns blew the chance to sign Chip Kelly, probably for the best, and had to settle for Chud.
Settling became a theme under Jimmy Haslam.
Lombardi proceeded to draft Barkevious Mingo at No. 6 overall and the main free-agent addition was Paul Kruger.
This was not what fans had in mind after two awful years under Shurmur.
This all led to a predictable 4-12 record and the firing of both Chudzinski and Lombardi, though the latter remained employed until February before Haslam made yet another change.
9. Ray Farmer and Mike Pettine
Ray Farmer and Mike Pettine did the impossible under Haslam and lasted two seasons together.
This duo should be higher on the list because of the 7-4 start to the 2014 season.
But we all know what came next.
The Browns lost five straight to finish 7-9 and went 3-13 in a disastrous 2015 season.
Farmer was texting coaches on the sideline and the coaching duo of Pettine and Kyle Shanahan was broken up after one year once the offensive coordinator begged to be let go.
Johnny Manziel took hold over the organization for some unknown reason and the decision to start him derailed a potentially special season in 2014.
I hope Kyle Shanahan used this moment as motivation to hang up 40 on Mike Pettine tonight 😂 pic.twitter.com/L2TbKM5DLu

— Adam Lefkoe (@AdamLefkoe) October 16, 2018
Farmer's claim to fame is drafting Justin Gilbert and Manziel in the first round of the 2014 NFL Draft, though he did snag Joel Bitonio and Christian Kirksey that same year.
He outdid himself in 2015 with the first-round duo of Danny Shelton and Cameron Erving that set the Browns back once again.
Pettine had initially won over the city after his 7-4 start and looked like the savior.
Yet Farmer's horrific personnel moves coupled with Manziel taking over the offense caused Pettine's quick demise and the firing of both in 2015.
8. John Dorsey and Hue Jackson
This duo was a quick blip on the post-99 radar.
John Dorsey was brought in late in the 2017 season and for some reason he was forced to keep Hue Jackson for 2018.
Haslam's meddling made this a short-lived situation.
After eight games, Browns owner Jimmy Haslam and GM John Dorsey entered Hue Jackson's office to fire him. His response:

(via @SethWickersham) pic.twitter.com/y5dtEI4vy8

— SportsCenter (@SportsCenter) January 24, 2019
Dorsey was likely waiting to fire Jackson and did that after a 2-5-1 start following a 1-31 record in Hue's first two seasons.
The GM's positive moves in the 2018 offseason made this a duo that could have worked if the team was not a total mess after 1-31.
The Browns needed a spark and Gregg Williams was able to use the potential gathered by Dorsey to finish the season on a positive note.
This was one of the better seasons since the Browns returned, but Jackson's presence as coach makes this duo one of the worst.
7. Dwight Clark and Chris Palmer
The original duo faced an impossible task.
Any expansion team is going to face difficulties and the new Browns were no different.
Though expectations were a bit high after seeing the expansion Jacksonville Jaguars reach the AFC Championship Game in the team's second year of existence.
That was not the case for Clark and Palmer who saw the new Browns go 5-27 over their first two seasons.
The record was bad enough for Palmer to be let go and for Clark's role to diminish greatly once Butch Davis came to town.
Going 5-27 was obviously a terrible way for the new Browns to start.
But it is hard to rank this group too low considering the circumstances.
Drafting Tim Couch No. 1 overall in 1999 ended up working out in 2002 and acquiring Phil Dawson at least gave the Browns some consistency on special teams.
Other than that, it took the next coach to maximize the sporadic talent on the roster.
6. Tom Heckert and Pat Shurmur
Tom Heckert fired Eric Mangini following the 2010 season and got his guy in Pat Shurmur for 2011.
That proved to be a huge mistake for all involved, including Mike Holmgren.
Jan 13, 2011: The @Browns hired Pat Shurmur to be their head coach. He seemed nice enough, didn't work out. pic.twitter.com/6iRdmGCXND

— Sad CLE Sports (@SadCleveland) January 13, 2019
Heckert didn't make things easy for his coach by drafting Phil Taylor in the first round of the 2011 NFL Draft.
Colt McCoy was the starting quarterback and the plan was doomed from the star.
Add in Shurmur's inability to motivate and Heckert's struggle to add competent talent and the 2011 season was another wasted year.
The one thing to keep in mind with this duo is that Holmgren likely had a major impact on the decision-making of Heckert.
Shurmur was a favorite of Holmgren and got the job with no previous head coaching experience, as is tradition with the new Browns.
Yet this was not a one-and-done situation.
Heckert and Shurmur were back in 2012 and got the year off to a rough start by drafting Trent Richardson and Brandon Weeden in the first round.
Another wasted first-round set the team back even further and the duo was doomed once Randy Lerner sold the team to Jimmy Haslam.
A 5-11 season in 2012 followed the 4-12 year in 2011 and Haslam, as expected, decided to bring in his own guys.
5. Tom Heckert and Eric Mangini
Heckert joined the Browns in 2010 and inherited Mangini after George Kokinis was escorted out of the building.
2010 also marked the first year with Mike Holmgren in charge and that was bad news for Mangini.
This was a pre-Haslam ownership arranged marriage that was once again doomed from the start.
Jake Delhomme was brought in as the starting quarterback and proceeded to start four games for the team.
Colt McCoy was rushed into action and the season would have been unwatchable if not for the big year from Peyton Hillis.
Heckert also grabbed Joe Haden and T.J. Ward in the 2010 NFL Draft, marking a rare good draft by the Browns since 1999.
Mangini had the team at 5-7 with four games remaining before a four-game losing streak to end the season.
A late-season collapse does not take away from the success the team had initially with a major lack of talent on the roster.
Hillis became a star, for one year, and the Browns had huge wins over the New Orleans Saints and New England Patriots as Colt McCoy looked like a legitimate starting quarterback.
The final record was 5-11, which would qualify as a standout miserable year for most teams.
But with the Browns, the 5-7 start is notable and the additions made under Heckert in 2010 should have set up the team for success.
4. John Dorsey and Freddie Kitchens
Browns fans can deny it all they want, but there was a positive buzz when John Dorsey hired Freddie Kitchens to be the head coach for the 2019 season.
Recency bias may have fans ranking this duo as one of the worst since 1999.
LIVE: Head Coach Freddie Kitchens' introductory press conference https://t.co/nsHnEqIzT9

— Cleveland Browns (@Browns) January 14, 2019
Though it is hard to do that given the talent acquired by Dorsey and the fact Kitchens still managed to coach the team to six wins.
That is decent by Browns standards.
The talent is the key here and it is too early to say Dorsey and Kitchens derailed the future after one disappointing season.
Hiring Kitchens was Dorsey's ultimate mistake and the coach should have gotten better in 2020 with a year of experience under his belt.
But that was a decision for the Haslams to make and they decided on another one-and-done year for a coach after seeing the team waste all of the talent in the room.
The firing of both after a 6-10 season was a sign that such a record is no longer tolerated when expectations exist.
This is a drastic shift from the seasons when a 5-11 record was seen as improvement.
3. Sashi Brown and Hue Jackson
Let the Sashi Wars live on!
The Browns went 1-31 from 2016-2017 under the leadership of Sashi Brown and Hue Jackson.
But the losing was always the plan, no matter how painful it was for fans.
The problem was that Jackson was not exactly down with the rebuild and was not able to coach well enough to make up for a lack of talent.
While Jackson struggled and blamed everyone in the media, Brown stockpiled picks and money that was eventually used by Dorsey to build the current Browns roster.
2016 was the start of the duo and Brown decided to trade down and draft Corey Coleman with the No. 15 overall pick.
That did not quite work out, but players like Emmanuel Ogbah, Carl Nassib, Rashard Higgins, and Joe Schobert were acquired later in that draft.
No superstars among the bunch, but certainly talent to build around if the plan had been allowed to last more than two years.
2017 saw Brown keep it simple and take the talented Myles Garrett with the No. 1 overall pick.
Larry Ogunjobi and David Njoku were also drafted, while Kevin Zeitler and JC Tretter were signed in free agency.
The problem was a quarterback room of Kevin Hogan, Cody Kessler, and DeShone Kizer.
That left Jackson with nothing to work with but once again, that was part of the plan.
The result was 0-16 that allowed the Browns to snag Baker Mayfield No. 1 overall in the 2018 NFL Draft.
Whether all the losing landed the Browns a franchise quarterback remains to be seen.
Yet the process that gave the Browns all the picks and available money is why this duo is higher on the list.
2. Phil Savage and Romeo Crennel
Phil Savage and Romeo Crennel lasted an improbable four years together from 2005-2008.
The relationship got off to a rocky start with a 6-10 record in 2005 followed by a 4-12 year in 2006.
But ownership did not panic, or care, and the Browns miraculously pulled off a 10-6 record in 2007 with Derek Anderson looking like the next coming of Bernie Kosar.
Joe Thomas was drafted that year and is one of the best draft picks in franchise history.
Braylon Edwards even looked like a star for that one season in which the Browns nearly returned to the postseason for the first time since 2002.
But it was too good to be true when the team came back down to Earth and went 4-12 in 2008.
Anderson regressed, Brady Quinn got hurt, and Ken Dorsey even started three games.
Bruce Gradkowski also got a start in 2008 for all those Week 17 Browns trivia buffs out there.
Moving on after a third losing season in four years seemed to be the right move.
But what followed was total disaster with Eric Mangini and George Kokinis in 2010.
The Browns have been so bad since 2007 that the 10-6 non-playoff season is still a year of nostalgia for so many fans.
Crennel and Savage did not have sustained success, but smart moves were made and Crennel worked well with what he had.
He was just never able to take things to the next level.
Randy Lerner seemed to want to stick with both Savage and Crennel as he signed them both to extensions less than a year before they were fired.
One more year of patience may have avoided the start of a terrible decade, but we will never know.
1. Butch Davis and Butch Davis
The Browns have been to the playoffs one time since returning in 1999.
That postseason berth came in 2002 with Butch Davis as the head coach and general manager.
Davis came aboard in 2001 and while Dwight Clark was technically the GM, the coach assumed most of the front office power.
Jim Donovan Flashback | How the Cleveland Browns shocked the NFL by hiring Butch Davis as head coach in 2001 pic.twitter.com/ieI6Nqygnf

— WKYC 3News (@wkyc) January 4, 2019
The new coach took his expansion team to a 7-9 record in 2001 and showed that maybe Chris Palmer had been holding the young team back.
Taking Gerard Warren at No. 3 overall was not exactly a great move, but the record is what stood out the most.
Then came 2002 when the team went 9-7 and qualified for the postseason.
That is the obvious reason why Davis is ranked first on this list filled with so many failures.
The team rebounded from Dwayne Rudd's Week 1 blunder thanks to the coaching of Davis and were helped by his first-round pick, William Green.
A close loss to Pittsburgh in the postseason was demoralizing and sent the Browns back into their current state starting in 2003.
Davis is tied with Romeo Crennel for the most coaching wins since 1999 with a sad total of 24.
He may have had more if he had not resigned in 2004 after the pressure seemed to get to him.
24 wins in four seasons is nothing to celebrate for most teams in the NFL.
But Davis took the new Browns to the playoffs in their fourth season back and made it seem like the nightmare was finally over.
Getting the Browns to the playoffs has been an impossible task for nearly two decades and Davis did it without much of a foundation in place.
That is truly something to marvel at, even though the end of his tenure was ugly.