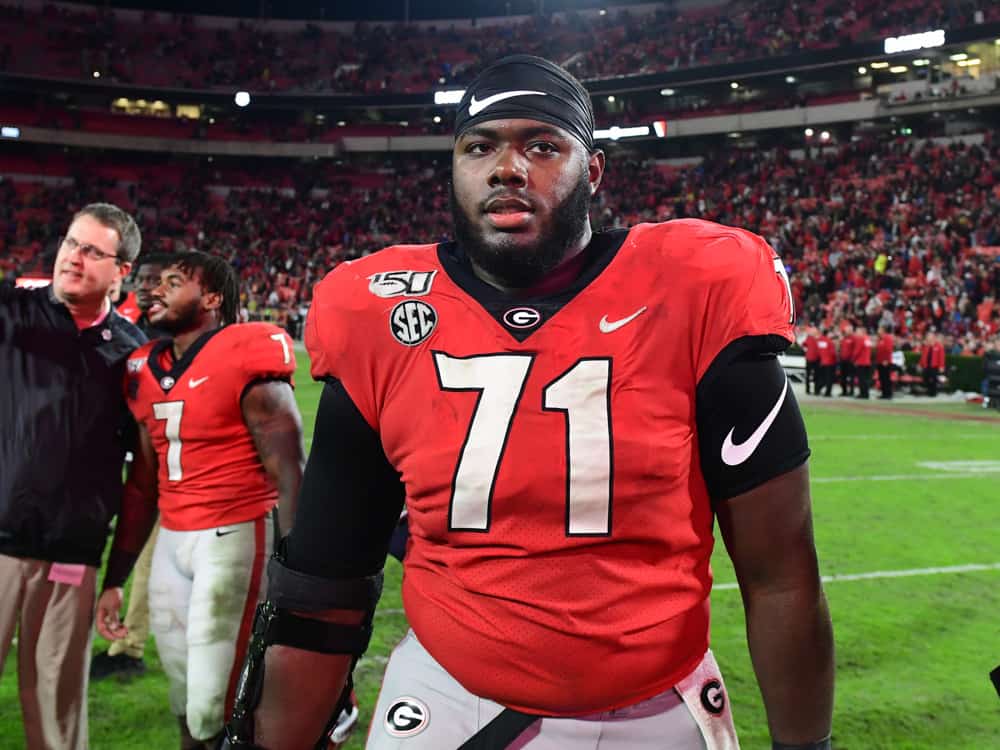 With the advent of the new year, it's time to make some new resolutions for 2020.
For the Browns, one resolution has to be: find a new left tackle. As it stands now, the Browns have one credible offensive lineman, Joel Bitonio.
What the team really needs is a left tackle to protect the blind side of Baker Mayfield.
Fortunately, there are a number of credible candidates the Browns can peruse in the upcoming 2020 draft.
According to NFL.com's Ian Rapoport, the NFL is set to raise the salary cap next year.
The raise could be anywhere between $196.9-$201.2 million per team.
This would mean an increase of $52-$55 million in cap room for the Browns.
There are a number of needs to address in the off-season for the Browns.
The offensive line has to be a priority.
The following is a list of the top LT prospects of the draft of 2020.
Top 2020 OL Draft Prospects
Andrew Thomas, Jr., Georgia.
Dave Gettleman and his new coach Joe Judge need to prioritize protecting their young QB this offseason.

At #4, the Giants need to draft #Georgia LT Andrew Thomas.

Power, quick feet, and beautiful technique.

Best OL prospect since Quenton Nelson#giantspic.twitter.com/BRwllSFb0A

— Dan Shea (@DanSheaNFL) January 7, 2020

Andrew Thomas is widely regarded as the top offensive line prospect in the 2020 draft. He has been a solid contributor for Georgia the past few years, especially protecting quarterback Jake Fromm.
In his freshman year, he was named a Freshman All American. He started all 13 games during his sophomore year, which first caught the attention of pro scouts.
Thomas is big, 6'5″ and 320 pounds with great reach for a tackle. Pro scouts have noted that Thomas has quick feet, athleticism and good hand placement and technique in pass protection. When blocking the run, Thomas gets to the second level quickly.
His strength helps him manipulate defenders and turn them the way he wants them to go. Even more intriguing for NFL teams, Thomas has experience in pro style concepts and blocking techniques.
On the downside, scouts note that his initial hand placement on blockers can be too high.
This causes a mismatch of leverage and allows his man to get past him. Also, despite his great ability, Thomas occasionally lacks in flexibility.
This issue leads to Thomas leaning into his blocks which allows defenders to slide past him to the backfield. The Browns current 2020 draft position is 10.
Unfortunately, there are teams ahead of the Browns who need offensive tackles. Some mock draft boards have Thomas going number three overall to the Lions.
If the Browns wanted Thomas bad enough, they would have to trade up to get him.
Tristan Wirfs, Jr., Iowa
Quick Tristan Wirfs thread for the TL. A great option for the #Jets at 11 if he sides a little.

On this play, I like how Wirfs (LT) IDs the blitz.

He had a nice base, shows good foot speed & excellent hand usage to lock up the rusher.

Great rep pic.twitter.com/zlqYSPWIjK

— Luke Grant (@LukeGrant7) January 11, 2020
A number of pro scouts have Tristan Wirfs ranked ahead of Thomas in the 2020 draft. Wirfs is similar in size to Thomas at 6'5″ and 322 pounds. He has also been lauded for his strength.
Pro Football Network reports that Wirfs set an Iowa football weightlifting record in the hang clean. Wirfs hang cleaned 450 pounds four times.
This strength has translated well to the field where Wirfs imposes his will on defenders. Watching him on film, Wirfs has very little problem in pass protection or run blocking.
Wirfs exudes confidence on the field and most times he simply dominates the opposition. When facing double teams, Wirfs holds his own and doesn't panic.
Even more endearing to scouts, Wirfs plays hard from initial snap to whistle. Wirfs has struggled at times with pass protection.
However, he has improved enough that scouts believe this won't be a factor in the pros. Iowa has Wirfs playing right tackle although he has played some on the left side.
Theoretically, the Browns could put Wirfs on the right side and bring in a free agent left tackle. As with Thomas, many mock drafts have Wirfs going early in the draft, before the Browns 10th position.
Austin Jackson, Jr., USC
A name to keep an eye out for in the early rounds at Tackle is Austin Jackson #73 for USC. Watching him handle AJ Epenesa (projected #2 DE) really well. A little raw but giving AJ fits. pic.twitter.com/NNvOWAAn82

— Anthony Tomaino (@AnthonyNYGiant) January 7, 2020
Although Austin Jackson has technically not yet declared for the draft, many NFL insiders believe he will. Jackson has improved his game to the point where pro scouts believe he will be the third tackle taken in 2020.
He has great size at 6'6″ and 310 pounds. Due to his size, Jackson has a wide base that allows him to handle edge rushers.
He has quick feet and scouts rave about his agility and athleticism. More than anything, many NFL insiders have noted Jackson's character as a positive for his position.
In the summer of 2019, Jackson donated bone marrow to his sister. Jackson's sister was suffering from a genetic condition that causes bone marrow to not produce red blood cells.
Scouts have noted, however, that Jackson can tip his hand when he is in his stance. Defenders can periodically watch Jackson before the snap and can tell if he is about to pass or run block.
There are moments when pass protecting, he will lunge instead of step up to attack. Also, Jackson does not always sustain his blocks through the whistle.
This has led to him giving up early on plays that end up favoring the defense. Despite these hiccups, scouts like Jackson's upside.
Having a highly capable left tackle with good character would be a plus for the Browns. The 2020 draft is loaded with offensive tackles.
There is a good chance Cleveland could stay put at 10 and have Jackson fall into their lap.
Jedrick Wills, Jr., Alabama
Alabama OT Jedrick Wills (@JWills73) performance vs. Auburn is the best game of any non-QB prospect that I've studied for the 2020 #NFLDraft so far this year.

Completely dominant. pic.twitter.com/CvvkWns6iF

— Jordan Reid (@JReidNFL) December 23, 2019
Jedrick Wills rates high on many draft boards. He has great strength and is nearly impossible for defenders to bull rush. His 6'5″, 320-pound frame leads to a solid base during pass protection.
Wills' experience at the position helps him take proper angles on edge rushers. Whether in run or pass protection Wills movements look fluid.
He has good balance and body control for his size. His initial punch can be devastating to his man. Watching him on film, Wills can crush defenders on the second level.
His ability and playing mentality fit the bill for a dominant, mauling offensive tackle. This ability and experience will allow him to play either tackle positions or even guard in the NFL.
Scouts do note that Wills does not always have impressive footwork and he is still developing his pass protection technique. Wills can get by more on technique than footwork which will not translate well in the NFL.
Some game clips show Wills not finishing a play. He will have to be more consistent on each play at the next level.
With the right coaching, Wills can be a dominant tackle for the next decade.
Mekhi Becton, Jr., Louisville
One of the biggest risers on my latest 2020 #NFLDraft big board was Louisville OT Mekhi Becton (6-7, 360) – my 25th ranked player. Strength, size, and underrated athleticism for days.pic.twitter.com/6mc03wbWqi

— Jordan Reid (@JReidNFL) January 11, 2020
Mekhi Becton is absolutely huge! He takes up space with his wide body and arm reach.
Becton is currently listed at 6'7″and 369 pounds. Some pro scouts note he may have to lose weight in the NFL.
Becton started 12 games as a sophomore in 2018 and started 11 games this year. Becton was versatile during his time at Louisville, playing at both tackle spots.
NFL teams have said that Becton's draft stock could rise considerably during the draft process. Particularly, the combine and Becton's Louisville pro day could have a huge impact in his draft placement.
As of now, there are plenty that scouts love about Becton. For starters, when Becton gets a good jump off the ball,edge rushers struggle to get around him.
Scouts also rave about Becton's hand placement and initial punch. Becton's strength, along with his punch and reach keep defenders off balance.
Scouts do note that Becton has some consistency issues. For instance, watching film of Becton, one can see he struggles to recover if he is beat initially.
Also, if he mistimes his punch, he can get beat at the point of attack. Leading up to the draft, NFL teams will be watching closely to see if these shortcomings can be fixed.
Prince Tega Wanogho, Sr., Auburn
Meet Prince Tega Wanogho, Auburn's dominant pass protector https://t.co/HBYEmLKGca

— Draft Wire (@TheDraftWire) November 29, 2019
Prince Tega Wanogho is an intriguing tackle prospect for NFL teams. Originally from Nigeria, Wanogho is relatively new to football.
He flew to America before his junior year of high school to play basketball. Only by chance did Wanogho gravitate to football. His size intrigued coaches at his high school and he was asked to try the sport.
The coaching staff placed him at defensive end with a simple instruction, "Go get the quarterback." Wanogho did just that and played well enough to become a top defensive end prospect his senior year.
After being recruited by Auburn as a defensive end, Wanogho switched to offense after his freshman year. In 2017, Wanogho started four games at tackle.
However, he came into his own in 2018 starting every game for Auburn. Wanogho actually graduated from Auburn in December 2018 but decided to return in 2019 to improve his draft status. Regarding his ability at the next level, scouts rave about his intangibles.
Wanogho's size (6'7", 305 pounds) and athleticism make him a versatile athlete. With a background in basketball, Wanogho is quick in his movements and does not show stiffness for his position.
Watching film, his footwork is fluid and he can get to edge rushers easily and sticks to them like glue. Wanogho was frequently on the Honor Roll at Auburn and that intelligence helps him overcome mistakes quickly.
Regarding weaknesses, there are times one can tell Wanogho has only played the position for a few years. In some game clips, Wanogho seems a bit top heavy and can overreach on defenders.
When this happens, the defenders can get past him quickly. His hand placement must improve and he has to work on his consistency. However, because he is relatively new to the position, Wanogho is still learning the ropes.
His intelligence and eagerness to learn is a big plus and will be a benefit to any team. This draft is heavy with talented offensive tackles.
Fortunately for the Browns, having the tenth pick assures they can draft a talent like Wanogho.
Trey Adams, Sr., Washington
Washington Huskies OT Trey Adams is ready for the #NFL, but teams will have to get past his injury history, per our @ZachHicks2. #NFLDraft #PurpleReign https://t.co/Y0iGMlNM36 pic.twitter.com/rSr2XII2Bs

— Cover 1 (@Cover_1_) January 9, 2020
Trey Adams is an absolute beast at 6'7", 334 pounds. At that size, Adams can control many aspects of the game when the ball is snapped.
However, teams may be scared off by his injury history. Adams was already an elite protector when he tore his ACL during the 2017 season.
Despite the injury, many scouts still had Adams as a high pick of the 2018 draft. Instead, Adams decided to return to Washington for 2018 and promptly had surgery for a back injury.
He returned to finish out the season and did well considering his recovery from major surgery. Due to his limited 2018 action, Adams came back to Washington for his senior year in 2019. Scouts are still high on Adams despite his injuries.
They note that he is tough to overpower because of his size. He does not get beaten often as he has an 81.13-inch wingspan.
Adams can recover fairly quickly and takes good angles to cut off edge rushers. Scouts also note that Adams has good hand placement and punch at the point of attack.
In most situations, Adams seems to be at ease with his position and can handle nearly anything that comes his way.
However, scouts do see red flags in his game due to his previous injuries. For instance, there are times when he lacks flexibility and lateral agility.
Adams will sometimes stand up straight when a play begins. This eliminates any leverage he could gain by coming out lower.
Adams can also be stiff in his technique, allowing speedier edge rushers to maneuver around him. Overall, scouts love his toughness, tenacity, football IQ, and ability.
Teams may be hesitant to draft Adams because of his injury history. Then again, they may also get a diamond in the rough.
Josh Jones, Sr., Houston
Houston left tackle Josh Jones is ranked fourth among tackles on ESPN's Mel Kiper Jr.'s 2020 NFL Draft Big Board pic.twitter.com/FpUOErE9Hd

— Joseph Duarte (@Joseph_Duarte) October 17, 2019
Josh Jones has risen steadily as a first-round talent this year in the eyes of NFL scouts. He has a background in basketball and one quickly sees his athleticism when watching film.
Jones is 6'7", 310 pounds and this size makes him difficult to beat. When a play begins, Jones is quick to wall off his opponent and protect the blind side.
Rarely is Jones beaten either inside or outside. Numerous scouts point out the fluidity in his movements.
Since he has been a starter for Houston since his freshman year, not much surprises him. Jones knows what to expect in most situations and plays with an ease that highlights his experience.
Due to his size, Jones can manhandle his opponent. In numerous game clips, Jones can be found burying his opponent when pass or run blocking.
If he gets in a solid initial punch, Jones is difficult to get past. Despite all the strengths Jones brings to the game, scouts have seen weaknesses.
Many scouts have pointed out Jones' issues with upper body mechanics. If he is beaten at the snap, Jones has shown difficulty recovering to stop the defender.
His length works against him in these instances and he looks stiff. Also, when Jones maneuvers to the second level, he can miss defenders and can look lost.
A number of scouts have commented on Jones' poor striking ability. At the snap, he can miss defenders and will absorb, rather than strike, at the point of attack.
All around, Jones needs to show more consistency, especially given his extensive experience. Jones' ability and ceiling is huge.
If he goes to the right team, he will be a dominant left tackle in the NFL for years to come.