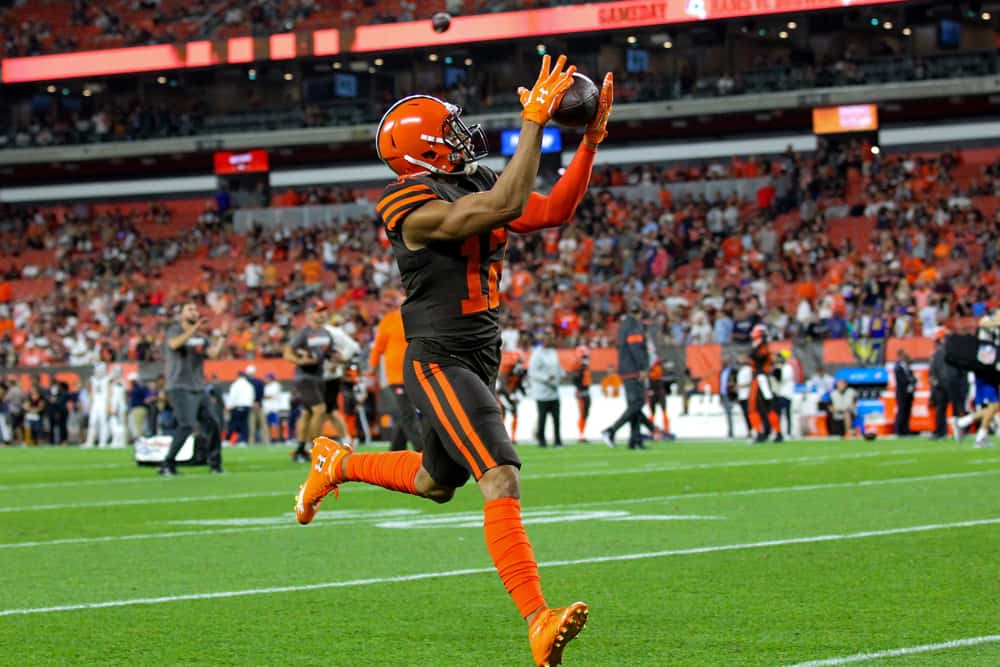 Competition is heating up for the third wide receiver role on the Cleveland Browns.
25-year-old Rashard Higgins was expected to be the favorite for the role, but that might not be the case anymore.
Browns receiver coach Chad O'Shea mentioned on Saturday that the competition is not over yet.
"The competition is still open,'' he said. "It's a very competitive situation on our roster. Nothing is set in stone and we have a lot of guys vying for it.''
One player that is sneaking his way into the conversation is third-year receiver, KhaDarel Hodge.
Could Hodge Pass Higgins?
Hodge recently returned to practice after a week-long absence due to a personal issue.
O'Shea had high praise for Hodge who is having an impressive camp.
"I'm extremely impressed with him and I have a great deal of respect for how he plays,'' O'Shea said.
He goes on to say that Hodge studies hard and is very good mentally.
"He can function in multiple roles, and it's important to add value to the team in several different ways," says O'Shea.
Hodge is someone that can be used in both the passing game and as a run blocker.
He is a talented athlete and has shown off his receiving skills more than once during camp.
#Browns Baker Mayfield rolls out and finds WR KhaDarel Hodge (no sound, via Cleveland Browns) pic.twitter.com/zKNLGSpf0P

— BrownsWave \: (@BrownsByBrad) August 19, 2020
Higgins is a longtime favorite of quarterback Baker Mayfield, which could be a benefit.
He's caught some nice touchdowns during camp, but the team is not committing to anyone yet.
The two of them had good chemistry during the 2018 season.
However, everything went wrong for Higgins last season, so we'll see if can regain that momentum.
It certainly seems that the Browns are giving everyone a fair chance to win the third receiver spot on the team.
Who Wins The Third Receiver Job?
Many of the backup receivers have been getting more reps than usual during training camp.
The reasoning for that is because the Browns are limiting Odell Beckham Jr. and Jarvis Landry who are both coming off surgeries this offseason.
The extra playing time has given the other receivers more time to battle it out for spots on the depth chart.
As of right now, Higgins is likely the favorite to start the season as the third option.
He has more experience than anyone else behind him on the roster.
Higgins hauled in 39 receptions, 572 receiving yards, and four touchdowns with Mayfield under center during the 2018 season.
The Browns are hopeful that the chemistry between the two will click again in 2020.
Both Hodge and Donovan Peoples-Jones have put together impressive performances during camp.
They've definitely made a name for themselves, but it's unlikely they surpass Higgins to begin the season.
There are no preseason games, which makes it more difficult for guys with less experience to climb up the depth chart.
The Browns could very well try different combinations at the third receiver spot if Higgins doesn't work out.
However, it seems like Higgins is the favorite, but O'Shea mentioned it was an open competition, so we'll see what happens.