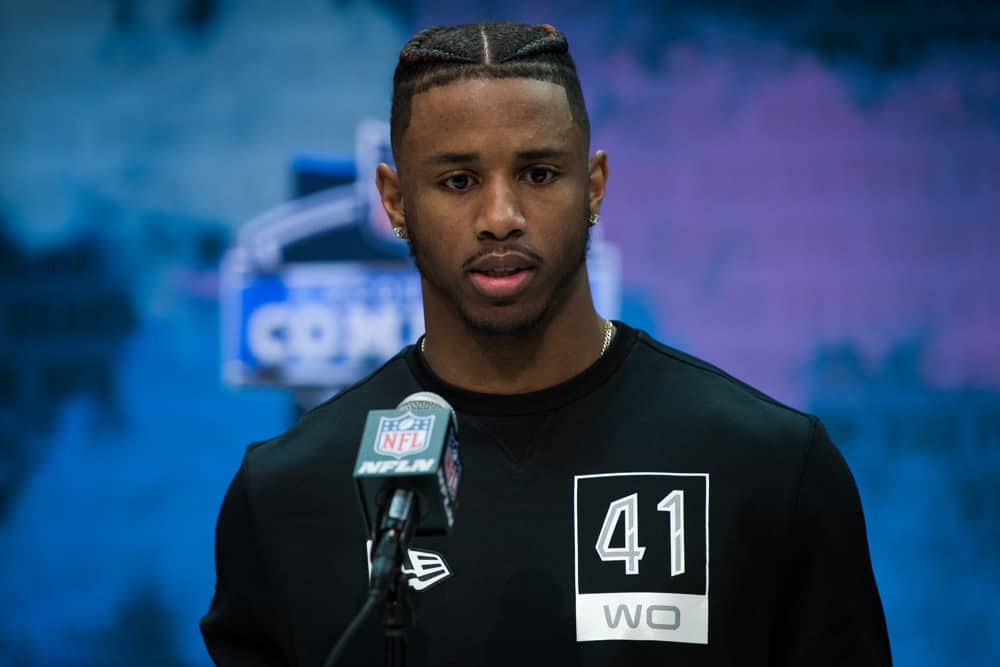 The Cleveland Browns were able to snag the speedy Michigan wide receiver Donovan Peoples-Jones in the sixth-round of the draft.
He put up fairly average numbers during his time in college, but did have a few outstanding performances.
The Browns saw enough out of Peoples-Jones to take him late in the draft.
His college career was a bit of a roller coaster and that has continued into Browns training camp.
The lack of consistency is likely what caused Peoples-Jones to fall so far in the draft.
It'll be interesting to see how the rest of training camp plays out for him.
Peoples-Jones Training Camp
He kicked off Thursday's training camp with one of the most impressive plays we've seen in quite some time.
Peoples-Jones torched defensive back Robert Jackson and caught a deep pass from quarterback Case Keenum with a somersault to end it.
.@casekeenum ➡️ @dpeoplesjones

A @uhhospitals Play of the Day! pic.twitter.com/RF02nIWIw3

— Cleveland Browns (@Browns) August 27, 2020
It was a great way to show off his speed, length, and soft hands as a wide receiver.
That wasn't the first time Peoples-Jones made an epic catch during training camp.
He did it a few days prior with quarterback Baker Mayfield taking the snaps.
#Browns Baker Mayfield rolls out and finds Donovan Peoples-Jones (via Browns) pic.twitter.com/ZClsQW9nmM

— BrownsWave \: (@BrownsByBrad) August 24, 2020
The talent is clearly there, but the roller coaster must come down at some point.
On Thursday, for the second time this week Peoples-Jones exited practice early.
He was not on their injury report, but it sounds like the reason he left was due to dehydration.
It's tough to impress the team when he continues to leave practice early.
However, Peoples-Jones has been given some first-team reps and looked good during them.
Where Does Peoples-Jones Fit In Cleveland?
The Browns have plenty of wide receiver depth, but none of them stand out from the rest.
Peoples-Jones has a chance to see them real action on the field in 2020, assuming he continues to play well.
He is currently listed as the fourth receiver on the depth chart.
Honestly, it might stay that way because the Browns really don't have too many weapons behind him.
The Browns are likely going to use Peoples-Jones more as a returner than a receiver, but we'll see what happens.
He could very well get some chances during the regular season if he continues to make good strides during training camp.
Browns fans shouldn't expect him to be a star, after all he was a sixth-round pick.
Hopefully, he can at least be a decent depth option for Cleveland in 2020.