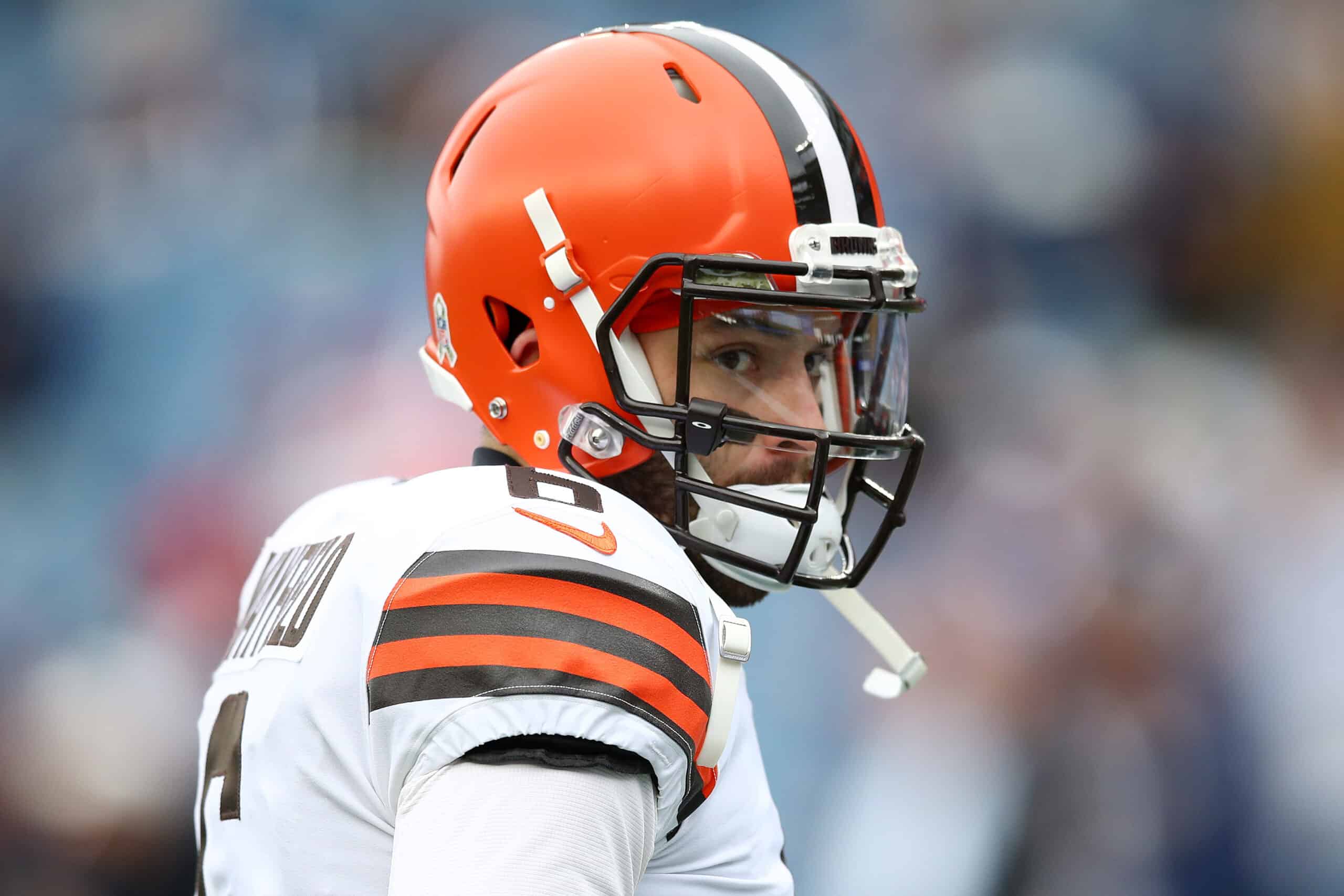 The Cleveland Browns are facing the Baltimore Ravens this Sunday for the second time in three weeks.
Cleveland had a much needed bye last weekend which quieted (somewhat) the national discussion about the Browns' injuries, disappointment and poor play.
Now faced with their final five games of the 2021 season, the discussion about next year has kicked into high gear.
Specifically, the attention has focused on what Cleveland will do this offseason.
In particular, all eyes are on Baker Mayfield.
Baker Mayfield will be standing all day. Stefanski couldn't sit him & apparently the Bye week won't either. #Browns pic.twitter.com/m0SaS8DZ0c

— Ed_in_Columbus (@ed_in_columbus) December 5, 2021
After helping guide the Browns to a long awaited playoff berth and victory in 2020, Mayfield's play this year has been exasperating.
So far, he has completed over 62% of his passes for 2,413 yards (24th in the NFL), 11 touchdowns (26 in the NFL) and six interceptions.
ESPN projects Mayfield to pass for a total of 3,217 yards, 15 touchdowns and eight picks.
If those numbers prove true, they will be the lowest marks of his career (he also threw eight picks last season).
Mayfield has played through significant injuries this year and only sat for one game.
When he has played, the results do not manifest a franchise QB.
Albert Breer's Take
On Wednesday, Albert Breer, Senior NFL Reporter for TheMMQB, gave his take on Mayfield's future during an interview with Bull & Fox on 92.3 The Fan.
According to Breer, Mayfield's status as Cleveland's quarterback next year will be based on "…what is available to the Browns."  
Breer believes that Mayfield will serve as a "baseline" for the Browns this offseason.
In other words, the signal caller will be the minimum starting point in discussions of possible replacements.
Breer compared Cleveland's quarterback situation to San Francisco's situation last season.
The 49ers had Jimmy Garoppolo as a baseline to work with unless something better came along.
San Fran chose to trade up in the 2021 draft and select North Dakota State's Trey Lance.
Unlike last season, Breer does not see this year's draft eligible quarterbacks in a favorable light.
"Quite honestly, the 2022 class of quarterbacks isn't very good to begin with, so I don't think you would look there anyway," said Breer.
Therefore, taking away any possibility of a rookie replacing Mayfield, that leaves veterans as the only options.
"That would leave you with Deshaun Watson, with Russell Wilson, with Aaron Rodgers, what their availability is," Breer said.  "I think there's going to be a lot of competition for those guys that do become available."
Breer elaborated that there will be teams that desperately need a proven veteran along with organizations, such as the Browns, who are just looking for an upgrade at the position.
Essentially, Breer believes it will come down to two basic decisions for the Browns front office.
"I think for Andrew Berry and Kevin Stefanski, it could come down to 'do we keep Baker Mayfield and to keep a bunch of draft capital,' or 'do we want to go all-in with the roster we have now and say screw the draft picks and at least try to get an upgrade at the quarterback position."'
The hosts then asked Breer his opinion on the Browns trying to acquire Matt Ryan or Derek Carr.
Breer responded that those two quarterbacks may be an option if some of the bigger names such as Rodgers or Watson don't want to come to Cleveland.
That would force the Browns to ask themselves if they want Baker to play his fifth-year option knowing they want to move on, or finding a stopgap to play on a short-term deal until something better comes along.
"I think the guys that would be in that 'stopgap' category would be, like you said, a Matt Ryan, a Jimmy Garopolo, potentially a Derek Carr (although I think the Raiders will re-sign him depending on what goes on there).  There are definitely a lot of moving parts," Breer said.
What is the Likelihood Mayfield stays?
Breer mentioned earlier in the show that the only way for Mayfield to prove himself this season would be a push to the playoffs at the very least.
At 6-6, and with tough games ahead against Baltimore, Cincinnati and Pittsburgh, as well as a date with Green Bay and Rodgers, that is doubtful.
The Browns also face Carr and the Raiders in Week 15.
Las Vegas is currently 6-6, but has beaten the Ravens, Steelers and the Cowboys this season.
In other words, Cleveland and Mayfield could fare well over the next month or so.
More than likely, they finish under .500.
However, these next couple games may serve as an unintended showcase to opponents such as Rodgers and Carr of who they could be playing for next year.