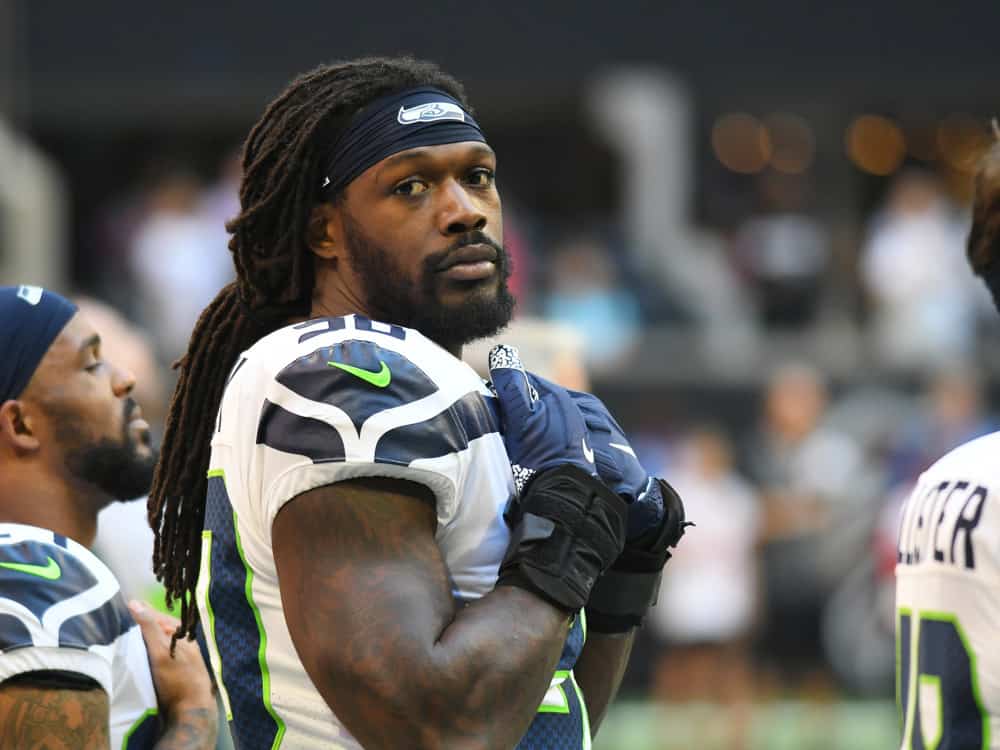 Now that the draft is over, the Jadeveon Clowney sweepstakes can officially restart.
Clowney has been on the market for longer than he has expected.
While the former No. 1 overall pick sought out $20 million, teams like the Washington Redskins and Carolina Panthers have shied away from the pass rusher.
ESPN's Jeremy Fowler reported on April 9 that Clowney could also be considering "shorter-term deals."
From @SportsCenter with @JayHarrisESPN: Source close to Cam Newton says QB willing to stay patient, possibly until after draft and beyond to find right fit; Jadeveon Clowney still considering shorter term deals. pic.twitter.com/9gq89xgZ4m

— Jeremy Fowler (@JFowlerESPN) April 9, 2020
The Four Teams
Those teams are the Cleveland Browns, Indianapolis Colts, Tennessee Titans, and Seattle Seahawks.
Cap space was the most important factor when considering the teams.
According to Over the Cap, the Browns, Colts, and Titans have over $20 million left in cap space.
The Browns are among other teams interested in bringing in Jacksonville Jaguars pass-rusher Yannick Ngakoue as well.
Where The Browns Stand
As of now, we have not heard that the Browns have offered a contract to Clowney.
NFL Insider John Clayton reported the holdup in Browns' pursuit of Clowney had to do with his inability to take a physical.
Their interest likely has to do with their amount of salary-cap space.
The Browns still are the leaders in cap space post-draft.
Most cap space, post-draft …

1) Browns $37.548M
2) Redskins $36.694M
3) Lions $29.488M
4) Broncos $24.249M
5) Colts $24.068M
6) Eagles $23.540M
7) Titans $21.609M
8) Chargers $20.995M
9) Bills $20.596M
10) Dolphins $20.174M

— Albert Breer (@AlbertBreer) April 27, 2020

The Browns need a pass-rusher, and Clowney fits the mold.
The #Browns are still linked to free agent DE Jadeveon Clowney who could want $17 million this season and still have DE Olivier Vernon on the roster at $15.5 million. If you could pick only one, which player would you rather have on the Browns roster this season?

— The Ken Carman Show w/ Anthony Lima (@KenCarmanShow) April 28, 2020

Not to mention, the Browns overhauled their roster in hopes of breaking a 17-year playoff drought.
The Browns are in prime position to bring him to the mix.
At this point, it's going to be all about the offer.
Jadeveon Clowney had one of the most dominant one sack games you'll ever see. Finished with 5 tackles, 5 QB hits, 1 forced fumble and 1 fumble recovery for a touchdown #Seahawks pic.twitter.com/kB0liI2CkN

— Riley Michel (@rileymichel) November 12, 2019
Uncertainty In Seattle
In Seattle, his return is completely up in the air.
According to Mike Garafolo of NFL Network, the former No. 1 overall pick is going to leave.
The Seattle Seahawks are the only team to have reportedly offered a contract.
However, based on Seattle's offer to keep Clowney, it was way below the asking price.
"The Seahawks had a really strong offer to him," Garafolo said during an interview on 950 KJR in Seattle. "I don't know how many different kinds of offers there were, but I know there was a one-year offer, from what I'm told. . . . From my understanding, it was in the $15 million range. He's still looking in his eyes at $20 million. . . ."
Seattle GM John Schneider said recently that the "door is not closed on Clowney."
Do you think the #Seahawks will sign Jadeveon Clowney?!

The "door is not closed." 🤔 pic.twitter.com/R53IKZ7GT1

— Sports ON Tap Seattle (@SONTSeattle) April 22, 2020
Titans Are Hanging Around
Clowney was originally looking for $20 million but recently dropped his asking price to $17-$18 million.
He was also looking for a multi-year deal and not a one year deal.
The Titans were reported to have an interest, but until that price drops, many do not expect a deal.
However, according to Andrew Siciliano of the New York Post, GM Jon Robinson hasn't completely ruled anything out yet.
Jon Robinson, on Jadeveon Clowney: "We haven't closed the door on anything, but I would say that we really haven't inched closer to having any finality."

— Andrew Siciliano (@AndrewSiciliano) April 20, 2020
The Colts
Jeff Kerr of CBS Sports talked about the fit with the Colts on April 9:
"The Colts are closer to contention than the Giants are, especially after signing Philip Rivers. Clowney is very familiar with the division, having spent the first five seasons of his career with the Houston Texans. Indianapolis would be an enticing destination for Clowney, especially since he'll get the opportunity to line up opposite of Justin Houston (who finished with 11 sacks last year)."

Indianapolis' window to win is right now. The Colts added quarterback Philip Rivers on a one-year deal and picked up two highly productive skill-position players in USC wideout Michael Pittman Jr. and Wisconsin running back Jonathan Taylor.

The future might lie in the future development of fourth-round draft pick Jacob Eason, a quarterback out of Wisconsin, but Clowney is just 26 years old and could be a big piece of this defense for years.