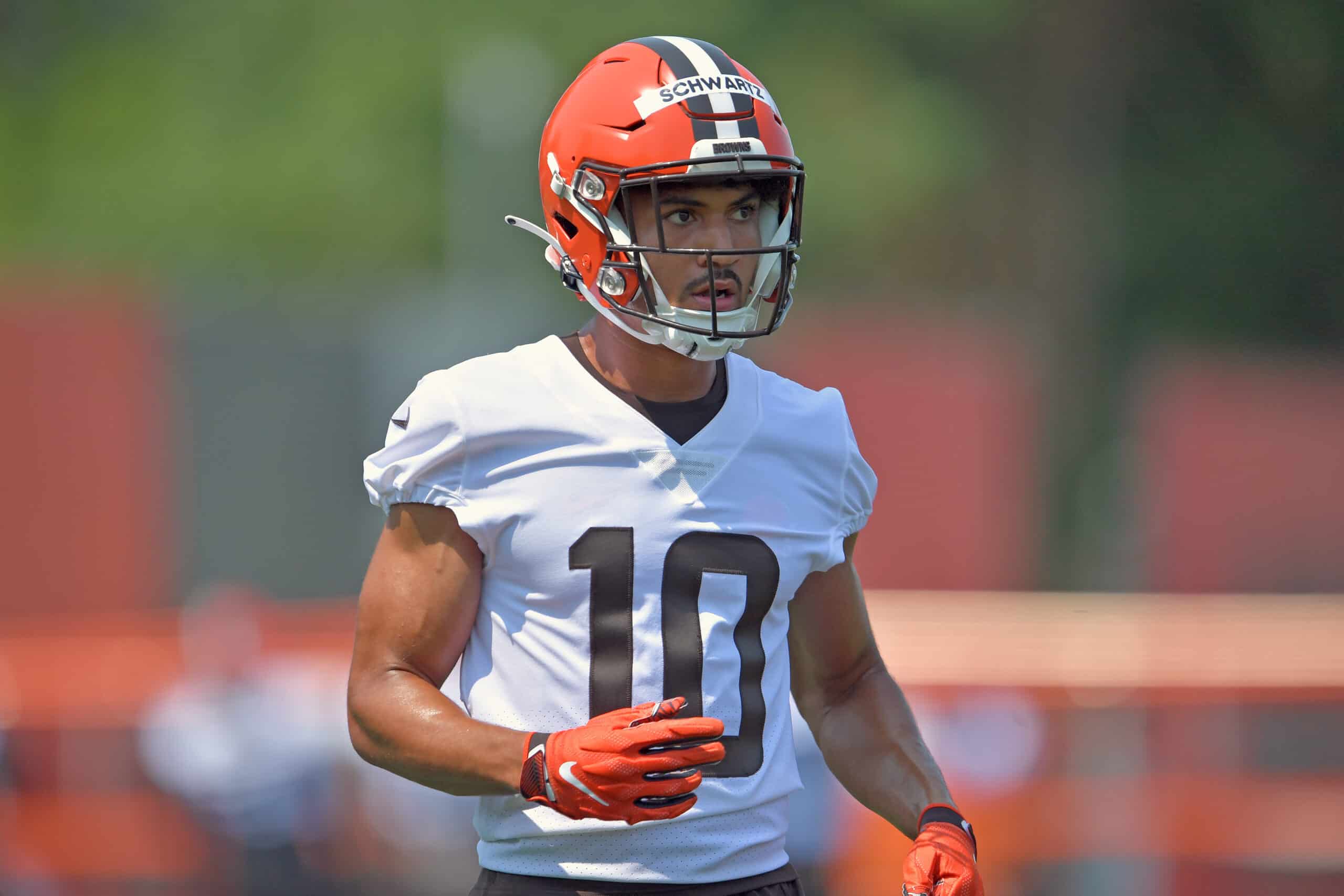 The Cleveland Browns have an accomplished 2021 draft class.
Though it is filled with great players who excelled at the highest levels in college, none of these players are more fascinating than third-round draft pick Anthony Schwartz out of Auburn.
Schwartz is a track star who also plays football.
He competed internationally in the Pan American U20 Championships and the World U20 Championships and won first place medals.
For years, he has been trying to flip the script and become the football player who was also a track star.
With the 2021 Browns, he could have a chance to do that.
Check out what he has been up to at training camp this week.
#Browns Baker Mayfield to Anthony Schwartz. pic.twitter.com/T40pZpVTvy

— Camryn Justice (@camijustice) July 30, 2021
Though the camera angle is not the greatest, we can see Schwartz come out of nowhere and beat his guy to make a great grab by the sidelines.
It is not the only big catch Schwartz pulled in from Mayfield this week.
QB Baker Mayfield to WR Anthony Schwartz
(Via #Browns) pic.twitter.com/HId02E7xBi

— Brad Stainbrook (@BrownsByBrad) July 29, 2021
Here is the video of Baker's DEEP, LONG SHOT pass to rookie receiver, Anthony Schwartz.

Schwartz was covered well by Greedy, but immediately separated once he got some distance. An absolute dime from Mayfield. https://t.co/kG5juJTq7v

— ParkerSCenter 🐶 D4L (@MrVanillaman9) July 29, 2021
The Possibilities With Schwartz
The Browns have a talented offensive roster, but none of those players, even OBJ, is as fast as Anthony Schwartz.
His speed is like Tyreek Hill's.
We will see how creative the Browns coaching staff gets.
Because he can beat pretty much everyone on the field facing him, reverse plays, deep plays, and special teams plays could definitely be in his future.
The question mark has been his ball handling skills, but thus far, he has been rock solid with the catches.
Can Schwartz Be WR3?
It is too early to say.
There is a lot of competition for that position from players with a little more experience including Rashard Higgins, Donovan Peoples-Jones, JoJo Natson, and KhaDarel Hodge.
Even if Schwartz does not secure the WR3 position, he is still carving out a role for himself with the 2021 Cleveland Browns.
We can't wait to see what he does next!