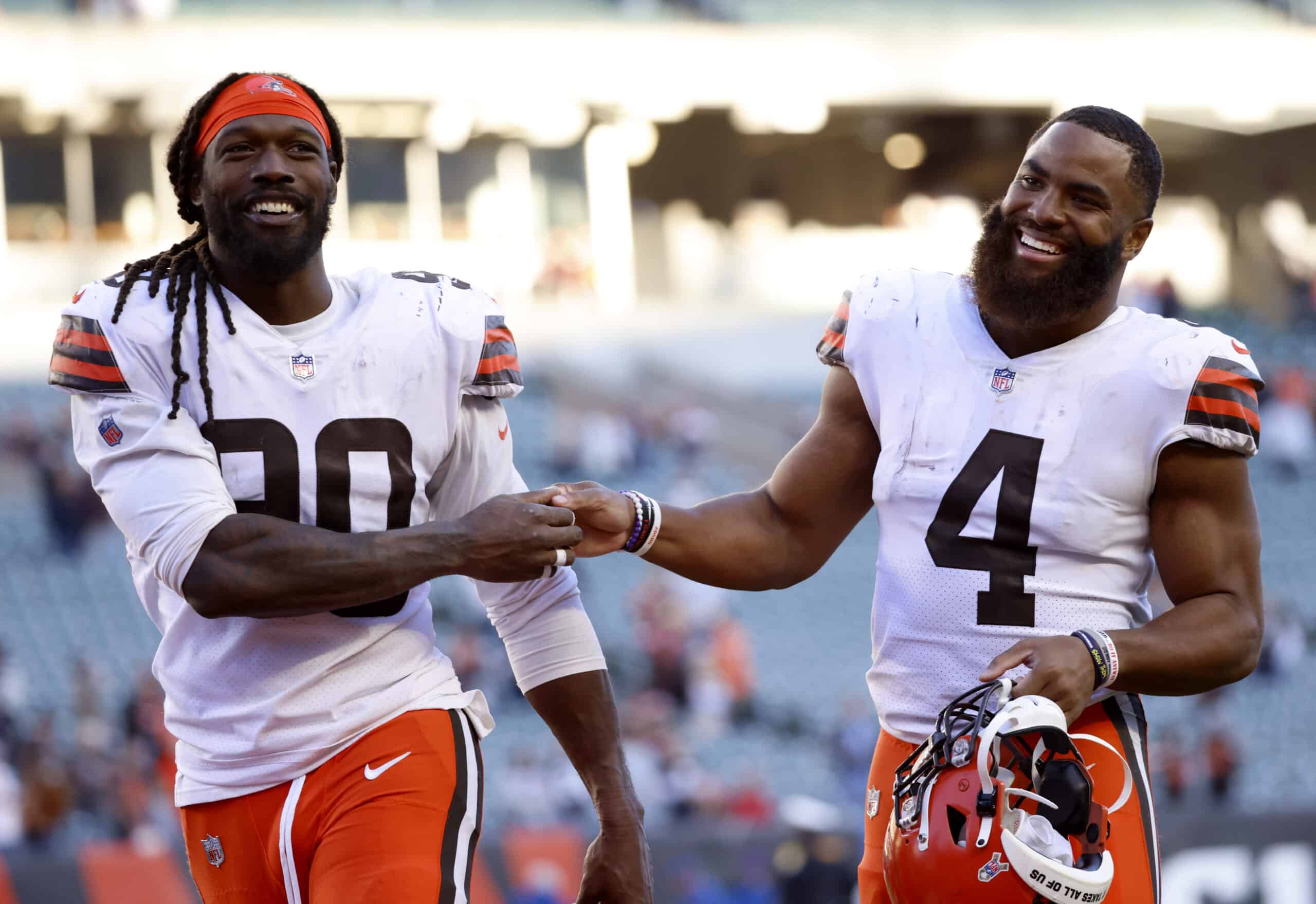 Andrew Berry's signing of former Indianapolis Colt Anthony Walker didn't have the splash of some other moves.
Sure, he was a tackling machine at middle linebacker for the Colts' top-ranked defense.
But he could be a liability in the pass defense, and who knew how'd he fit in the Cleveland Browns' reconstructed unit?
Missing three of the Browns' first 4 games didn't help thrust him into the hearts of Browns fans.
Anthony Walker is performing 'as advertised' as a new leader on our defense.

📰 » https://t.co/mJWYov1NZg pic.twitter.com/3vrFlVM8CR

— Cleveland Browns (@Browns) June 3, 2021
Throughout the season, Walker's name rarely came up after a standout play.
And he only hit double-digit tackles from the middle of the defense 3 more times after opening day.
But he was mightily consistent and reliable, putting up perhaps the quietest excellent season among the Browns.
Not only was he good, but according to Pro Football Focus, Walker was the most-improved player on the team.
Walker's Weakness Became a Strength 
PFF gave Anthony Walker an overall grade of 69.1, which is far from elite (90).
But it is also a far cry from the 45.5 he earned in 2020, despite his tackling numbers.
Walker set a career-best with 9 tackles per game, garnering 8 or more in 10 of his 13 games played.
This was despite Malcolm Smith eating into his playing time during the season.
#Browns LB, Anthony Walker Jr, has become a pillar of the defense. ✨

Walker Jr ranks 12th among #NFL LBs with an Overall Grade of 70.1.

In just 5 games, he leads the team with 43 Tackles. 🔥

In exactly 300 defensive snaps so far, only has 1 missed tackle. 🐶 pic.twitter.com/sI96jp6Bip

— The Hottest Take (@Hottest_TakePod) November 1, 2021
And if Joe Woods put Smith in because he is a better pass defender, he needn't have worried.
Walker's improved numbers were mostly a result of stellar pass defense.
PFF credited him with 18 pass stops/forced incompletions, and he didn't give up a single touchdown.
By the end of the season, Walker's 78.2 pass defense grade was fifth-best among middle linebackers.
Can Walker Still Have a Role In Cleveland?
Anthony Walker addressed one of the biggest questions Browns fans had heading into 2021.
That was, why do Colts fans rave about this guy when his PFF score is so low?
PFF's improved assessment might be somewhat of a correction, but it definitely matches what we see on the field.
Walker also wore the green dot as the defensive signal caller for much of the season.
#Browns ST coach Mike Priefer says LB Anthony Walker had the #Steelers fake FG sussed out so fast (the second the wing went in motion) and the check called so quickly, he's "not sure why they still ran it."

— Aditi Kinkhabwala (@AKinkhabwala) November 4, 2021
And by all accounts, he was a good role model for Jeremiah Owusu-Koramoah and the other young linebackers.
He also played special teams and was credited with snuffing out the Steelers' fake field goal in November.
Mike Priefer said Walker adjusted so early, he couldn't understand why Pittsburgh still tried the trick play.
At just 27 with 5 seasons under his belt, Walker can be a solid veteran in a young linebacker room.
Will Berry Re-Sign Walker? 
Anthony Walker's contract voids out this week, making him a free agent again.
Cleveland remains mum on any plans for the 2022 season, saying only they are evaluating how to improve.
With so many questions and gaps on the roster, Andrew Berry might do well to lock in someone he knows.
But that someone could be the less-expensive Malcolm Smith if Berry sees the younger linebackers stepping up.
Anthony Walker: "Anyone that comes into the Browns organization will quickly learn it's about the team first."

— Nick Karns (@karnsies817) August 17, 2021
PFF does not list Walker among the top ten free-agent linebackers.
It leads to reason he deserves a raise from the $3 million he earned last year, but not too much.
Cleveland is already on the hook for $1.7 million in dead cap hits over the next 2 seasons.
Whether or not Berry is willing to pay closer to $4 million with some more years or guarantees is the question.