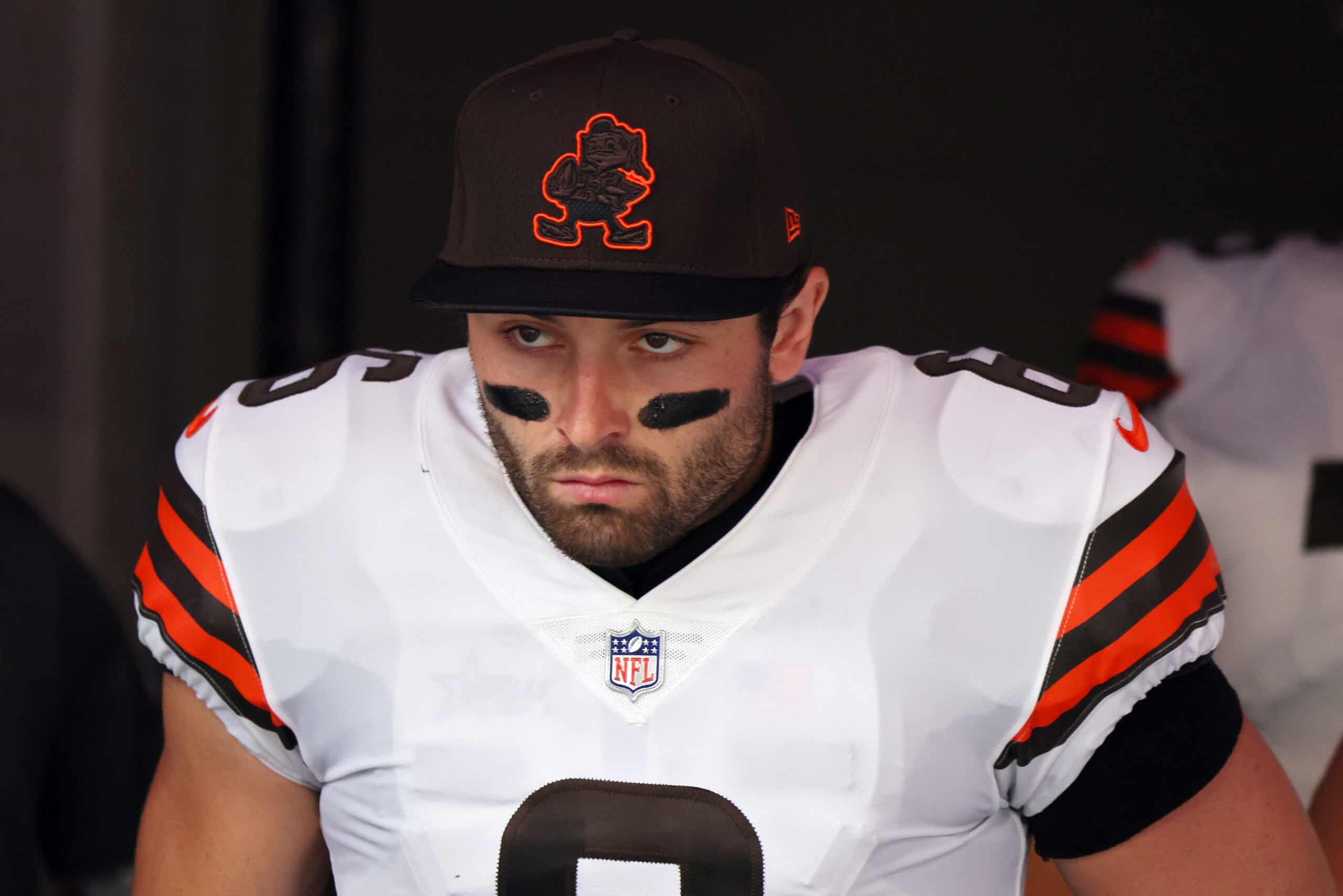 Quarterback Baker Mayfield knows he will need to play better even though the Cleveland Browns beat the Minnesota Vikings by a final score of 14-7 on Sunday.
Mayfield was frank with his postgame commentary, according to Cleveland.com reporter Mary Kay Cabot and Akron Beacon Journal reporter Nate Ulrich.
"That piss-poor performance by me isn't going to cut it," Mayfield said. "I've got to be better. It's just that simple."
Mayfield went 13-for-33 passing for 155 yards, no touchdowns, no interceptions and three sacks.
#Browns Baker Mayfield: "That piss-poor performance by me isn't going to cut it. I've got to be better. It's just that simple"

— Mary Kay Cabot (@MaryKayCabot) October 3, 2021
#Browns QB Baker Mayfield said he needs to pick it up, piss-poor performance won't cut it, thankful defense played well enough for them to win

— Nate Ulrich (@ByNateUlrich) October 3, 2021
According to Ulrich, Mayfield also denied that his left shoulder injury has anything to do with his accuracy issues.
Mayfield briefly left the Week 2 game against the Houston Texans due to the shoulder injury, but returned to the game.
#Browns QB Baker Mayfield said left shoulder is still attached and doesn't have anything to do with accuracy issues. "I throw with my right," he said.

— Nate Ulrich (@ByNateUlrich) October 3, 2021
Mayfield was complimentary of the Browns' defensive and special team performances.
"I thought the defense played great. Special teams, obviously, was great," Mayfield said. "Another big game by Chase (McLaughlin) and that unit. And so, I just have to pick it up, so we're a good team to where if a day like today where I'm off, I can lean on those guys and ensure that I have that accountability for them."
Mayfield struggled to connect with wide receiver Odell Beckham Jr., who finished Sunday's game with two catches on seven targets for 27 yards.
It marked Beckham's second game of the 2021 season after he returned in Week 3.
Mayfield talked about the missed deep right pass to Beckham with 1:13 left in the fourth quarter on 3rd down and 5 from the Cleveland 38-yard line.
"(I) didn't communicate it well enough about the type of ball that I'm trying to throw to him," Mayfield said. "He did a great job winning, and so he's digging for speed, and that's on me for not communicating it.

"And so like said, it's one of those things where if I had communicated it, and we said early on in the year that things are better left said than not being said. And so, you saw that right there because that's the type of dagger that you need to have on offense to put it away."
Baker Mayfield MISSES a wide-open Odell Beckham Jr.😨 #Browns

— TWSN (@TWSN___) October 3, 2021
To open the second half, the Browns offense went three and out.
Mayfield didn't throw the ball to running back Demetric Felton, who was open in the flat beyond the first-down marker.
Vikings defensive end Danielle Hunter sacked Mayfield for a 1-yard loss on the 3rd and 2 from the Cleveland 33, and the Browns punted on the next play.
Baker Mayfield has Demetric Felton open the entire time! #Browns pic.twitter.com/HvHcsLIr0c

— Matt Waldman (@MattWaldman) October 3, 2021
How did Baker not see Felton here? @NextGenStats #Browns pic.twitter.com/BlS3jnwpBp

— Jake Trotter (@Jake_Trotter) October 3, 2021
#Browns started second half with a three-and-out. Baker Mayfield had Demetric Felton open by first-down marker along Cleveland sideline but didn't throw it and took sack. #Vikings take over at their 30 after punt.

— Nate Ulrich (@ByNateUlrich) October 3, 2021
The Browns did average 4.8 yards per carry, running the ball for 184 rushing yards and winning time of possession 35:32 to the Vikings' 24:24.
Nick Chubb had 100 rushing yards on 21 carries and Kareem Hunt had 14 rushes for 69 yards and a touchdown.
Browns head coach Kevin Stefanski spoke about the importance of controlling the clock against the Vikings.
"You've got to possess the ball versus a really good offense," Stefanski said. "Now, I wish we scored more when we possessed that ball, but to keep that offense on the sideline was a big part of it. I mean, that's a good football team."
A key to the Browns' win was Hunt's 33-yard run on a 3rd and 20 from the Cleveland 26 with 35 seconds left in the first half.
Hunt's run helped put the Browns in a position for McLaughlin to make a 48-yard field goal with two seconds left in the second quarter.
McLaughlin's field goal extended the Browns' lead 11-7.
Kareem ripping off 33 yards!

📺: #CLEvsMIN on CBS
📲: Browns mobile app pic.twitter.com/AHpIBH6JV2

— Cleveland Browns (@Browns) October 3, 2021