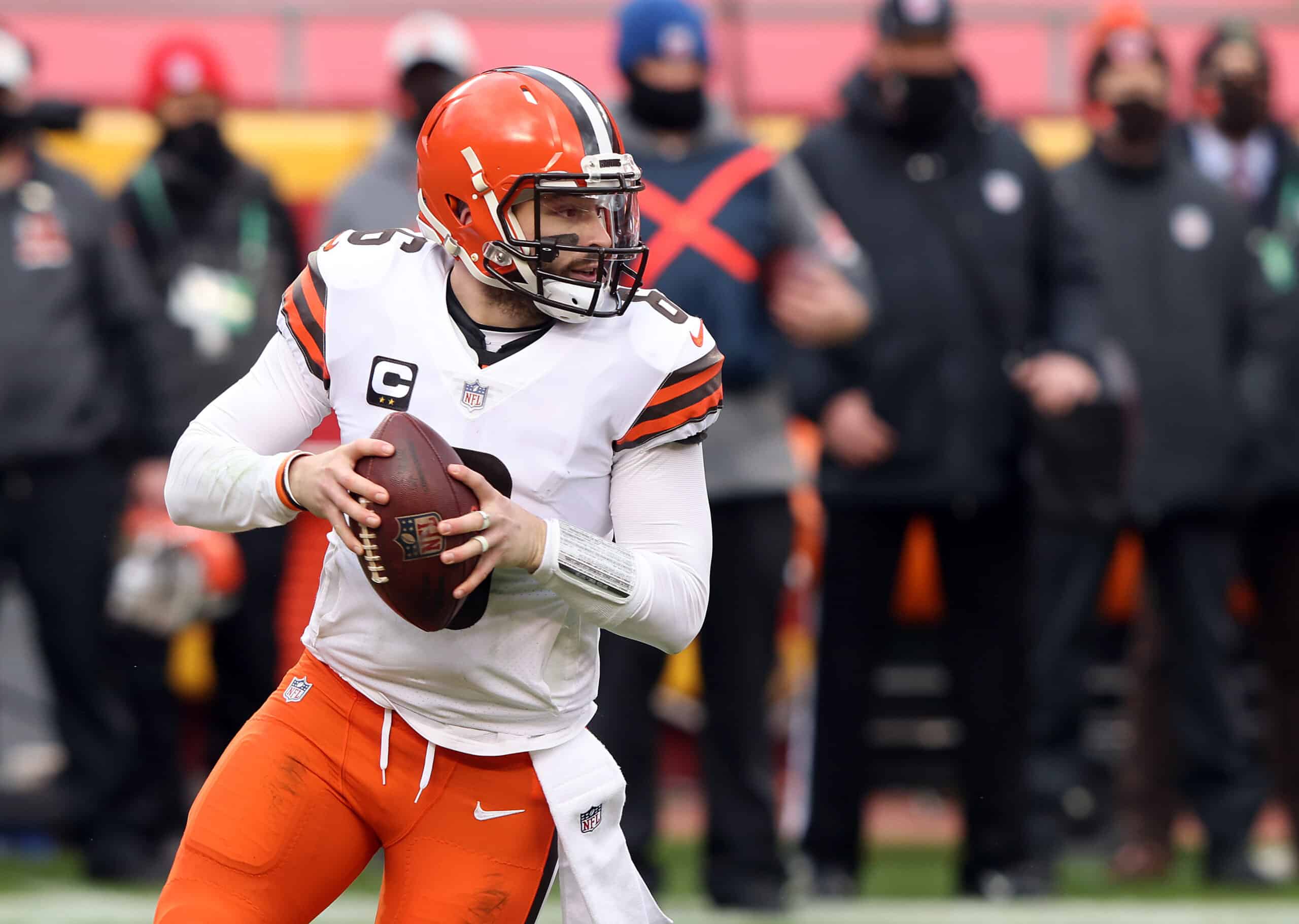 Browns fans may care more about a Baker Mayfield contract extension than the quarterback is himself.
It's easy to see why.
A fanbase that had been deprived of a franchise-leading quarterback for nearly two decades finally has the right guy under center.
The brown and orange faithful aren't in any hurry to try that search again.
While some want a contract extension done now, it's not a top priority for Mayfield.
#Browns QB Baker Mayfield said he's in no rush to sign contract extension, he's sure his agents are handling it and he'll handle what he can control.

— Nate Ulrich (@ByNateUlrich) June 16, 2021
This is typical of what most guys say heading into a season with contract extension talks lurking in the background.
Athletes don't just come out and say "yeah I'm strictly focused on the money" or anything like that.
That doesn't mean Baker isn't looking forward to getting a long-term deal worked out.
Win First
Many love Baker for his competitive spirit and fire.
Even during a poorly played game, the passion Mayfield plays with is obvious.
It's part of what connects him with northeast Ohio so well.
#Browns QB Baker Mayfield reiterated he's focused on winning instead of contract extension, but he has believed for years he's meant to play here. He added Cleveland is a great town with a blue-collar mentality and that's why it's a great fit for him

— Nate Ulrich (@ByNateUlrich) June 16, 2021
Racking up wins and making a postseason run is the focus for Mayfield right now, as it should be.
With another solid season, his status as a high-end quarterback will be solidified.
As the Browns continue to gain national attention, a lot of that naturally shines on Baker.
Taking care of business on the field will lead to a big pay day, more sponsorships, endorsements, the whole nine yards.
If you're the Browns, you want to see if Mayfield can be consistent for another season.
Cleveland could be hesitant to pull the trigger on a long-term deal for Baker, so an extension may have to wait until after this season.
What's a Fair Deal?
If an extension is not ironed out this offseason, the 2021 campaign will weigh heavily into Mayfield's future income.
Pro Football Focus slots him as the 10th best quarterback heading into this season, citing a particularly strong second-half from him in 2020.
"He was the second-highest-graded quarterback in the league from Week 7 through the playoffs. He also ranked in the top five from a clean pocket, on standard dropbacks and on early downs for the entire season — all of which are important and stable metrics."
Ryan Tannehill, currently the 10th-highest-paid signal-caller, is getting $29.5 million per season.
He ranks 12th on the PFF article that ranks Baker 10th.
He'll get more than Tannehill, but the question is how much?
That's why 2021 becomes so important if no extension comes this summer.
If Mayfield has a historic season that ends in a deep postseason run, he'll be looking for a salary closer to the likes of Dak Prescott and Deshaun Watson.
That would be flirting with about $40 million yearly.
If he's just average this year, he'll be aligned with the Kirk Cousins and Carson Wentz rate of about $32 million annually.
Looking Ahead
The market for quarterbacks is ever evolving.
Two other guys from Baker's draft class, Lamar Jackson and Josh Allen, another change in the market could be coming.
If those two get deals done before Baker and tip things toward the expensive side of the scale, that could mean trouble for Andrew Berry.
Mayfield isn't the only one on the roster who needs paid.
#Browns and Denzel Ward have began contract extension talks

— MoreForYouCleveland (@MoreForYou_CLE) June 15, 2021
The Browns should lock up Nick Chubb to a contract extension 💰

🗣️ @AkronJackson pic.twitter.com/HSfVIBcSrL

— PFF Fantasy Football (@PFF_Fantasy) March 1, 2021
Perhaps the Browns would be better served by locking down a deal with Mayfield now instead of later.
Jack Mills, Mayfield's agent, will be a busy man these next few months.
Baker will be too, but his focus is on the field and not his bank account.