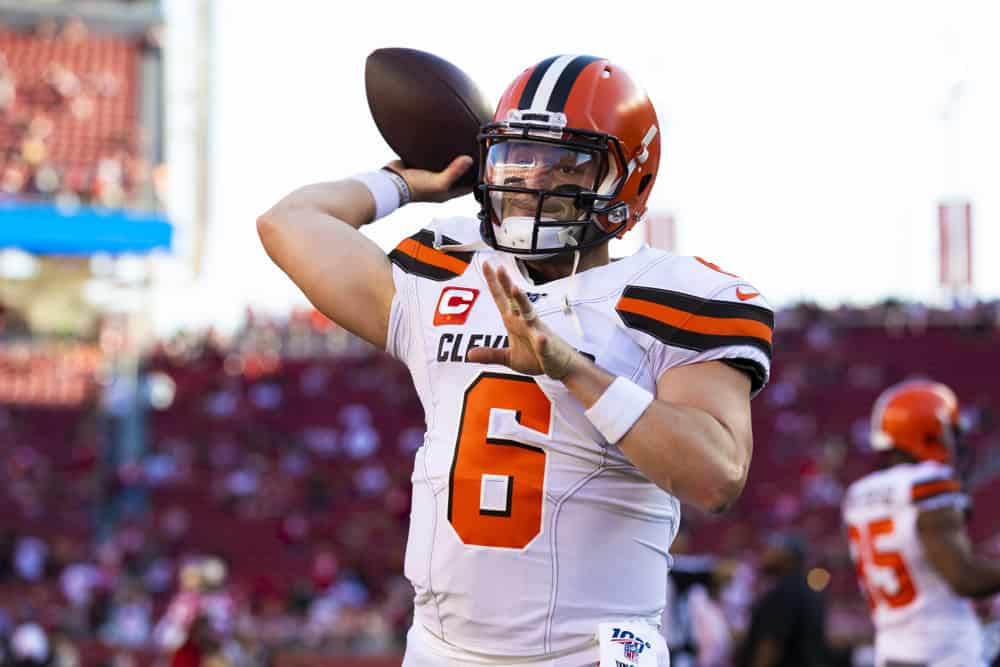 No one would ever call 25 year old Cleveland Browns QB Baker Mayfield an old man.
Yet he is the oldest QB remaining in the AFC playoffs.
Baker Mayfield is the oldest Quarterback in the AFC Divisional Round.

He's 25. pic.twitter.com/ZGBSvPwluS

— NFL UK (@NFLUK) January 13, 2021
How exciting that the AFC is being led by young QBs who have lots of football left in them.
Baker Mayfield, Cleveland Browns, 25 years and 272 days
Patrick Mahomes, Kansas City Chiefs, 25 years and 116 days
Josh Allen, Buffalo Bills, 24 years and 235 days
Lamar Jackson, Baltimore Ravens, 24 years and 4 days
Mayfield was asked if he knew he was the elder statesman of the crowd; he replied:
"Yeah, my mother-in-law sent me something reminding me I'm the old guy."
Did #Browns QB Baker Mayfield know he's the oldest AFC quarterback left in the playoffs? "Yeah, my mother-in-law sent me something reminding me I'm the old guy"

— Tony Zarrella (@Tony_Zarrella) January 13, 2021
First Rounders
As impressive as their age is, the other notable fact about this fab four group of QBs is that all were drafted in the first round of the NFL Draft.
With the exception of Mahomes drafted in 2017 (10th overall), the other three were all drafted in the first round of the 2018 NFL Draft.
Mayfield was the 1st overall pick.
Josh Allen was 7th, and Lamar Jackson was 32nd.
Mahomes Is The Most Accomplished
As the reigning Super Bowl Champion and Super Bowl MVP and 2018 NFL MVP, Patrick Mahomes is the most decorated of the four.
He can further separate himself from this group if his Kansas City Chiefs win back-to-back Super Bowl titles.
In contrast, Mayfield and Allen are arguably in the midst of the greatest seasons of their young careers.
Lamar Jackson, the 2019 NFL MVP, has played consistently well throughout his career.
Last week, he proved his critics wrong who said he couldn't win a playoff game by leading the Ravens to a win over the Tennessee Titans.
AFC's Youth Contrasts With NFC's Experienced Veterans
Divisional round fact time 🤓 The combined ages of the AFC quarterbacks is 98. The combined ages of the NFC quarterbacks is 147.

— Jay (@Jay_Hoban_) January 11, 2021
Three out of four of the NFC's starting quarterbacks have been stalwarts in the NFL for years and are definitely in the latter stages of their careers.
Jared Goff stands out as the youngster in this elite group.
All four of these quarterbacks have been to the Super Bowl.
With the exception of Goff, the other three are Super Bowl Champions.
Brees and Rodgers each won one; whereas, Tom Brady has won six.
What interesting contrasts these two groups of quarterbacks provide for what looks to be an entertaining divisional playoff weekend.
Divisional Playoffs Schedule Announced by @NFL: https://t.co/W6qjb9Uc0V pic.twitter.com/J2sjPs0r7m

— NFL345 (@NFL345) January 11, 2021