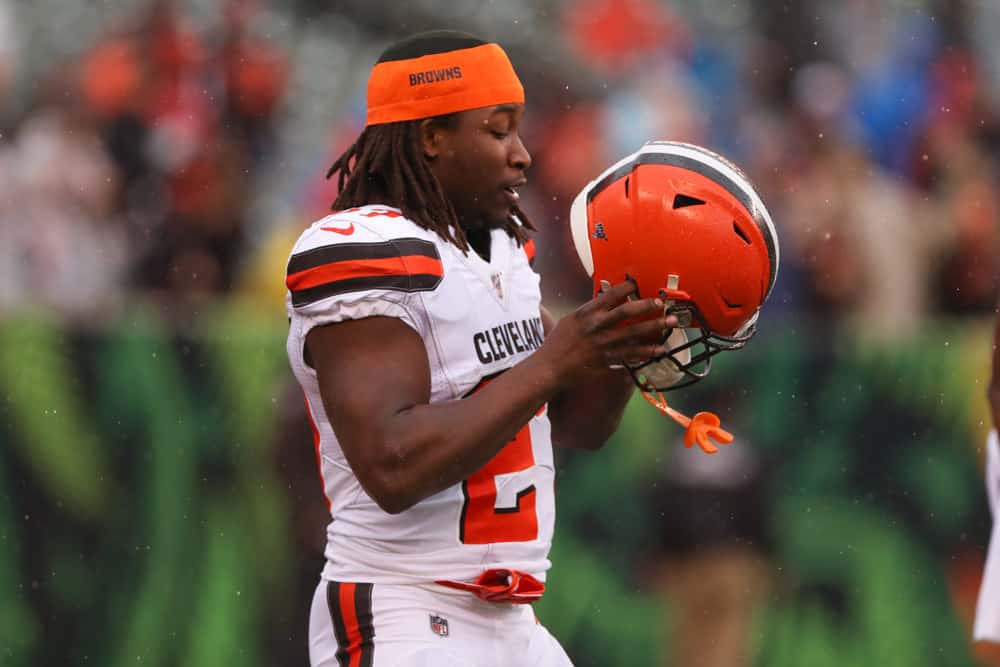 The Pittsburgh Steelers gave the Cleveland Browns an extra spring in their collective step last week.
In addition to defeating them handily after jumping out to a 28-0 first quarter lead, the Steelers gave the Browns bulletin board material that continues to motivate.
Following the game, Browns RB Kareem Hunt trolled both Steelers WRs JuJu Smith-Schuster and Chase Claypool while autographing a helmet.
Check it out.
Kareem Hunt left a message after signing a helmet 😂

(📸 via @1of1cardshop) pic.twitter.com/90EfwABMD9

— PFF Fantasy Football (@PFF_Fantasy) January 13, 2021
Corvette Corvette
The Corvette Corvette reference is to the TikTok dance Smith-Schuster infamously did on opposing teams' logos before games.
After a few weeks, he apparently came to the realization that this behavior angered opposing teams who felt disrespected.
Hunt showed us the postgame celebration which included of course the Browns doing JuJu's signature dance while uttering Smith-Schuster's fighting words, "The Browns is the Browns."
Watching it never gets old.
Kareem Hunt saw your video @TeamJuJu pic.twitter.com/qcjkrQsKxE

— Cory (@CoryO24) January 11, 2021
Myles Garrett did not engage in any pregame commentary on Smith-Schuster's remarks.
After the game, he shared this:
"We definitely didn't appreciate it, and I feel like we made that known tonight with our performances."
Clapped em
The reference to clapping as Hunt signed on the helmet throws shade at Chase Claypool.
Claypool famously shrugged off his team's dismal performance on Sunday night and quickly determined that the Browns were going to get clapped next week.
Just when you thought Chase Claypool couldn't get more hateable pic.twitter.com/JHuJqQpWz8

— Barstool Sports (@barstoolsports) January 11, 2021
Smith-Schuster Post Game
Given the chance to retract his words, JuJu Smith-Schuster did not.
"I don't regret saying what I said. They came out … today wasn't our night. Hopefully the same Browns show up against the next opponent and do what they did tonight and have a great game."
JuJu on 'The Browns is the Browns' quote: "I don't regret saying what I said. They came out … today wasn't our night. Hopefully the same browns show up against the next opponent and do what they did tonight and have a great game."

— Brooke Pryor (@bepryor) January 11, 2021
Browns On Their Way To Kansas City
Kareem Hunt is probably the most excited Cleveland Brown to be headed to Kansas City.
He started his career as a Chief alongside QB Patrick Mahomes whom he still is on good terms with.
In 2017 as a rookie, Hunt won Rookie of the Year honors, was selected to the Pro Bowl, and was the NFL's rushing leader.
Questionable conduct led to his impromptu exit over half-way into the 2018 season.
Hunt's teammates have spoken out about his excitement for this game.
On Wednesday, Nick Chubb said:
"Kareem talked about this game all year like he knew it was going to happen. He's excited for it. I'm excited for him. I'm excited to watch him go out there and play. He's ready for it."
#Browns QB Baker Mayfield on Kareem Hunt: "Kareem ran pissed off. He ran like he wanted to get to Kansas City."

— 92.3 The Fan (@923TheFan) January 11, 2021
.@Kareemhunt7 mic'd up for his ✌️ touchdowns vs. the Steelers ⤵️ pic.twitter.com/lnzhKmmuDq

— Cleveland Browns (@Browns) January 13, 2021
"Next week's personal. Let's go."
Kareem Hunt is on a mission for redemption, peace, and perhaps a bit of closure in Kansas City.
Hopefully, his swagger and grit can lift this team to victory despite being 10 point underdogs.
Look for Hunt to contribute to both the rushing and passing attack of the Browns, and if he scores a TD, watching his reaction will be something to see.
Kickoff of the Browns vs. Chiefs game is at 3:05 pm EST on Sunday, January 17.