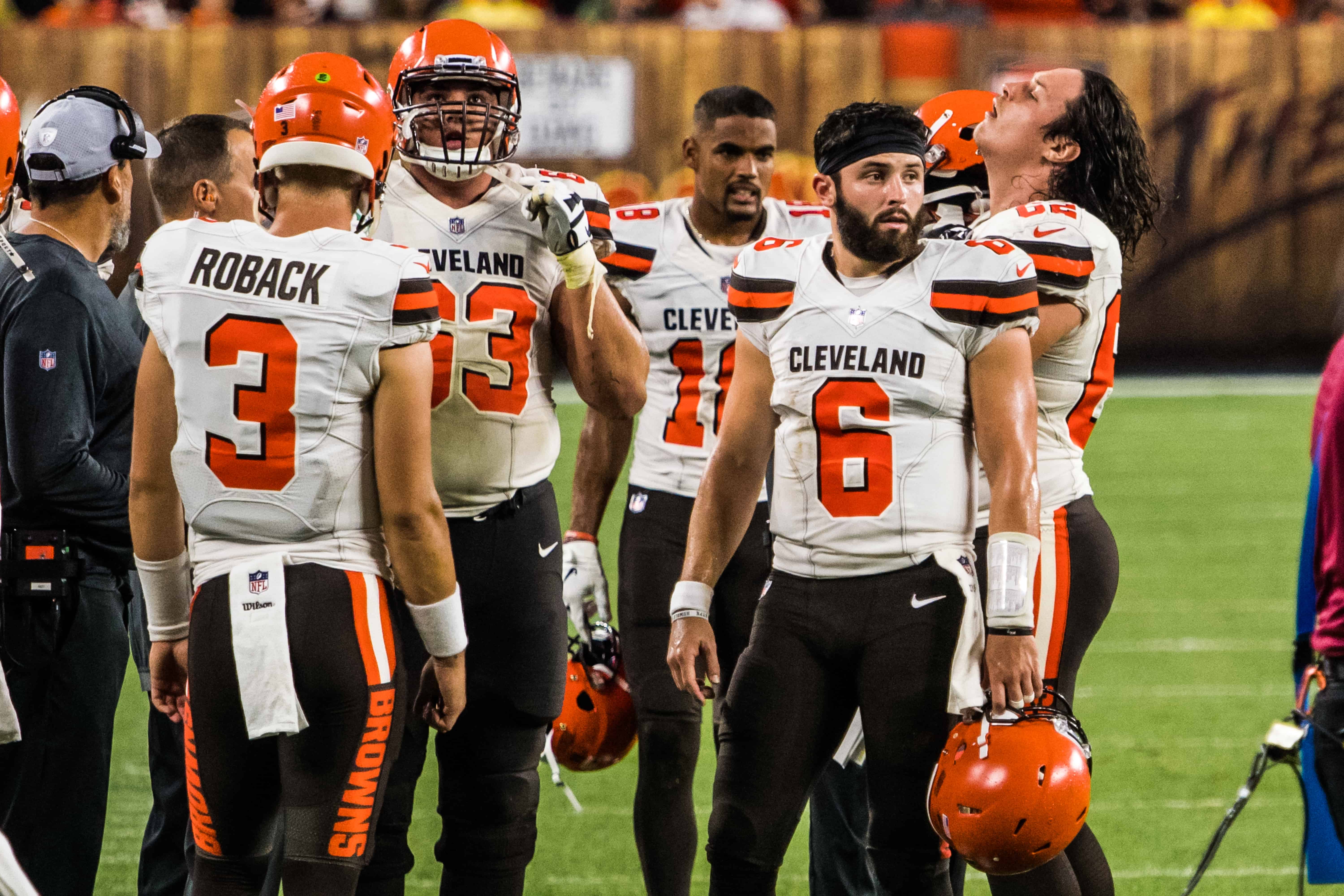 Hardcore Baker Mayfield fans sometimes dismiss statistics, preferring to blame play-calling, the Browns' schedule, or offensive line struggles rather than Mayfield's poor performances.
Statistics can help to sort through a lot of information, but they don't explain everything. "Next Gen Stats," or NGS, try to fill in the blanks left by standard statistics by considering more variables.
For instance, Mayfield boasts the eighth longest time-to-throw in the NFL this season. His 2.82 seconds is slightly better than last year. Perhaps, the offensive line isn't that bad?
If Mayfield has time in the pocket, what else needs to be considered? Let's consider his completion probability.
Analyzing important aspects of the game, such as how tight a receiver is covered by the cornerback, how much pressure the quarterback is facing, how close the wide receiver is to the sideline, and more, NGS predicts the percentage chance of a pass being completed.
For example, Aaron Rodgers's 35-yard touchdown pass to Allen Lazard had an 18.7% completion probability.
Aaron Rodgers & Allen Lazard's 35-yard TD had an 18.7% Completion Probability, the least probable completion for Rodgers this season.

The pass traveled 50.4 yards in the air and Lazard had 0.5 yards of separation from Justin Coleman (a DIME completion). #DETvsGB | #GoPackGo pic.twitter.com/S4T70JW4DV

— Next Gen Stats (@NextGenStats) October 15, 2019
NGS tracks every recorded pass and cites each quarterback's expected completion rate.
Mayfield's 63.8% expected completion rate is not far off from last year's 64.4%. However, NGS also shows Mayfield throwing notably shorter passes at 8 yards per attempt this season versus slightly over 9 yards per attempt in 2018.
Then, NGS takes the expected completion rate and compares it to each passer's actual completion rate. A player completing more passes than expected is performing well.
Russell Wilson and Dak Prescott are both about 7% ahead of expectations.
Mayfield is completing passes at 5.1% less than expected. That ranks 36th in a 32-team league. The benched Marcus Mariota (-2.6%) and the unemployed Luke Falk (-2.2%) rank higher.
Against the Denver Broncos, Mayfield consistently locked onto wide receivers crossing over the middle of the field. He spotted trailing defenders well and threw the ball out front of his WRs
However, too often a second defender materialized before the ball got to its intended target.
It happened often enough that CBS' TV analyst Rich Gannon questioned whether Mayfield ever looks ahead of his receivers before he throws the ball.
NGS ranks a passer's aggressiveness, which they define as how often quarterbacks throw deep or into tight/double coverage.
Despite throwing shorter passes, Mayfield's aggressiveness rating is 17.6 and higher than in 2018.
All in all, the Browns' franchise QB is being too aggressive, not reading the field fast enough, and failing his wide receivers more often than not.
Is it about time to make a switch?